Grim Reaper Can't Believe He Didn't Think of McGowan in 2016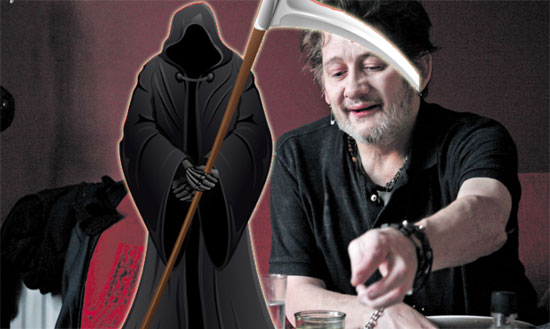 Friends of Shane McGowan based in Cork say the singer is feeling particularly edgy about the new year having escaped the wrath of celebrity deaths in 2016.

Several celebrities who had lived healthier lives than McGowan, including fellow English stars George Michael and David Bowie, died last year however doctors still report that McGowan is clinically alive despite the appearance of a three week old corpse.

Speculation has been mounting among religious groups that he may have found the secret to eternal life given the fact that he has been continually on the lash since 1975 – well before deceased celebrities with a similar penchant for drugs and alcohol like Amy Winehouse were born – but still continues to exhibit a heart beat and respond to stimuli.
The long running theory among the medical profession that McGowan's brain cells, usually killed by excessive drinking, can renew themselves indefinitely unlike other humans has yet to be disproved and he is refusing to cooperate with scientists interested in carrying out research on him unless they "buy him a fackin' dwink, yeah?' .

The recent appearance of new teeth in the singer's mouth has added to suspicion that McGowan's entire body can regrow new parts and organs at will and that he may outlive everyone born before 1990.
Posted on Mar 13th, 2018
Make your Paddy's Day in the Rebel County one to remember for all the right and the wrong reasons...
Posted on Mar 1st, 2018
If there's bitterness coming from the east pointing the finger at Siberia and Russia isn't fair. The blame for this weather lies with Waterford...
Posted on Feb 5th, 2018
The ERSI have produced another report saying Dublin is a dump and it shouldn't hog the country's resources but nothing will change because of one hidden line in the report...
Posted on Feb 5th, 2018
How to get the most from your compo claim! Plus read our guide on the best corners to ignorantly leave bags of rubbish once your gaf becomes part of the city...
Posted on Feb 5th, 2018
How often will you be mugged when your area becomes part of the city? And will you still be able to have ten pints and drive home after dropping your kids off to school?