Grim Reaper Can't Believe He Didn't Think of McGowan in 2016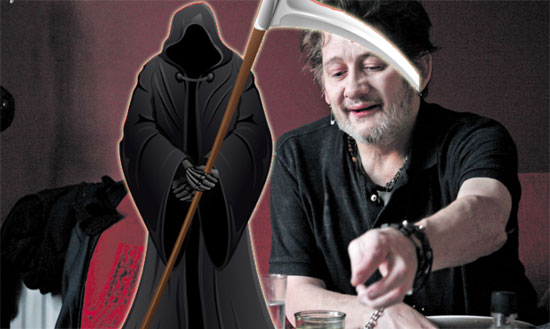 Friends of Shane McGowan based in Cork say the singer is feeling particularly edgy about the new year having escaped the wrath of celebrity deaths in 2016.

Several celebrities who had lived healthier lives than McGowan, including fellow English stars George Michael and David Bowie, died last year however doctors still report that McGowan is clinically alive despite the appearance of a three week old corpse.

Speculation has been mounting among religious groups that he may have found the secret to eternal life given the fact that he has been continually on the lash since 1975 – well before deceased celebrities with a similar penchant for drugs and alcohol like Amy Winehouse were born – but still continues to exhibit a heart beat and respond to stimuli.
The long running theory among the medical profession that McGowan's brain cells, usually killed by excessive drinking, can renew themselves indefinitely unlike other humans has yet to be disproved and he is refusing to cooperate with scientists interested in carrying out research on him unless they "buy him a fackin' dwink, yeah?' .

The recent appearance of new teeth in the singer's mouth has added to suspicion that McGowan's entire body can regrow new parts and organs at will and that he may outlive everyone born before 1990.
Posted on Oct 23rd, 2018
No sleeping in tents, no worries about the weather, your car won't get stuck in the mud and best of all you don't even have to leave Cork...
Posted on Oct 22nd, 2018
If you're coming to Cork to show off your pentatonic scales, we're really looking forward to seeing you but don't forget to practice your banter and leave the jazz orgasm face at home...
Posted on Oct 8th, 2018
The building boom is back. Are you a hospital consultant thinking of getting into attic conversions or the CEO of a Fortune 500 company that fancies a career in roofing? Then know how proper langers treat their customers....
Posted on Oct 1st, 2018
In Europe's friendliest city more than one bicycle is stolen every..eh....several days. That's a whopping 0.05% of the population. Be careful out there....
Posted on Sep 17th, 2018
An 83 year old man foiled a three-man raid in Glanmire last Saturday evening and in the process delivered a beautiful kick up the arse to one of the humiliated raiders. Who else needs a Dinny Funt?