Gallery: Cork City Marathon 2007



Cork City Marathon Gallery

They sweated, blistered, coughed, spluttered and soiled themselves but Corkonians turned out in their thousands for the first Cork marathon in over twenty years. The sun was blazing on the June weekend and the going wasn't always easy.
Grated nipples, raw shredded feet and bellies full of Lucazade sport didn't stop the flow of runners crossing the finish line from the minute Cork winner Alan O'Shea crossed it after a mere 2 hours and 27 minutes, until the final competitor crossed the line last Tuesday night.
Photographer Siobh·n Whooley has sent us some of her photos from that heavenly day in June and we've opened up a brand new folder in our gallery, dedicated to the men and women who either finished the race or collapsed in a heap around the Model Farm Road. You're all winners - to various different degrees though.



If you'd like to add your marathon and/or Cork photos to the gallery please email them to .(JavaScript must be enabled to view this email address)

Posted on Mar 19th, 2009
Corkonians of all shapes, colours and creeds nearly melted in the sweltering 13 degree heat...
Posted on Oct 6th, 2008
Comrade Aaron Scott has been busy capturing last week's final visit of the QE2 to Cobh among other great shots....
Posted on Jun 12th, 2008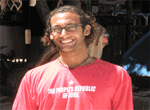 Jon Heller from New York hasn't even been to Cork yet but he's so excited about it he's already got the shirt..
Posted on Feb 11th, 2008
Images from last Sunday's march in support of the Cork hurlers and footballers...
Posted on Nov 26th, 2007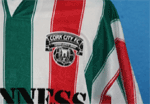 A comprehensive lamp at every home, away and special city jersey produced since the club's conception..