Finding Keane: The Tagger Destroying Cork
(Note: If you want to pass us any information regarding the taggers mentioned in this article we will respect your request for anonymity as long as the info isn't deliberately aiming to mislead us. Just use the contact button above.)
The probation service in Cork recently announced that prison time will be substituted for community service that involves offenders avoiding jail but spending hours instead removing the mounds of graffiti that is beginning to plague the city.
The distinction must be made of course between tagging and graffiti. The latter often has some artistic merit and the White Street car park is the city's showcase for artists (and as we shall see that does NOT imply that those artists don't tag). That should continue as it brightens up the city.
In fact, there are many drab gaudy wooden hoardings around the city, like those surrounding derelict sites on North Main St., Castle Street and Coal Quay to name a few, that could be brightened up by graffiti artists or preferably a community group.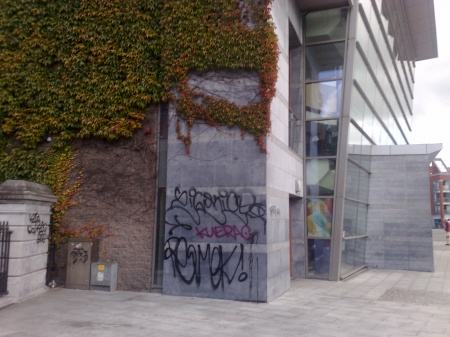 Tagging: a tiny group of individuals are responsible for the majority of the defacement of public property in Cork
One can only imagine the talk of red tape and insurance if this were to be suggested however - the much-lauded Limerick scheme allowing artists to display their works in the large windows of closed down high street shops never took off here in Cork despite the appeals of artists so naturally expectations are low.
Although tagging is becoming widespread around the city the majority of it can actually be narrowed down to a surprisingly small group of 10-15 individuals who are highly traceable if the authorities really wanted to reign them in.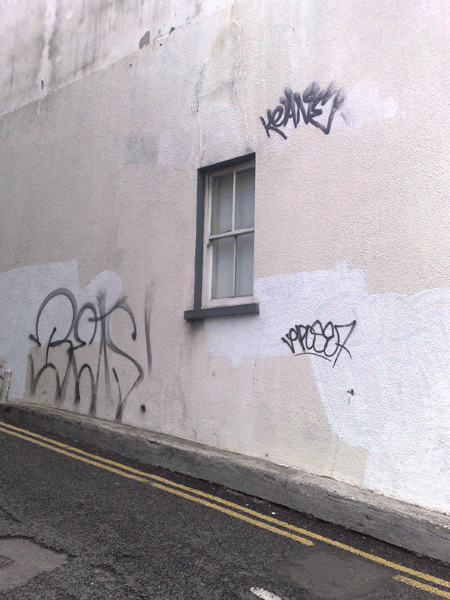 Well over 8ft above Richmond Hill this isn't the work of some testosterone riddled 15 year old with a flagon of Devil's bit. This is someone who is determined to wreck Cork.

Responsibility for nabbing taggers falls into the hands of City Council rather than the Gardaí so its advantage taggers for starters with the corpo so under-resourced with limited hours. And we should make it clear that while "Natalie luvz Jaysin 4evur" graffiti is annoying the taggers we are talking about here are people who have hundreds tags in the city centre and not some gomey scobe with a leaky biro.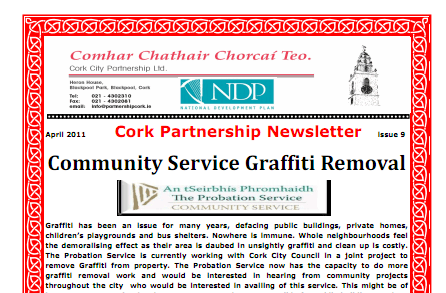 "A referral for Graffiti removal work can be made by emailing

.(JavaScript must be enabled to view this email address)


If emailing please ensure the subject title of you email is "Graffiti
Referral". Include the contact details of a representative of your organisation and the full address of the location where Graffiti needs to be removed."
But while catching them red handed or purple handed, or whatever colour spray can they happen to be destroying Cork with at the time, is almost impossible without much larger budgets and link ups with CCTV, the internet provides a wealth of incriminating evidence if only the authorities would take interest.
For example, most people in the city will have seen the unsightly tags 'Keane' and 'Nash' - always within a few feet of each other regularly defacing age-old brick or historic limestone walls that even after cleaning will bear the scars of this childish persuit to replacate eighties American ghetto culture.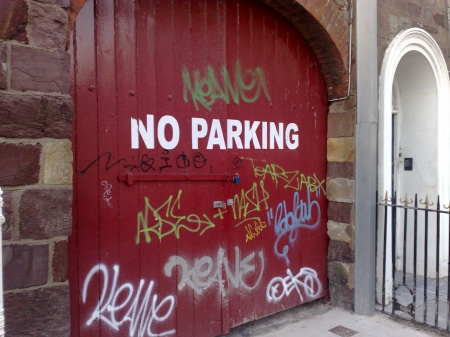 We don't believe that 'Keane' is a Corkonian nor do we believe that his name is actually Keane.
These langers tag all round them in a phoney competition with other 'crews' and then congratulate each other online in cringy American ghetto lingo and toe-curling comments.
Watch out around town and places like the South Link and Lee Fields for the letters RTM (Rattles the Most - the rattle referring to metal 'pea' inside the spray can) and others like DPK - these are the two main groups who try to deface as much of the city as possible with spray paint.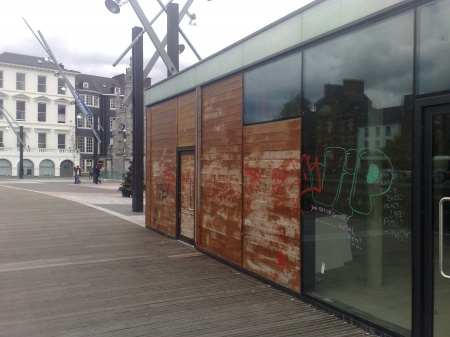 Removing tags leaves permanent damage on buildings like this vacant coffee dock on South Mall.
Easily traceable on their internet flickr profiles (a website that allows uploading of photographs) and elsewhere this small group of persistent taggers plaguing Cork with tags that have less artistic merit than a blind three year old's join-the-dots colouring book, arrogantly flaunt their defacing of public property causing thousands of euro worth of damage every month in apparent indefinite immunity.
The unspoken cocky motivation that drives many, but not all, graffiti artists however is the desire to have their chosen monikers seen by as many people as possible around our streets and so additional tagging on whatever takes their fancy accompanies the more allegedly high-brow and time consuming arty ones that you might see on the walls of White Street.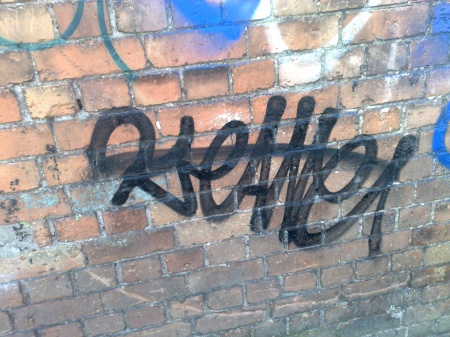 Tagging on historic buildings to cause maximum defacement is a favourite of Keane's. If you want to pass any info on to us anonymously PROC will gladly accept it via the contact form above.
Make no mistake, despite the smirking anti-tagging rhetoric, many graffiti artists who claim the moral high ground are also tagging.
This week we have posted a stack of photos, links and videos submitted by our users and it'll be interesting to see what becomes of them. Recently in a conversation with a litter warden about tagging we highlighted the taunting presence of taggers online. The response, while genuine and concerning, was buffered with the pass-the-parcel clause of 'we wouldn't be on the internet really'. Really?!
Undoubtedly there are some smart well-meaning and influential Cork lads at the heart of the real artistic end of the graffiti scene on Leeside who don't tag and who could help City Council reign in the spoil sports, many of whom we suspect, are blow-ins from outside the Rebel County.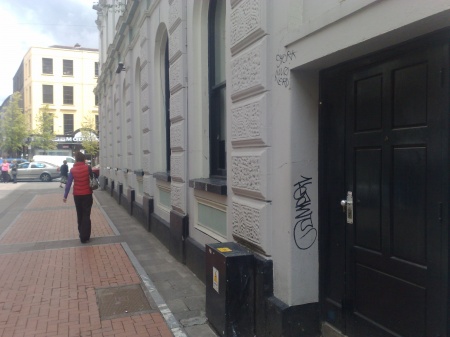 See our list of links below to Keane's cocky online presence
Deep down though graffiti artists know how inextricably tied tagging is to the overall scene. They claim that the more space they are given the less illegal stuff will end up on the streets. Is that claim watertight? Unlikely given the spectrum of talent within the scene ranging from experts to childish wannabes.
That logic might suggest that if we built more football stadiums it would reduce the amount of kids kicking balls against walls. If anything it would increase it as more kids seek to emulate their heroes.
If a small group of artists want to emulate American street culture nobody should have any problem with that but when the cost of promoting that culture is the debasing then we very much have a problem as Corkonians' patience is wearing thin.
Perhaps the prison places being freed up by those removing the illegal and unwanted tags could be used to set an example among those who insist on destroying our beautiful city.

(Thank you to all the people who contributed to this article)


Interview with 'Keane' who comically and ironically dismisses tagging:
http://puregraffiti.com/art/2009/06/keane-graffiti-artist-interview/

Photos of Nash and Keane graffiti
http://conorsaysboom.wordpress.com/2011/01/05/cork-graf/

Photo of 'RTM' on South Link posted on Keane's Flickr Profile
http://www.flickr.com/photos/keanegraffiti/4603376787/in/photostream/

Photo of city centre tag on Keane's own Flickr profile
http://www.flickr.com/photos/keanegraffiti/4830540674/in/photostream

Online celebration and montage of Keane's defacement of public property with some interesting comments
http://www.youtube.com/watch?v=le9eglj_qD0

Same:
http://www.youtube.com/watch?v=73Uq6MjZPcM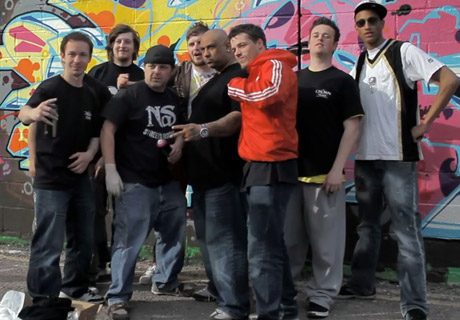 Artists from White Street carpark where 'Keane' often paints.
This is a still taken from the video below.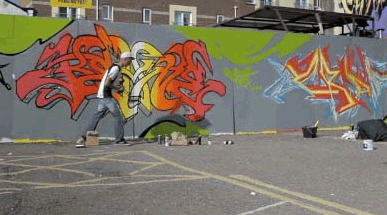 A still of note from the video (below) taken the
same day as the still one above.
Rattles The Most from LB Frames on Vimeo.
Video showing many of the graffiti artists in Cork
Below are just a small sample of the 'Nash' and 'Keane' tags that are destroying the city as well as some others following their lead.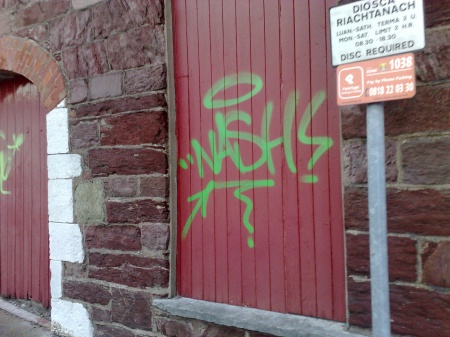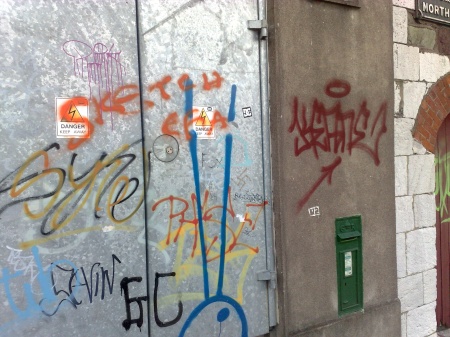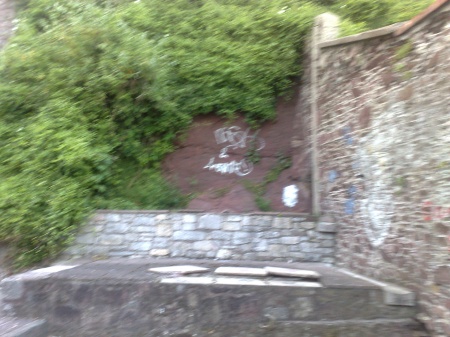 Sunday's Well Road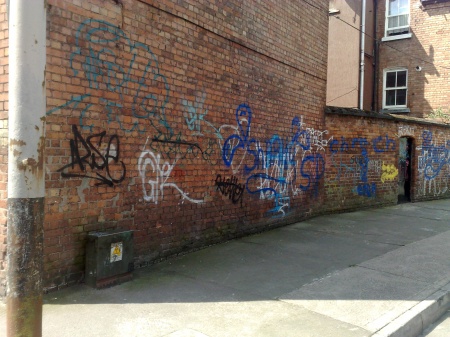 St. Peter and Paul's Avenue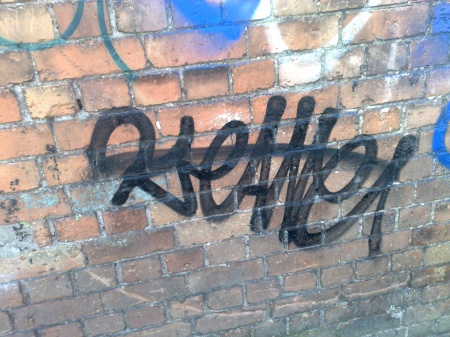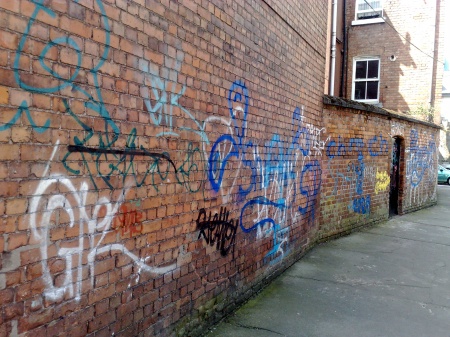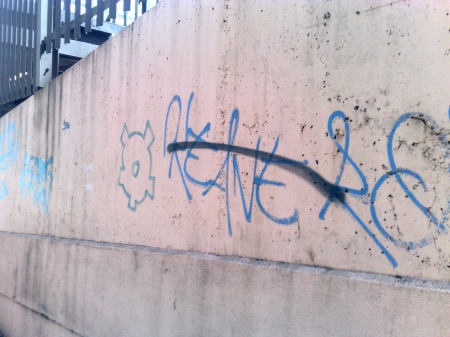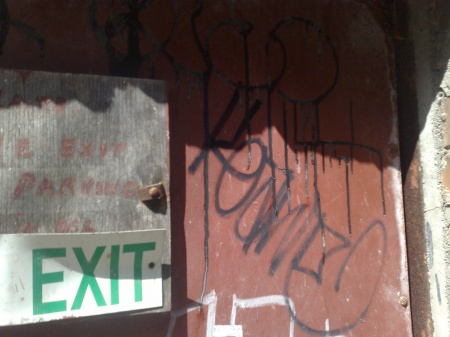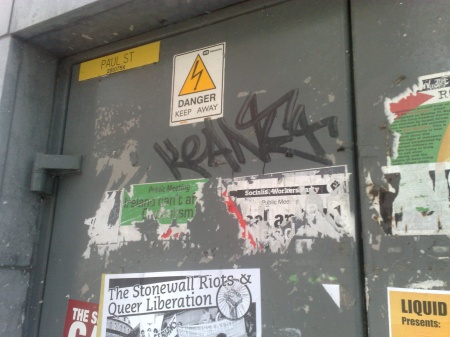 Paul St.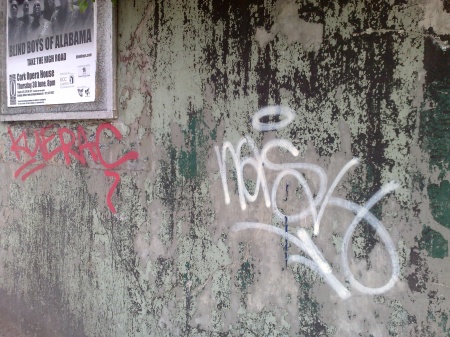 Sunday's Well Road ('Kuerac' seen above in red is also fast becoming one of the main defacers of public property including the Opera House)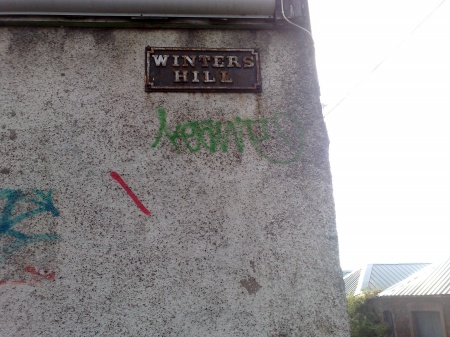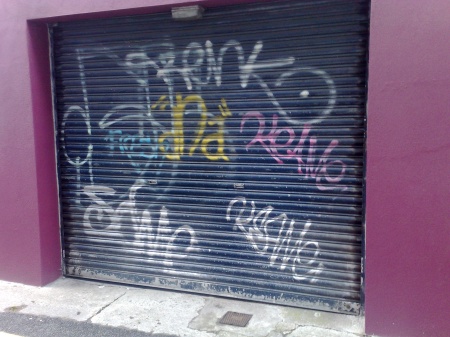 Knapp's Square (off Pope's Quay)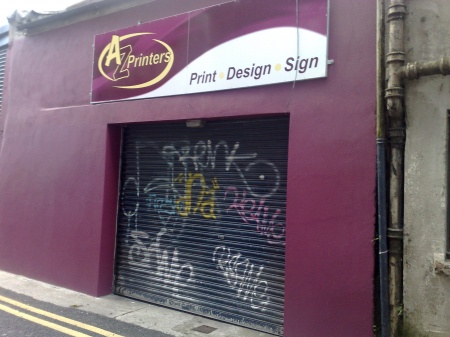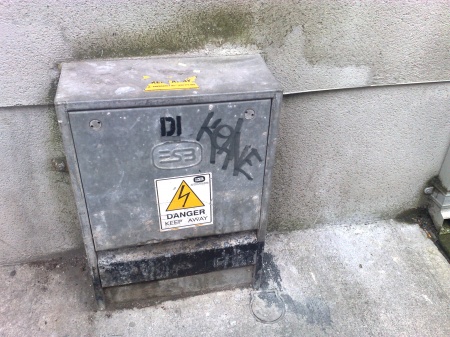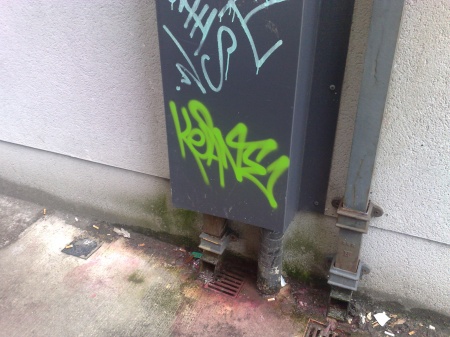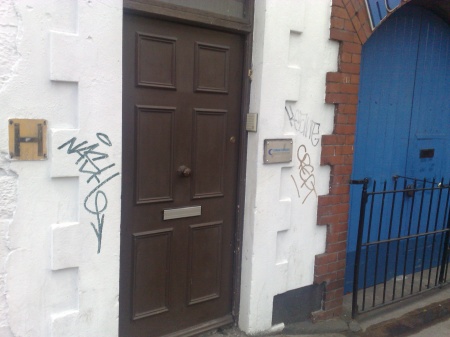 Leitrim St.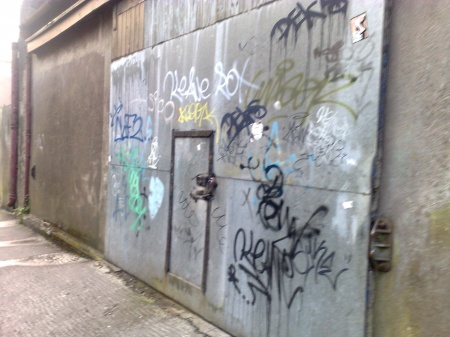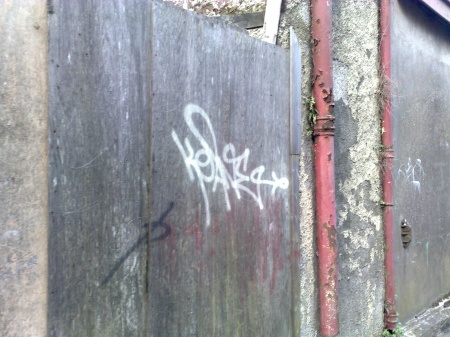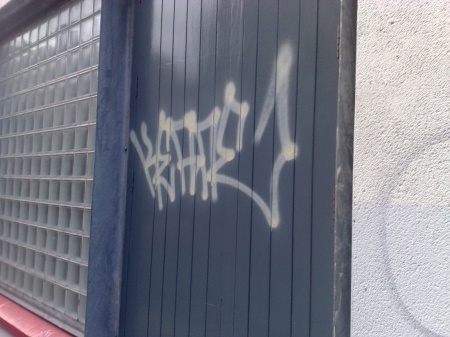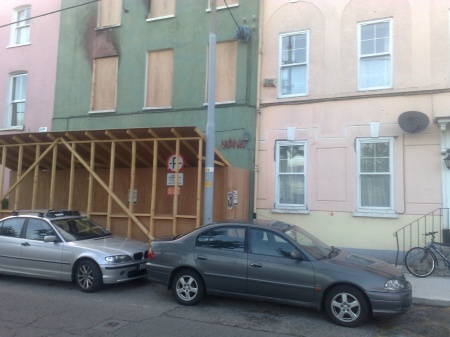 North Mall (tag above wooden hoarding)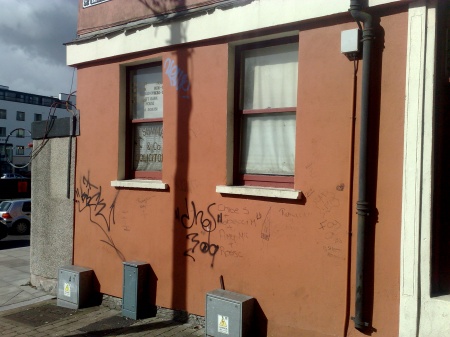 Brown's Hill (off Pope's Quay)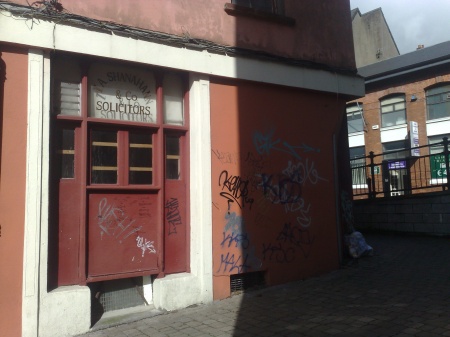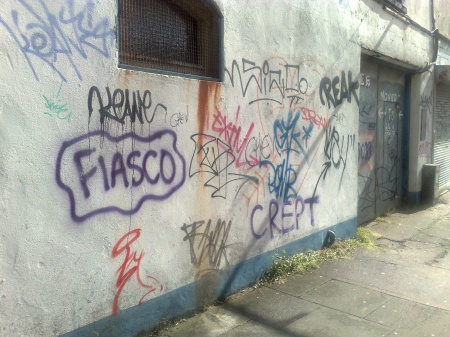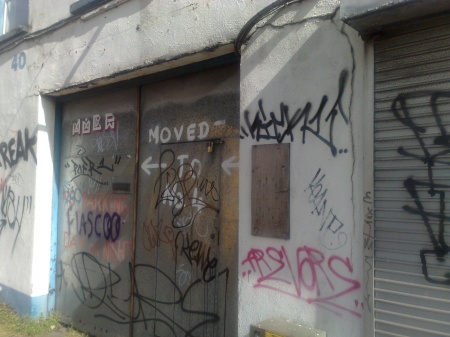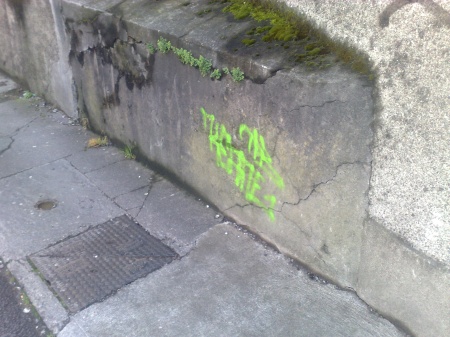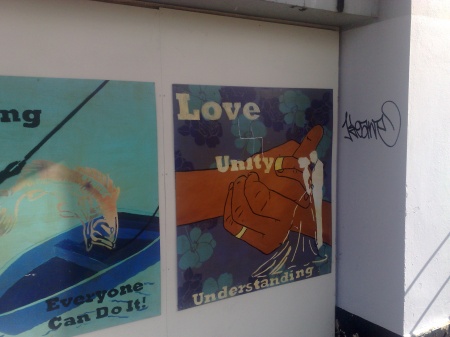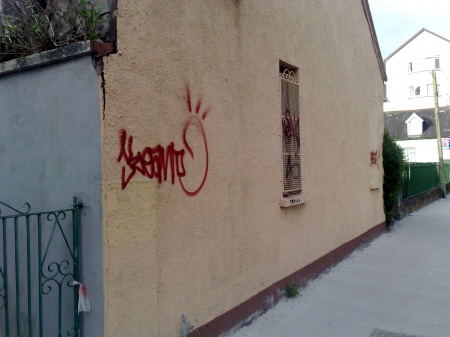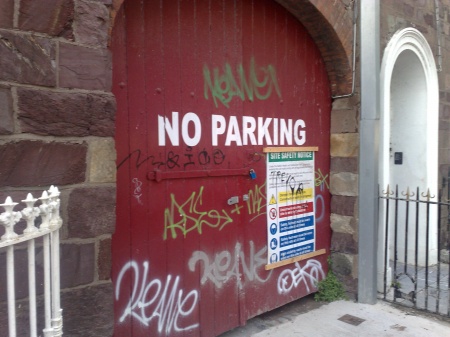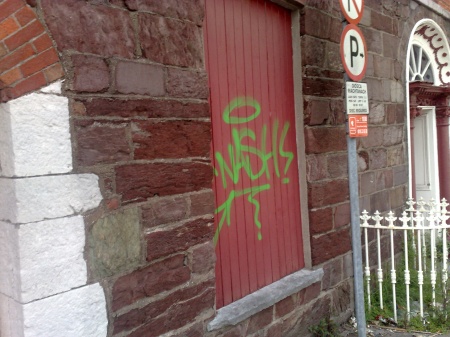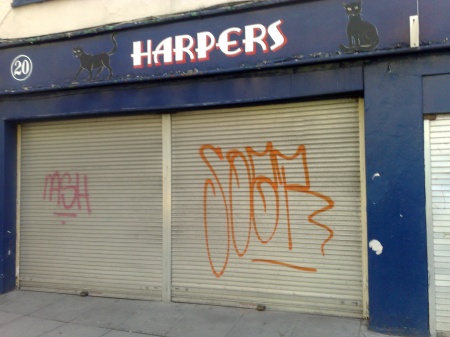 North Main St.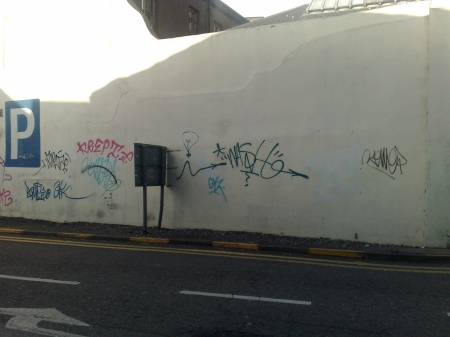 Paul St. Car Park (off Coal Quay)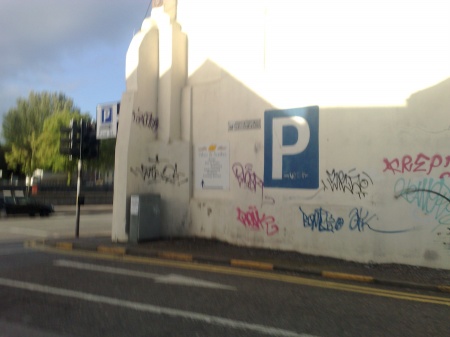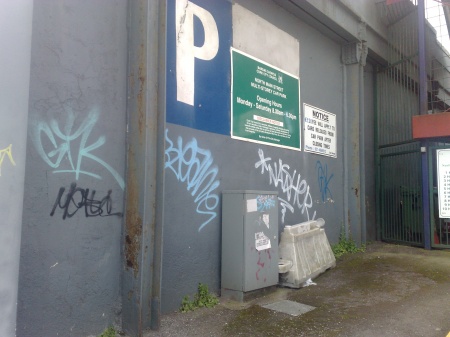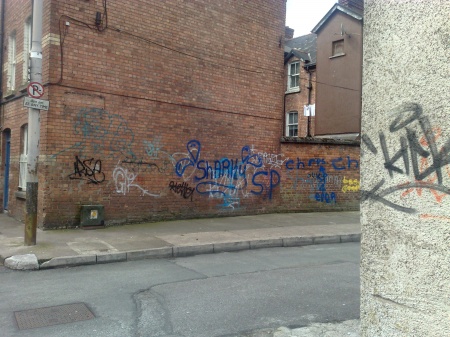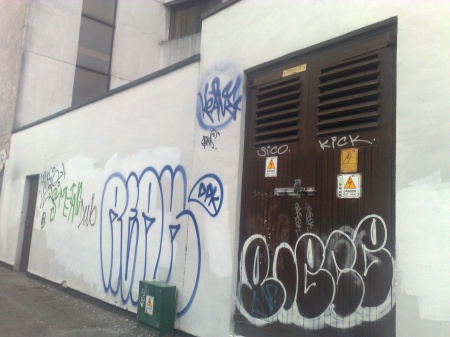 Drinan Street off Sullivan's Quay (old Fás building)
Marlboro St.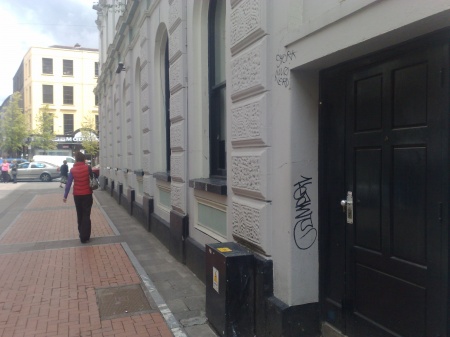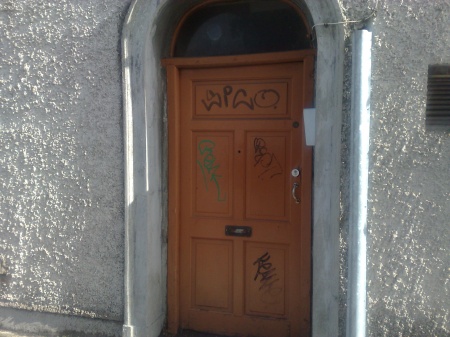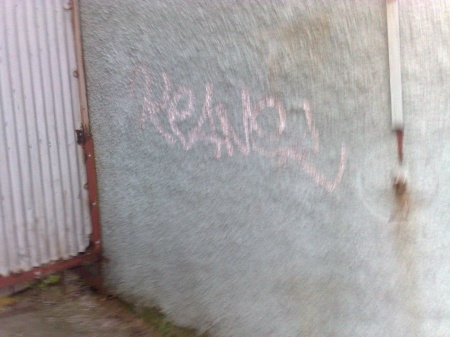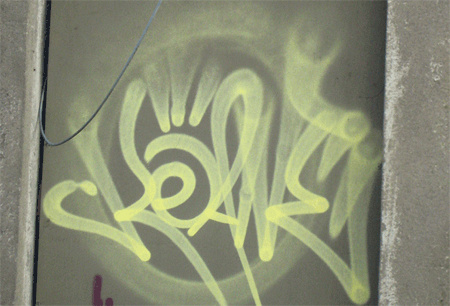 Above are tags from taggers 'Keane' and 'Nash'. Below are samples from some of their acolytes currently trying to emulate their heroes.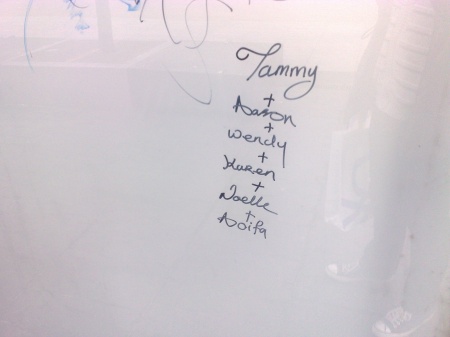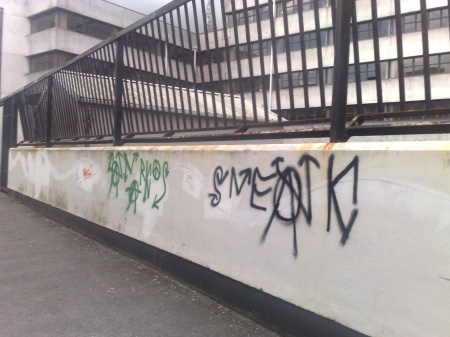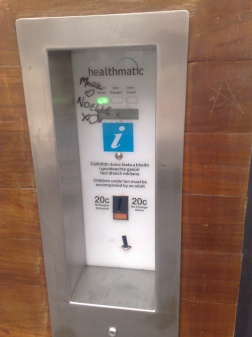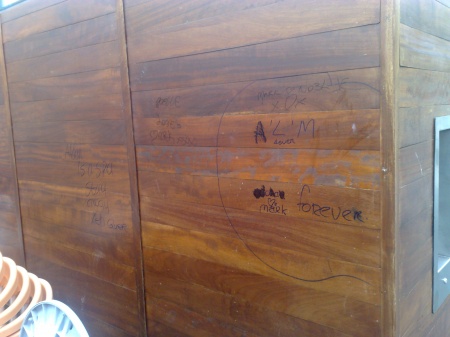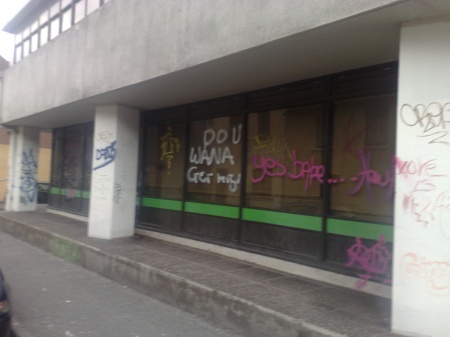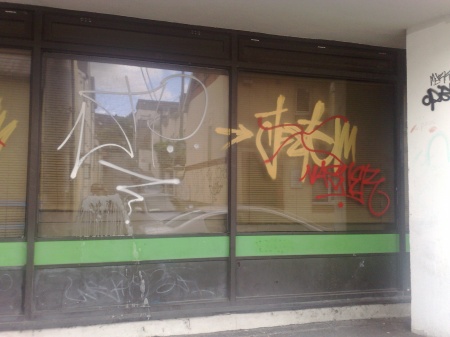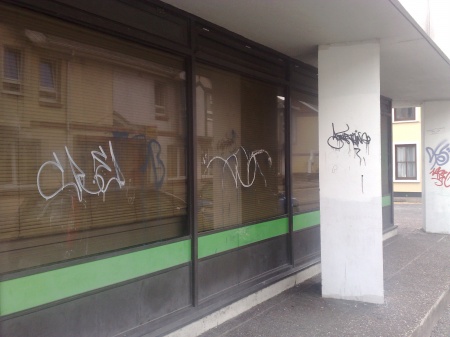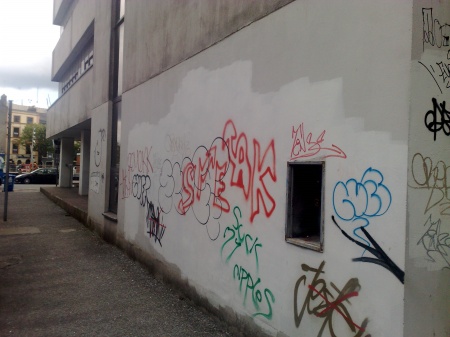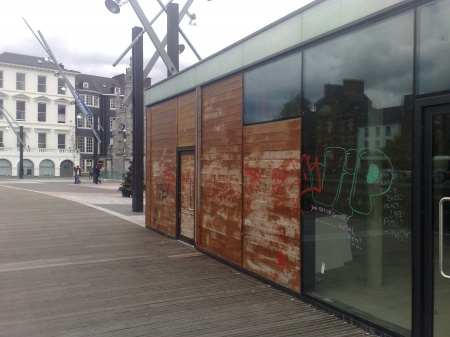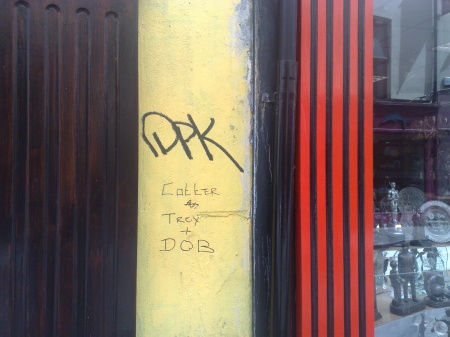 Marlboro St.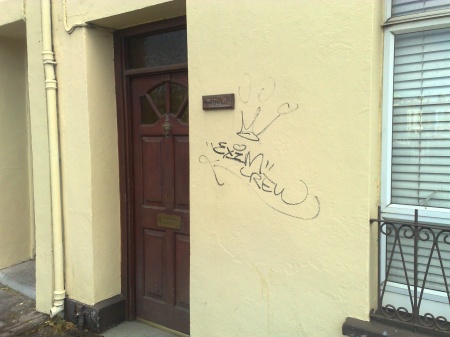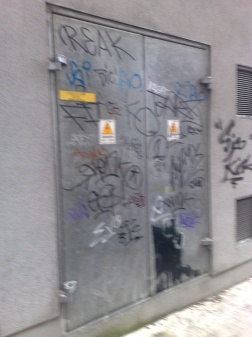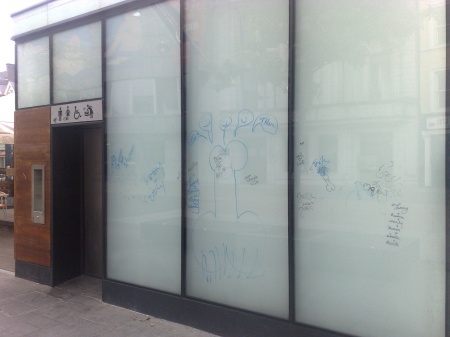 Toilets on Grand Parade
Pope's Quay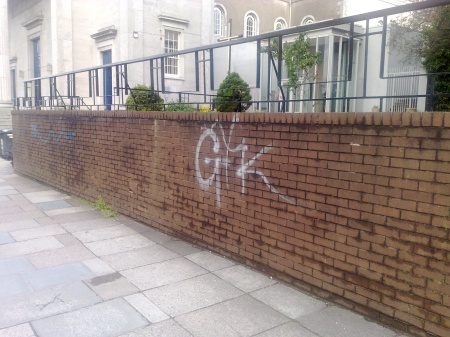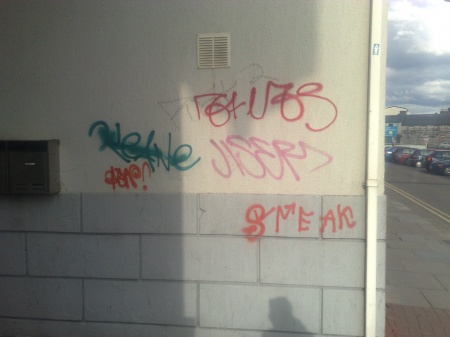 Father Mathew Quay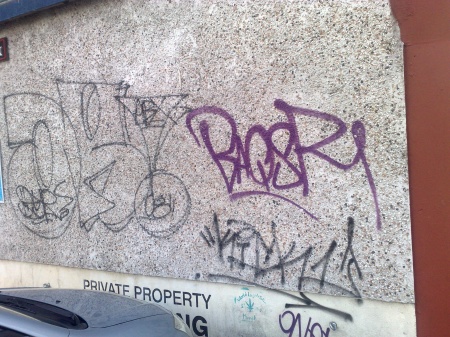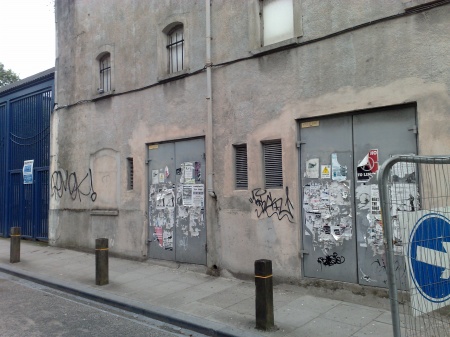 Kyle St.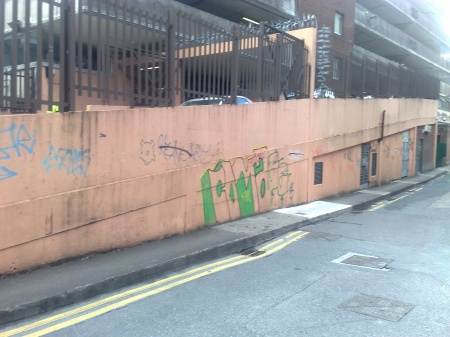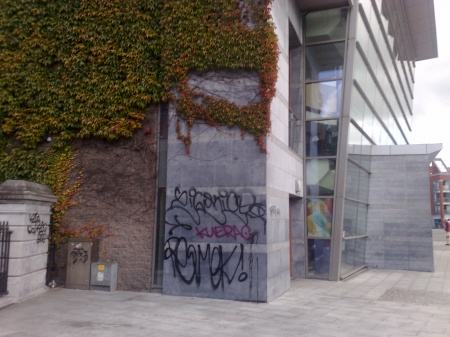 Opera House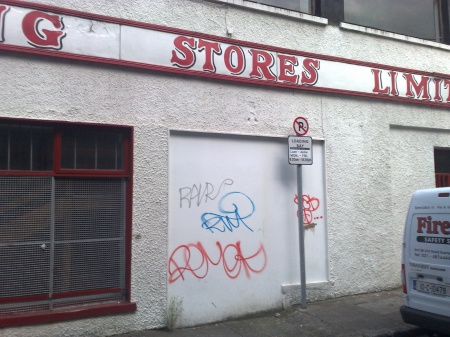 Perry St. (side of Larry Tompkins bar just off Lavitt's Quay)
Posted on Nov 27th, 2018
With much of the area due to become part of the city in the next few years, Glanmire has confirmed it was just trying to impress the rest of the northside with the "mass brawl" that took place in Riverstown last Saturday morning.
Posted on Nov 20th, 2018
A video taken in Bishopstown of a UFO has been dismissed with a seemingly rational explanation about the sun and the international space station. Fuck that though...
Posted on Nov 13th, 2018
Are you spending most of your day online posting vague, anecdotal evidence to back up your assertion that the Panaban is either the best or worst thing ever? Read on, bubbila.
Posted on Nov 5th, 2018
Last weekend a Dublin newspaper published an entire supplement called "10 Big Ideas to Make Dublin Better". Unfortunately our thoughtful and well considered suggestions were omitted due to the newspaper's anti-Cork bias. Here they are...
Posted on Nov 1st, 2018
Encouraged by his single figure showing in the Presidential election, Seán Gallagher vows to return from the sea and fight the 2025 Presidential election…