Dundalk Fans To Receive Comeuppance Award
A consolation prize for Sunday's losing FAI cup side Dundalk has been an award made to fans. Their team may have lost both the league and cup but fans can look forward to being crowed 2017 All-Ireland Comeuppance Champions after spending the entire FAI cup final taunting and booing the Cork goalkeeper before Mark McNulty ironically became his team's hero.

Each time the Ballincollig shot stopper came into contact with the ball during the game, which went to extra time and penalties, the great unwashed behind his goal discharged a vicious chorus of vile language, taunts and boos.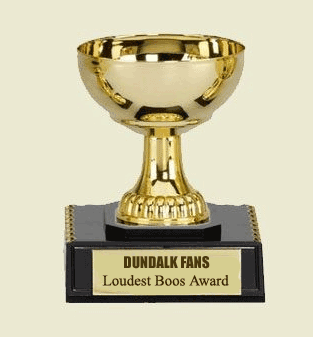 A consolation prize for Dundalk

When Dundalk won the toss to have the penalty shoot out at their end of the ground a huge roar, not unlike the howls of an army of orcs in Lord of the Rings, could be heard as Dundalk fans believed they could swing it in their team's favour by continuing their desperate behaviour towards McNulty.

On penalty number four McNulty got a hand to block Michael Duffy's shot while his rival and alleged man-of-the-match Gary Rogers failed to save any of Cork's shots. When Kieran Sadlier buried City's fifth the battalion of boos behind the goal was finally silenced.

Watching replays of the last penalty it's hard to take your eyes off young Sadlier as he sprints away in celebration but it's worth having another look at the motionless, silent crowd behind the goal.

The award will be made as soon as Dundalk fans have the egg surgically removed from their faces.
Posted on Aug 15th, 2018
It has been rumoured for years that Bob Marley lived in Cork...and possibly still does. Only that can explain the manic devotion to the reggae superstar on Leeside...
Posted on Aug 8th, 2018
If you haven't moved abroad in protest after the last time the Panaban was tried or set yourself on fire in defiance then check out our frequently asked questions guide to Panaban's second coming.
Posted on Jul 24th, 2018
This time last year Cork were Munster champions going into the All-Ireland semi-final on a high. It didn't end well. The Rebels have added some steel that should help avoid another semi drubbing but is it enough to beat a tough Limerick outfit?
Posted on Jul 16th, 2018
It's time to hand the event centre tender over to the Peeple'a'Cork. Just give us 100 Saturdays and we'll knock it together. Anyone have a spare trowel?
Posted on Jul 2nd, 2018
It has been very dry over the last few weeks and things are tough all over the country but did you hear about how bad the drought is up in Clare? They haven't won a Munster title now in 20 years.