Dana Had Orgasm in English Market
Áras candidate Dana Rosemary Scandal shocked the Republic of Ireland last night by unexpectedly reading a prepared statement at the end of a television debate on Dublin state television. The softly spoken former Eurovision winner refuted "vile" allegations that she claimed would be published by newspapers in the coming days.
Refusing to elaborate on the nature or source of the allegations has resulted in speculation that the former MEP for the How Now Brown Cow Constituency had an orgasm while holding up a Peoples Republic of Cork t-shirt in the English Market during a recent campaign trip to Leeside.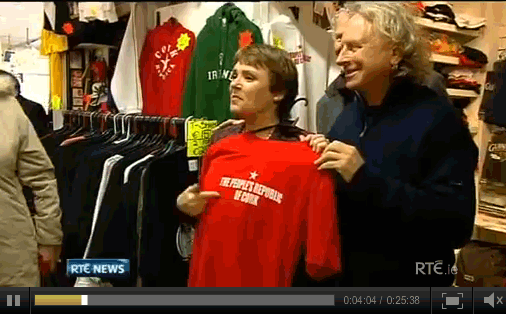 Dana holds up a PROC t-shirt on Dublin television station RTE
which caused her to orgasm unexpectedly.

In an attempt to endear herself to the Cork public to whom she has little or no connection, Dana was so overwhelmed by the instant publicity that she instantly climaxed.
Any orgasm achieved in this way is classified as adultery under a strict interpretation of Catholic law to which the nordie subscribes.
Confession experts have confirmed that punishment for this crime can be severe with the convicted party being ordered to repeat the Hail Mary prayer up to five times before absolution and a lifetime of guilt and self hatred is granted.

Sympathy for Dana's climax is strong on Leeside with many people surprised at her sudden guilt.

"Anyone who comes to Cork for the first time has to expect to come in Cork as well", said Stella Kiely buying an unreasonable amount of bananas this morning in the market, "I would encourage Dana to come again and again. Im nearly over the edge meself here like holdin' these tings."
Posted on Sep 8th, 2014
Does your landlord shrug his shoulders when you tell him about the rats who come out to watch telly in your manky flat's living room? Read
Posted on Sep 4th, 2014
A new t-shirt in the PROC shop celebrating the traditional rural tanning salon of the great outdoors. Embrace your Farmer's Tan!
Posted on Sep 3rd, 2014
Infrared tests have shown that Roy Keane's body temperature actually increased as a result of his ice bucket challenge
Posted on Sep 3rd, 2014
Hoping to bag a fella or a land a beour when the new college term starts? Here's our guide to making sure you know what's coming....
Posted on Sep 1st, 2014
Jungle Brothers, Paul Van Dyk and Lloyd Cole come to Cork and Coughlans Live festival kicks off at the end of the month..