Dana Had Orgasm in English Market
Áras candidate Dana Rosemary Scandal shocked the Republic of Ireland last night by unexpectedly reading a prepared statement at the end of a television debate on Dublin state television. The softly spoken former Eurovision winner refuted "vile" allegations that she claimed would be published by newspapers in the coming days.
Refusing to elaborate on the nature or source of the allegations has resulted in speculation that the former MEP for the How Now Brown Cow Constituency had an orgasm while holding up a Peoples Republic of Cork t-shirt in the English Market during a recent campaign trip to Leeside.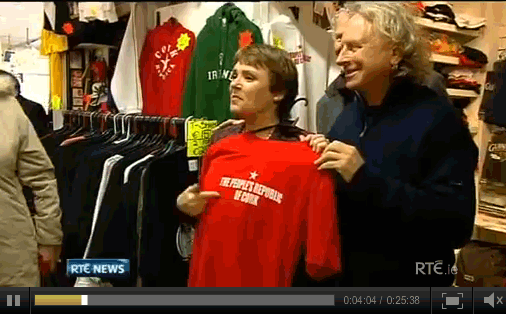 Dana holds up a PROC t-shirt on Dublin television station RTE
which caused her to orgasm unexpectedly.

In an attempt to endear herself to the Cork public to whom she has little or no connection, Dana was so overwhelmed by the instant publicity that she instantly climaxed.
Any orgasm achieved in this way is classified as adultery under a strict interpretation of Catholic law to which the nordie subscribes.
Confession experts have confirmed that punishment for this crime can be severe with the convicted party being ordered to repeat the Hail Mary prayer up to five times before absolution and a lifetime of guilt and self hatred is granted.

Sympathy for Dana's climax is strong on Leeside with many people surprised at her sudden guilt.

"Anyone who comes to Cork for the first time has to expect to come in Cork as well", said Stella Kiely buying an unreasonable amount of bananas this morning in the market, "I would encourage Dana to come again and again. Im nearly over the edge meself here like holdin' these tings."
Posted on May 18th, 2019
In part deux we look at ways we can all help make Cork's Huguenot Quarter become a little more French by changing our accents, taking up chain smoking and having multiple affairs with beours we don't even like...
Posted on May 11th, 2019
With our insatiable appetite for tourists, maybe it is now time to ramp it up and go all-singing-all-dancing frogs legs, onion necklaces and stinky cheese...
Posted on May 4th, 2019
Even though we are a notch above the rest, Cork people aren't all the same – perfection doesn't mean we are homogeneous.Travel around the city and county and you'll find some quirky traits that make each of the jewels in Cork's crown unique
Posted on Apr 4th, 2019
The relentlessly repetitive single word script and leave-whenever-you-want audience policy is sure to be a hit in theatres from Buttevant to Barnet and Brixton to Broadway....
Posted on Mar 13th, 2019
When minority languages try to recover from historical oppression, it is the death-by-a-hundred-thousand cuts inflicted by the native population themselves that properly ensures a language is extinguished..