Cork X Southwest Festival Launched
MURPHY'S PRESENTS
CORK X SOUTHWEST 2009
The official festival of us
The Showgrounds, Skibbereen, West Cork
Saturday August 1st, 2009
Featuring THE WATERBOYS LISA HANNIGAN, JERRY FISH & THE MUDBUG CLUB JOHN SPILLANE, FRED, DAVID O'DOHERTY, VILLAGERS…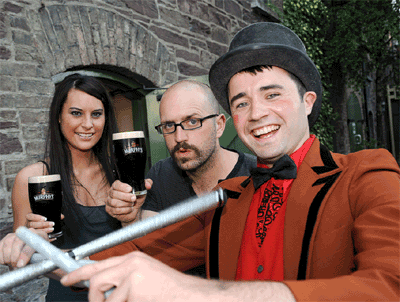 Etaoin Ó hAilpín, Joe O'Leary from Fred and Cian McNamara at the festival launch
DE BARRA'S SITTING ROOM SESSIONS, THE ECLECTIC TENT, DJ'S, COMEDY, ART, DRAMA, THE VERY BEST IN WEST CORK FOOD AND MUCH MORE! ALL TENTED - 100% WEATHERPROOF!
August bank holiday weekend, the sun is splitting the rocks, the aroma of sizzling organic fare weaves through the air, a cool pint of Murphy's is at hand, and the very best bands, DJs and comedians provide the soundtrack to the day.
Sound good? We can promise it all at Cork X Southwest 2009, well, except for the sun, but we're praying hard and it's all tented so even the rain can't stop the fun!
Ireland's best new eclectic music and arts festival, Cork X Southwest, returns for a third helping of West Cork summer fun. August 1st sees Skibbereen kick the bank holiday weekend into action with live music from The Waterboys, Lisa Hannigan, Jerry Fish & The Mudbug Club, Fred, John Spillane and a huge roll call of bands, musicians, DJ's and comedians.
The hugely popular De Barra's Sitting Room Sessions moves to a bigger stage, where trad-heads and rock-gods will perform intimate acoustic sets, the stuff of legend! Plus The Eclectic Tent, DJ's, comedians, art, fringe events, the very best in West Cork food, creamy cold pints of Murphy's and much, much more!
This year's Cork X Southwest continues its partnership with Murphy's, the official pint of us. Tickets for Cork X Southwest are €50 including booking fee and are available from http://www.tickets.ie and a number of local outlets. Camping is also available on-site at €10 per person. Cork X Southwest is a strictly over 18's event. For further information on Cork X Southwest, log on to corkxsw.com & myspace.com/cxsw
Enjoy Murphy's responsibly - Visit drinkaware.ie

TICKETS ON-SALE NOW@€50 FROM WWW.TICKETS.IE AND LOCAL OUTLETS
CAMPING AVAILABLE

Posted on Jul 18th, 2011
The beer gardens of Tom Barry's and Fionnbarras host the official Murphy's LBNO bbq of summer 2011. Space is at a premum so click here to find out how to get tickets...
Posted on Nov 9th, 2010
Ash, Slow Motion Heroes, The Undertones, Number One album artist Cathy Davey, Fight Likes Apes, James Vincent McMorrow and Fred...
Posted on Nov 3rd, 2010
Win a pair of tickets to the juggernaut of excitement hitting Cork at the Arc Arena from Novembr 19th-21st
Posted on Jun 10th, 2010
See the play that won the biggest award at the 2009 Edinburgh Festival. For free at the Everyman!
Posted on May 23rd, 2010
Murphys lays on a savage nosh up at Tom Barry'