Cork City 1 Shamrock Rovers 1

City 1-1 Scumrock Rovers
FourFiveOne
Cork City maintained their unbeaten home record at the Cross on Friday
night and more importantly denied Scumrock Rovers a win that would
probably have given them the European spot ahead of City. City will now
be favourites to take the Intertoto spot, but the remaining three games
are against sides battling to stay in the Premier Division so nothing
is certain.
It was brass-monkey weather but a crowd of about 5,000 turned up hoping
to see a repeat of the amazing 3-2 win over Rovers earlier in the
season. It was equally as exciting but in a different way.
City went behind to a good goal by Rovers young star, Noel Hunt, who is
off to Dunfermline at the end of the month for anything from ?100,000
to ?250,000, depending on who you listen to. It was probably a deserved
lead at the time but from then on City attacked and had numerous
chances to equalise.
Davie Warren was having a great game on the right and twice brought
last-ditch saves from Tony O'Dowd in the Shams goal. Georgie had a half-
chance and Woods went close, while the once again outstanding John
O'Flynn kept probing.
It wasn't until the 90th minute though that Dan Murray popped up to
back heal an equaliser after a goalmouth scramble. You'd have to
question his choice of celebration though... Taking off your shirt in
that cold can't be good for ya! Murray was quoted in the Echo recently
as saying he wants to stay with City on a permanent basis and his
celebration shows just how happy he is here.
So we're level with Rovers in the race for Europe, but with a game in
hand. That game is on Monday in Longford. Then it's onto St. Pat's in
Dublin on Friday. The CCISA are running a bus to that game: ?20 a man,
bus leaving St. Patrick's church at 12.30pm.
Next home game: v UCD on Sunday 26th January, the last day of the
season.
Cork City: (4-4-2): Devine; O'Halloran, Daly (Bennett 69), Murray,
Horgan; Warren (C. T. O'Brien 78), Reynolds, O'Grady (C P O'Brien 69),
Woods; O'Callaghan, O'Flynn.
Shamrock Rovers: (4-4-2): O'Dowd; Gough, McGuinness, Palmer, Keddy;
Robinson, Colwell, Tracey, S Grant; Hunt (T Grant 86), Molloy.
Referee: J O'Neill (Waterford).


Click here to see FOurFiveOne's website
Posted on Jul 28th, 2009
If CCFC lose their appeal on Friday the club will be forced to close for good and be removed from the League of Ireland..
Posted on Aug 19th, 2008
Cork City FC is on the brink of collapse as it applies for Examinership at the High Court. If Kevin Doyle goes from Reading to Villa there's hope....
Posted on May 16th, 2007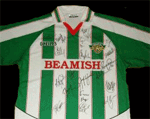 A bunch of loyal and dedicated Cork City FC fans are raising sponosrship funds with an online auction of a signed jersey. Get your hands on it now...
Posted on Feb 6th, 2003

The ever popular CCFC fanzine FourFiveOne present their awards for the end of season....
Posted on Feb 3rd, 2003
No cup this season, no europe next season and Murphy resigns. Gareth Williams sums up the first transition season at Turners Cross....