Calls for National Alzheimer's Screening Programme after FF Storm Election
A body representing health professionals in the Republic of Ireand has called for the roll out of a national amnesia screening programme after the party responsible for the economic crash, Fianna Fáil, registered a record increase in support in last Friday's general election.

According to exit polls Fianna Fáil's support base is much older than other parties and doctors believe this may be behind the unexpected resurgence of the party that saw hundreds of thousands of people lose their jobs and leave the country.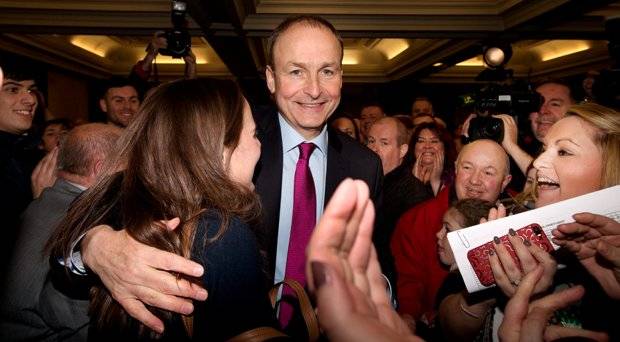 Big Mickey visiting a home for Alzeimher's patients just after being re-elected

"Those over fifty five are naturally more likely to succumb to dementia related diseases and related memory loss", said senior consultant Dr. Thomas T. Thompson-Thornton of Rochestown Private Hospital for Top Tax Bracket Southsiders, "and this may explain why they forgot about their sons and daughters who had to leave the country because of the actions of the previous government".

Another survey revealed that many people believed the letters 'IMF' stood for Irish Milk Farmers and that 'ECB' was the body governing GAA activity on the continent – the European County Board.

PROC is tipping former Anglo Irish chiefs Seánie Fitz and David Drumm to be appointed secretary of the Department of Finance and attorney general respectively while many suspect that Bertie Ahern will make a grand return to Irish politics along with the corpse of Charlie Haughey.

The Galway Tent Village

With such energy bounding around the Fianna Fáil aprty after their more than doubling their Dáil seats some activists are hoping to resurrect the infamous tent at the Galways Races in July to really get the party back on track.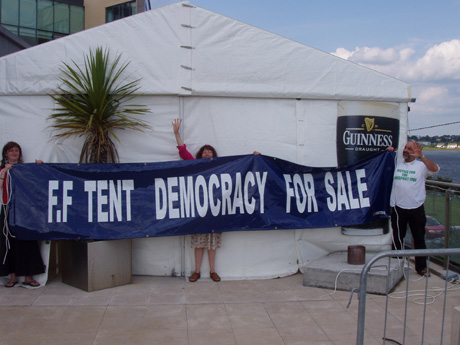 FF to consider a tent village at the Galway Races

"There's such enthusiasm for Fianna Fáil after the general election that we think we should go for an entire village of tents this time", said Billy Brown-Envelope a party activist, "our supporters have such short memories that they'll forget they've donated in one tent and trump up again in the other tent. There's a lot of democracy to be sold over the next five years."

With the rise of ISIS, the imminent election of Donald Trump to the White House and Fianna Fáil back in power in Ireland many believe we have now entered the post-intellectual era which commentators on Leeside are dubbing "The Age of the Langer" – when there are more complete langers in power around the world than normals.
Posted on Sep 21st, 2020
Our low-key 20 year celebrations begin with a flyover of the city centre by the PROC air force and a military parade...
Posted on Sep 14th, 2020
With ten times more covid in Dublin than in Cork, public health officials should try to communicate with Dubs in a language they understand...
Posted on Sep 3rd, 2020
Military drone will detect suspected student parties by searching for clusters of tik tok app users and cross referencing it with the smell of bedsit mould and puke...
Posted on Aug 3rd, 2020
And beours too, obviously, like. A few words about our new traffic box art piece on South Mall...
Posted on Jul 31st, 2020
Rule no.1 if you're coming down from the NTMA in Dublin to show your street train plans: don't photoshop a Dublin LUAS on to Cork streets. We are better than that, feen..