10 and a Half Reasons That Prove Bob Marley Lived in Cork
It's well over 35 years since the reggae superstar was at his peak but Bob Marley continues to be as bizarrely popular as ever on Leeside. On sunny days cars, taxis and vans driving around the city boom out big hits like Redemption Song, Wan Love and I Shot The Sherriff.

His songs are rarely off the playlists of local radio stations and if a pub DJ is struggling to win a Cork crowd over then dropping some 'Bob' is a guaranteed get-out-of-jail card.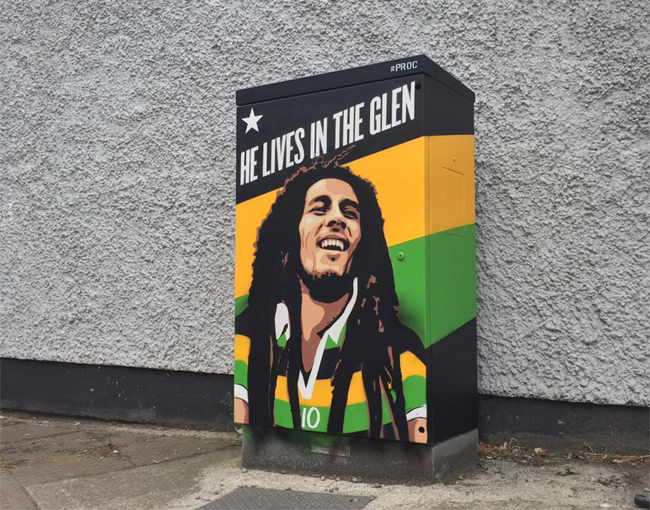 A box at Leitrim Street near the Heineken Brewery spelling out what has been rumoured for years.

Is the devotion to Bob Marley just a simple love of his music or is there a deeper, secret connection between Cork and the singer that suggests he once lived here….and possibly still does?
Here's are ten reasons to believe….

1. Glen Rovers Wear Jamaican Colours
The colours of the Jamaican flag, which was officially adopted in 1961, are said to have been suggested by a Kingston based Rastafarian who was a lifelong Christy Ring and Glen Rovers fan.

The black, green and yellow colours of the northside hurling club would have made The Glen and the Ballyvolane area a natural home for the reggae superstar and it's well known that local hurling star Patrick Horgan had dreadlocks as a young fella. No guessing who set that trend.

2. He called himself a Rebel
Even if he was born and physically lived some of his life in Jamaica, his 1970 album titled 'Soul Rebels' was clearly all about where Marley felt his soul belonged. That year the Rebel county won the All-Ireland hurling final and it is believed the Cork team listened to the album on the bus all the way to Dublin for the final.

3. The classic 'Wan Love' was about a Cork woman and incorrectly spelt as 'One Love' on the album
This was a song written about a wan with ten kids that Bob lived next door to when he lived above in The Glen. The famous lyric 'Hear the children crying…' was about trying to get some sleep.

4. He was hurting in 1968…like the rest of Cork
Whether he was living on Leeside at the time or not, Marley expressed his pain and frustration in 1968 when he released "I'm Hurting" and while he doesn't say why (presumably in case it would give away his presence in Cork) it's obvious that the county's hammering by Tipperary in the Munster final in the Gaelic Grounds was the source of his pain.

The 2-13 to 1-7 drubbing sent Cork fans into a deep depression that didn't lift until the Rebels reclaimed the Liam McCarthy cup in 1970. That two year wait for glory inspired another Bob Marley classic 'I Don't Wanna Wait in Vain'.

5. 'All around in my home town, they're trying to track me down'
This lyric inI Shot The Sherriff is the first time Marley acknowledges that his anonymity in Cork might have been slipping. The rumours caused Marley to retreat more and more into his home in Glenview in case he was spotted. Plus, hash was fairly hard to come by in those days and anyone with dreadlocks was known to always keep a ten spot on them and Marley was paranoid about the twin bulb from Mayfield spotting him.

6. Bob took subtle digs at the Dubs
Again in Soul Rebels, Marley took the customary Cork dig at The Pale claiming: "I'm a living man, I've got work to do, If you're not happy, then you must be blue".

7. That suspiciously familiar bass line
It might be a bit more 'dubby' sounding but the single 'Soul Rebels' is in the same key as The Boys of Fairhill and the chord progression is almost identical.

8. Rastafari, bubbila
Check it on a map: both Jamaica and the Glen Amenity Park are shaped the same. Turn Jamaica ninety degrees clockwise and it fits like a glove inside the Glen. That's definitely a divine message from Jah.

9. Guess what is located on 'Glen Hope' Avenue in Kingston, Jamaica
The official Bob Marley Museum in Kingston, Jamaica is located directly across from a street called Glen Hope Avenue. This is clearly a coded reference to where Bob resided in Cork…or possibly even still lives.

10. The Cork-Jamaican Accents
The Cork and Jamaican sing-song accents are barely indistinguishable from each other especially those who speak with the type of Cork accent unique to The Glen. Corkonians are often confused for Jamaicans when abroad and regularly asked for spare nodges.

11. Hash
Hash hashy hash, hashy hashy hashy hash.
Posted on Sep 17th, 2018
An 83 year old man foiled a three-man raid in Glanmire last Saturday evening and in the process delivered a beautiful kick up the arse to one of the humiliated raiders. Who else needs a Dinny Funt?
Posted on Aug 27th, 2018
A buskers' code agreed between buskers, traders and residents is well worth pursuing before wrapping ourselves up in legal knots and slapping low-income buskers with fines...
Posted on Aug 8th, 2018
If you haven't moved abroad in protest after the last time the Panaban was tried or set yourself on fire in defiance then check out our frequently asked questions guide to Panaban's second coming.
Posted on Jul 24th, 2018
This time last year Cork were Munster champions going into the All-Ireland semi-final on a high. It didn't end well. The Rebels have added some steel that should help avoid another semi drubbing but is it enough to beat a tough Limerick outfit?
Posted on Jul 16th, 2018
It's time to hand the event centre tender over to the Peeple'a'Cork. Just give us 100 Saturdays and we'll knock it together. Anyone have a spare trowel?