Top Ten Tourist Plamáses
It is getting to the stage now where Corkonians are becoming non-chalant about being in every travel writer's top ten. Yahoo Travel are the latest influential online outlet to sing the praises of the Rebel city and why wouldn't they? Here there lah:

'The only good thing to come out of Dublin is the road to Cork', is an apparently popular saying among the proud dwellers of Ireland's former 'rebel city'. Sitting on the River Lee, this buzzing town has a burgeoning arts, culture and restaurant scene to rival the country's capital. In truth, the city is an invigorating mixture of cramped 17th-century alleyways, snug old pubs, top cuisine and modern architectural masterpieces such as the Lewis Glucksman Gallery and the Cork Opera House.
http://uk.travel.yahoo.com/p-promo-3360537
Although technically 'sharing the plaudits' with cities like Valentia, Munich and Lyon we all know that Cork is undoubtedly the superior choice but we don't want to come across as cocky and some of the world's tourists should be encouraged to visit other cities before coming to Cork so they can put the pretenders into perspective: a bit like going to see U2 before a Frank and Walters gig.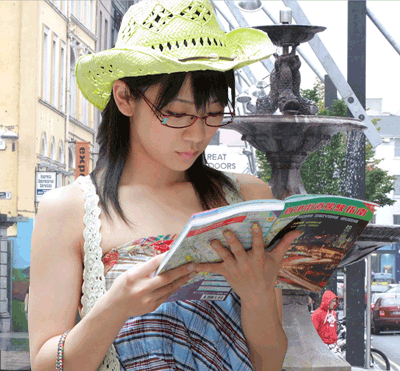 Quick somebody call Michéal Martin, he-ah speakah Chinese

We have to play our part though and maintain our now glowing reputation. Even if you're down in the dumps because you just remembered again that there's no GAA championship action left for 2011 or your old doll just ran away with Michael Flatley doesn't mean you can't turn on the charm for the foreigners. We're all wearing the Cork jersey so its time to make sure we use it for the county's reputation and prosperity.
Here are our top ten tips for charming the pants off tourists:
Human GPS
Many visitors to Cork are seen desperately looking up at aging street signs trying to correlate 'Sráid an Capaill Bhuí' or 'Ward No. 7' with something post-1921 and in English on their flimsy maps. If you spot them don't wait for them to approach you - it's time for your beautiful beaming Cork head to step on stage.

Be wide though because tourists who have been to other cities, and not just Dublin, will be used to being approached by chancers selling junk or robbing something so don't throw your arms around them or offer to bring them to your gaf for drisheen and Tanora until it is clear you're not chancing or chugging.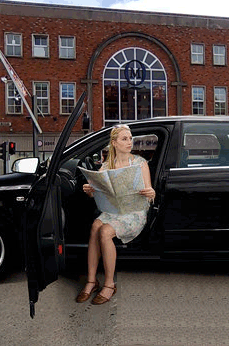 Helga pretends she's lost so a Cork man will come to her 'rescue'. Give it ten seconds...
Smoking Outside a Pub
While nobody likes an annoying 'sorry-joove-a-fag' outside a pub this is the perfect opportunity to turn the charm up to ninety with tourists. Whether they're bumming or you're on the chancey it is your duty as a Corkonian to turn ramp up the cead míle fáilte. Find out what they are after and give a "local's tip". Most tourists love to find something off the beaten track where locals go rather than reading the tourist-by-numbers drivel churned out by the usual suspects.
And if they're looking for the authentic Irish experience in the name of Christy Ring don't send them to some big screen TV hell when they're looking for real traditional pubs.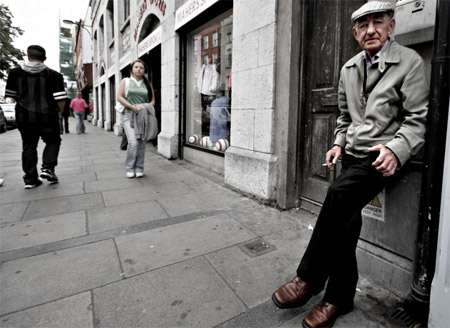 Tourist Information points in Cork take many forms.
---
History Lessons
Corkcity is absolutely teeming with history from Gaelic chieftans, Vikings, Black and Tans, Lord Mayors, hurlers, footballers and the real Taoiseach. Every street was probably a river and pointing out features like the upside down cannon outside Bishop Lucey Park that once acted as a mooring post for ships will have history-seeking tourists frothing at the mouth. Americans especially love these amazing facts. Such is the lack of history in their own country that the discovery of an out of date ATM card in any American town results in an archaeological dig.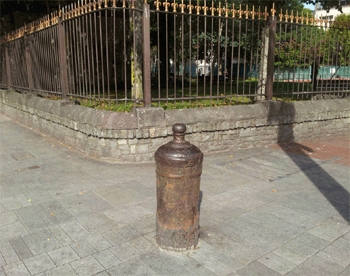 Upside down canon that was used to tie up ships during the great flood of November 2009...and before they moved the deep water berth to Ringaskiddy

Gatting Guidance
At this stage tourists are educated and well briefed enough to know that they should be drinking local stout in Cork and not anything made 'up above' but on the off-chance they have made this rookie mistake feel free to point out their error as a cultural faux-pas and offer to buy them a superior replacement made in Cork.

And while you're at it point out that the Beamish is barely over the three euros these days – rip-off Ireland didn't start in the People's Republic, it's a Dublin disease. You should point that out too.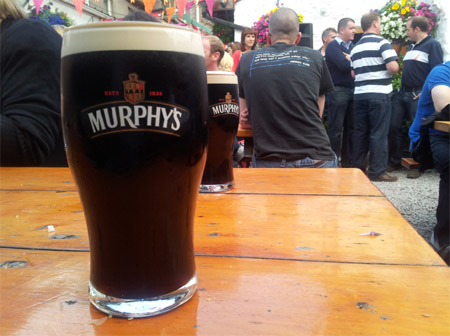 Offering a Cork man Guinness is like offering a bacon sandwich to a Saudi
Giving Them A Lift In The Rain
Picture the scene. It's pouring rain and for some reason a bunch of naïve tourists thought a little coat and a flimsy umbrella would be all they needed but they are now cowering under a dripping wet tree being fast-tracked to Ballypneumonia.
Imagine if you were abroad and a local stopped to offer you a lift back to your hotel. You'd possibly offer to help make babies with them that would captain Cork. While this shouldn't be the reason you intervene, you can't help it if a bunch of Swedish bikini models on tour decides you're "the one".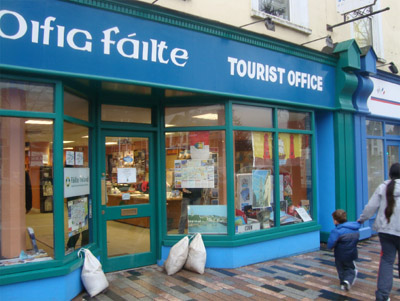 With all the media plaudits, Cork is getting so popular that the tourist office on Grand Parade is preparing for the flood of visitors with sandbags

Don't Apologise For the Weather
July and August are now our ahem…"rainy season" and the stinking hot weather comes in April, May and September (because the smallies are back at school). Tourists who come to Ireland will be well informed of its soggy reputation and most of them come from places that are far hotter so they're not here for the 'Santa Ponza'. They are here for the culture – which weirdly means you. Perform monkey.

Slang Them Out To Dry
This is great craic for both tourists and locals alike and highlights the cultural gulf between Cork and the rest of Ireland. Start off with the basics, explaining the "like sandwich" - the grammatical imperative that requires putting 'like' at the start and end of every sentence (this will appeal to Facebook fans for obvious reasons!).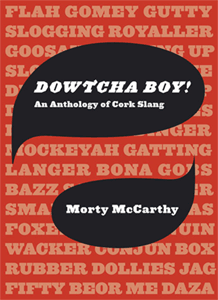 Morty McCarthy's Dowtcha Boy is a good place to start for tourists who want to impress locals
(in our shop for a song btw)
Then introduce words like bazzer, ucks, flah and baloobas before getting into more complex language structures such as the condensed epistemic modals like 'bubbila' and so on…like.
Teaching Them The Cúpla Focal
Weirdly this cultural asset is generally ignored by nearly all tourism drives locally and nationally yet it is real culture that most tourists seek and not shopping, silly leprechaun hats, made-up tripe like Arthur's Day or manky carvery meals.

In the 'real capital' we give them real culture so that's why giving tourists the cúpla focal gets such a good reaction. Don't forget to brush up yourself so that when some German flahbag sidles up to up to you in a bar and says 'an maith leatsa dul abhaile liom?' you have the correct answer ready - in any language.
Ask 'Em Where They Do Be From
This gets you ten red and white jersey bonus points as it shows the visitor you are interested in them. Most of us do this anyway as we're all nosey langers but tourists like the fact that you're interested in them.

The majority of Corkonians are well travelled so if you haven't got a story about being on the lash in Lisbon then you'll have one about a friend who was plastered in Porto so there's always a connection to be made. If they are German or French be careful to keep a lip on any IMF-EU ballhops. You never know what chancellor's son or troika troublemaker's daughter you could be winding up.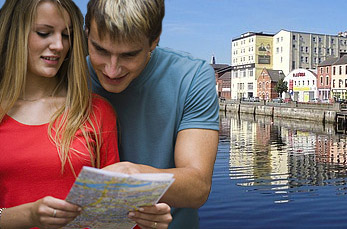 'Jehsee, deres act-shelly two rivurs like...'
Two River Syndrome
Groups of florescent anoraks grouped near a quay wall looking dazed and confused is not an uncommon sight around the city. The notion that Cork is located on an island surrounded by two rivers is not something the nine-to-five city authorities have chosen to market and so tourists-sans-map can get easily discombobulated. In you go with a friendly smile and a pointy finger: Shandon do be up there lah.
Posted on May 18th, 2019
In part deux we look at ways we can all help make Cork's Huguenot Quarter become a little more French by changing our accents, taking up chain smoking and having multiple affairs with beours we don't even like...
Posted on May 11th, 2019
With our insatiable appetite for tourists, maybe it is now time to ramp it up and go all-singing-all-dancing frogs legs, onion necklaces and stinky cheese...
Posted on May 4th, 2019
Even though we are a notch above the rest, Cork people aren't all the same – perfection doesn't mean we are homogeneous.Travel around the city and county and you'll find some quirky traits that make each of the jewels in Cork's crown unique
Posted on Apr 4th, 2019
The relentlessly repetitive single word script and leave-whenever-you-want audience policy is sure to be a hit in theatres from Buttevant to Barnet and Brixton to Broadway....
Posted on Mar 13th, 2019
When minority languages try to recover from historical oppression, it is the death-by-a-hundred-thousand cuts inflicted by the native population themselves that properly ensures a language is extinguished..