The Quadruple
The Quadruple
Comrade Ding Dong McCarthy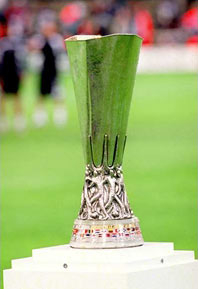 UEFA cup definitely on the way to Turners Cross.
While some media clowns talk this morning about the whispers of a 'double' in the Rebel County we would like, as ever, to take a more humble view. We don't think a double is likely at all - we're much better than that. For a county that has already taken SEVEN Munster GAA titles this year its far more realistic to talk of the 'quadruple'. Let there be no whispering - flaunt it like a Douglas Street Queen and shout it from the roof tops!
The hurlers are completely sorted, footballers are nearly there too and out at the Cross, Cork City, as well as easily scooping up the domestic Eircom league title will also probably win the UEFA cup. No bother.

Mono-code single hope counties like Kilkenny and Kerry as well as soccer fans in Derry will have a disappointing year when they fall under the Rebel axe. Tying in nicely with the Capital of Culture celebrations we look forward to the wincing columns of the national/Dublin papers - from sports writers to "cultural correspondents" when we do the quadruple. There'll be no hiding from the truth when the county is stuffed with silverware.
The major concerns on Leeside for the latter half of the year will be the hectic scheduling of victorious homecoming celebrations. The streets will be thronged and the plan to privatise speed cameras couldn't come at a better time for the shades who will be able to free up more lawmen to protect the returning teams from over emotional Corkonians desperate to give hugs (among other presents) their heroes.
The sublime skill of the Cork footballers against the much fancied Connaught Champions will have Jack O'Connor and the Kingdom sick with worry. As O'Connor watched John Hayes and Brendan Jer break the back of the Tribesmen's net he must have dropped a few sheep stools in those Blasket knitted white fronts of his.

Fringe.
As the Rebels continually improve with every game the "wry smile" on Bainisteoir Morgan's face at the prospect of revenge for the narrow Munster Final defeat a few weeks earlier said it all. His humble and diplomatic reply to questions after the game don't reflect what's really being said inside Billy's nut. "I'd love to beat those Kerry langers so badly that they'd hand over the Munster title an' all!"
There's rarely a dull moment in sport on Leeside and its hard to keep track of all the fixtures and successes. All eyes turn to Croker next Sunday as Se·n "g leads out his men against Clare. Bring on that banner and we'll rip it to shreds!
Hurling: Vs Clare - All-Ireland semi Sunday August 14th 3pm. Croker.
Football: Vs Kerry - All Ireland semi August 28th. Croker.
CCFC (domestic) : Vs Shels - Monday August 15th 7.30pm. Cross & on RTE.
CCFC (UEFA) : Vs Djurgarden IF. Thurs August 11th 6pm. Sweeden.
Posted on Mar 7th, 2013
What are they feeding the young fellas in Kanturk? From hurling and football All Stars to rising comedy kings, the capital of Duhallow is churning out the talent....
Posted on Feb 26th, 2013
With Cork's destruction of Tipperary in Pairc Ui Rinn on Saturday night by about a hundred points it has been confirmed that the Official End of the World has been cancelled...
Posted on Oct 27th, 2011
The Rebel Army descend on Drumcondra this Saturday for the final game of the season in which a victory will result in the club winning the league. If you're in Dublin head along to support the team....
Posted on Jul 13th, 2011
Auld fellas and their defibrillators, fat lads getting ballhopped and death-by-triathalon-boredom, the hills of Cork can save you a ton on gym membership but come with a few hazards...
Posted on May 6th, 2011
Kilkenny's embarrassing Croke Park meltdown last Sunday is fantastic news for the Irish economy as stocks and shares rally...