'See you in 7 Years, You Pricks' – Says Dolphin Head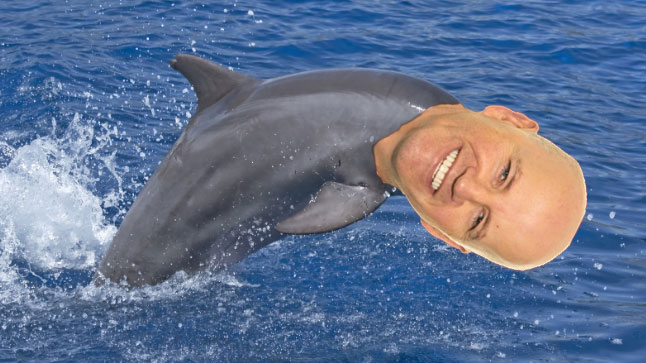 Buoyed by his massive single figure percentage share of the vote in Ireland's recent Presidential election, businessman and TV personality Seán 'Dolphin Head' Gallagher has vowed to fight every election until he is elected president of Ireland starting with the 2025 election.

Since narrowly losing the vote by almost 50% to Michael D. Higgins, Gallagher has returned to the sea as one of the actors that rotate the job of playing Fungi the Dolphin in Dingle Harbour and is said to be plotting his next campaign while being pursued by boats of tourists.

A spokesman for the amphibious Monaghanian said Gallagher was up for the fight with whoever chose to "step into the ring, jump through it or balance a ball on their nose".

"Seán will return to the race for the Áras with an impressive set of policies that are even more vague than his previous two outings and is determined that he will win it – even if that means beating the ghost of Michael D. Higgins".

2025 here we come.



Posted on Nov 27th, 2018
With much of the area due to become part of the city in the next few years, Glanmire has confirmed it was just trying to impress the rest of the northside with the "mass brawl" that took place in Riverstown last Saturday morning.
Posted on Nov 20th, 2018
A video taken in Bishopstown of a UFO has been dismissed with a seemingly rational explanation about the sun and the international space station. Fuck that though...
Posted on Nov 13th, 2018
Are you spending most of your day online posting vague, anecdotal evidence to back up your assertion that the Panaban is either the best or worst thing ever? Read on, bubbila.
Posted on Nov 5th, 2018
Last weekend a Dublin newspaper published an entire supplement called "10 Big Ideas to Make Dublin Better". Unfortunately our thoughtful and well considered suggestions were omitted due to the newspaper's anti-Cork bias. Here they are...
Posted on Oct 23rd, 2018
No sleeping in tents, no worries about the weather, your car won't get stuck in the mud and best of all you don't even have to leave Cork...