'See you in 7 Years, You Pricks' – Says Dolphin Head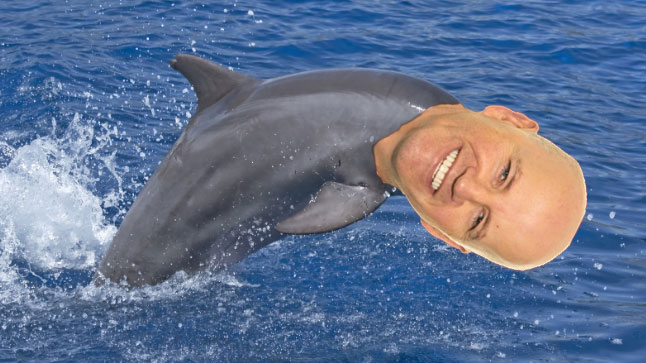 Buoyed by his massive single figure percentage share of the vote in Ireland's recent Presidential election, businessman and TV personality Seán 'Dolphin Head' Gallagher has vowed to fight every election until he is elected president of Ireland starting with the 2025 election.

Since narrowly losing the vote by almost 50% to Michael D. Higgins, Gallagher has returned to the sea as one of the actors that rotate the job of playing Fungi the Dolphin in Dingle Harbour and is said to be plotting his next campaign while being pursued by boats of tourists.

A spokesman for the amphibious Monaghanian said Gallagher was up for the fight with whoever chose to "step into the ring, jump through it or balance a ball on their nose".

"Seán will return to the race for the Áras with an impressive set of policies that are even more vague than his previous two outings and is determined that he will win it – even if that means beating the ghost of Michael D. Higgins".

2025 here we come.



Posted on May 18th, 2019
In part deux we look at ways we can all help make Cork's Huguenot Quarter become a little more French by changing our accents, taking up chain smoking and having multiple affairs with beours we don't even like...
Posted on May 11th, 2019
With our insatiable appetite for tourists, maybe it is now time to ramp it up and go all-singing-all-dancing frogs legs, onion necklaces and stinky cheese...
Posted on May 4th, 2019
Even though we are a notch above the rest, Cork people aren't all the same – perfection doesn't mean we are homogeneous.Travel around the city and county and you'll find some quirky traits that make each of the jewels in Cork's crown unique
Posted on Apr 4th, 2019
The relentlessly repetitive single word script and leave-whenever-you-want audience policy is sure to be a hit in theatres from Buttevant to Barnet and Brixton to Broadway....
Posted on Mar 13th, 2019
When minority languages try to recover from historical oppression, it is the death-by-a-hundred-thousand cuts inflicted by the native population themselves that properly ensures a language is extinguished..