Seamus Hangerdy & The Rebel Rage Run Riot in Deise Rout
16th May 2022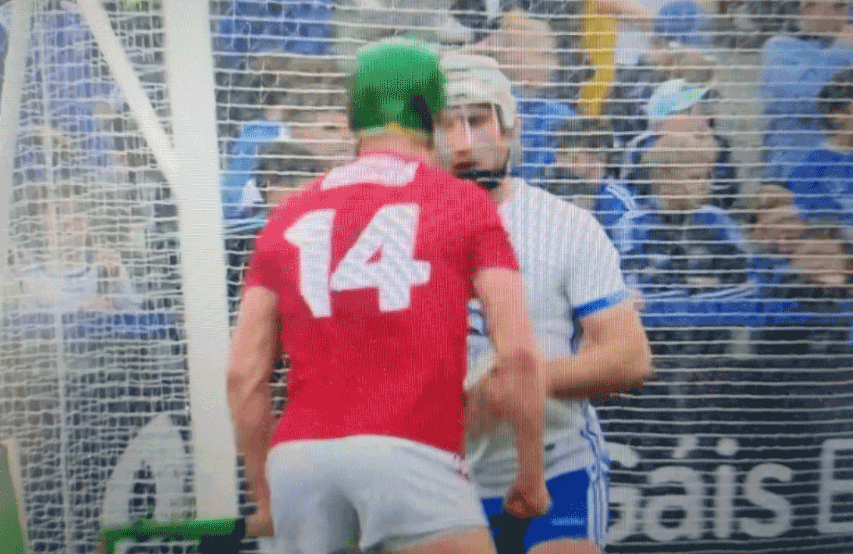 When Seamus Harnedy scored his fifth and final point during injury time in Walsh Park on Sunday afternoon he leapt into the air and punched the air to celebrate. Cork showed ferocious hunger and fight to beat the Deise in their own backyard in a spectacular victory that keeps qualification for the All-Ireland series alive.
This particular celebration wasn't the usual smiling salt-of-the-earth Seamy though. This was 'angry' plus 'hungry' plus 'Harnedy'. It was the all-new Seamus 'Hangerdy'.
Lucky for Waterford players none of them were in the way as he blasted the sliotar over the bar – he would have knocked them back to Lismore if they caught a clip of it. Even when Seamy's feet landed on the ground you could see this wasn't the usual mild-mannered gent from east Cork.
Deise defender Shane McNulty, who happened to be a few yards away effectively minding his own business, caught the Cork man's eye.
Like the big intimidating angry fella who 'mixes it' outside the club on a Saturday night, Seamy changed course and squared up to poor McNulty who looked tired, dejected, and a little surprised, while Harnedy was pumped like a tractor tyre about to do a day lugging silage.
Harnedy is a gentleman off the field and was quick to praise Cork's younger players in his man of the match interview – highlighting the medals so many of them have won at underage. It's what you might expect from any Cork person, but whatever about his off-field persona Cork fans are thrilled to see him be a bit more of a langer on the field.
Maybe that's what we needed all along.
BLAA BLAA BLAA
Since the All-Ireland final defeat last year experts have been queuing up with their prescriptions to cure Cork's woes. Hundreds of newspaper columns, hours of podcasts and endless posts on social media (including bibles worth of fan talk in the PROC sports forum) have been written about short passing tactics, positional switches and puck out strategies.
Every game these days is followed by a tsunami of statistics. Tackles made, number of turn overs, number of hand passes, time between scores, puck outs won, puck outs lost, number of coaches sent to the stand, number of times Tom Kenny says 'ok?' like it's a question when he's on the radio sub-commentating.
But maybe what we needed all along was just a dollop of rage. A sprinkle of bitterness. A chip on both shoulders. A burning desire to stick it to the rest of them and shout "I'LL TAKE YE ALL ON!' into their faces like the demented feen with his top off at the fountain at 3am on a Saturday night who'll definitely be spending the night in the Bridewell. A bit more acting the langer.
It's not as easy as you think to drum up that anger though especially if you haven't had three shots of something unpleasant just as the club was about to close. When you're from Cork it's not natural to go around with a grudge or carry a boiling frustration with you every where you go.
If the lottery of life has handed you a golden ticket – the divine privilege of living in Cork - then your natural state is one of joy and happiness. You can't just flip a switch and turn on the fury. That's just not us.
There were plenty other juicy bits of Rebel rage on Sunday though that showed Cork can muster it from somewhere though:
Like when Ciaran Joyce shoved Austin Gleeson out over the line as the Waterford ace was about to take a point-blank shot at the Cork goal. Like when Robert Downey chose the perfect moment to wind up the same player resulting in the Deise losing him to a red card. Like when Tim O'Mahony, Shane Kingston and Conor Lehane kept chasing down Waterford defenders like they had just stolen something precious from them.
Even the balls that were drilled down field by the Cork backs seemed to have a little acrimony attached to them. As if to say 'RIGHT! Ye wanted it more direct? Here ye go!'.
SO HANGRY
How does this all bode for the crucial do-or-die game against Tipp? The usual, weird GAA reverse-psychology thing may, of course, apply: the team that suddenly produced an unexpected performance gets shredded the next day out because the opposition are alerted to the new danger.
No doubt Tipperary's air raid sirens will be sounding all week. They know what's coming and they'll be ready.
But, unlike the way tactical cleverness can outwit Cork's short passing game (the scars from Limerick down the Páirc will live with us well into next season), it is much more difficult to counter a team full of hunger, anger and a willingness to act the langer at times.
We trust Seamus 'Hangerdy' and the boys to deliver. H'on the Rebels!
Sponsors
PROC Mailing List
On Today
Forum Latest
ok