Schull Grinds to a Halt
Schull and Ballydehob Speed Limits
Ron McEricsson
There was uproar recently in West Cork when a speed limit of 80 kph was enforced on a grassy laneway off the main Schull-Ballydehob road.
This pic was sent to us by local boy Ron McEricsson, whose parents, most likely called Love and Peace moved to the area during the Cold War to be best positioned for nuclear fallout.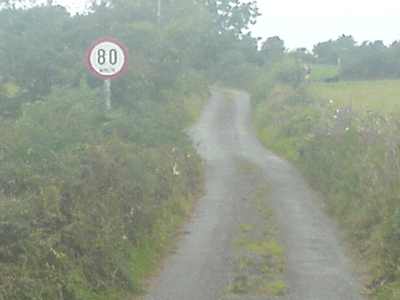 Ah c'mon lads
'For a start the road surface is very rough.", writes Ron, "driving on the thing is like a rodeo ride but, in fairness with the green grass growing all the way along the centre of it who in God's name thought this sign was necessary? Seriously, like, who's going to be doing more than 50 kph down this little boreen? Anyone doing more than 60kph would lose their chassis."
Ron finds its hard to believe how workmen could have made a conscious decision to spend time erecting it.
"When the workmen were trying to squeeze their tiny van up the lane to erect this, did it ever occur to them that there was something up? Did anyone say 'ah c'mon lads this is ridiculous' or think about phoning the knob who gave it the go-ahead? For feck sake like. "
Send your pics to .(JavaScript must be enabled to view this email address)

Posted on Nov 13th, 2018
Are you spending most of your day online posting vague, anecdotal evidence to back up your assertion that the Panaban is either the best or worst thing ever? Read on, bubbila.
Posted on Nov 5th, 2018
Last weekend a Dublin newspaper published an entire supplement called "10 Big Ideas to Make Dublin Better". Unfortunately our thoughtful and well considered suggestions were omitted due to the newspaper's anti-Cork bias. Here they are...
Posted on Nov 1st, 2018
Encouraged by his single figure showing in the Presidential election, Seán Gallagher vows to return from the sea and fight the 2025 Presidential election…
Posted on Oct 23rd, 2018
No sleeping in tents, no worries about the weather, your car won't get stuck in the mud and best of all you don't even have to leave Cork...
Posted on Oct 22nd, 2018
If you're coming to Cork to show off your pentatonic scales, we're really looking forward to seeing you but don't forget to practice your banter and leave the jazz orgasm face at home...