PRC Gallery Update

PRC T-shirt GalleryGeorge Slater
Co. Louth
I took a round-the-world trip last year, with my trusty PRC t-shirts in the backpack as my main fashion accessory. While not being a Cork-born feen, I had decided to move from Louth to the rebel county in 1998.

My application for residency is still being processed by City Hall* in their own efficient way, and I expect a response before my grandchildren reach maturity.In the meantime, I beg your tolerance and am aware of my lowly status, which is somewhere between a Kerry hurler and a bird flu carrier.



In any case, we travelled through Malaysia, Thailand, Cambodia, Australia, New Zealand and then on to South America, taking in Chile, Argentina, Urugauy, Paraguay, Bolivia, Peru and Brazil.

I had cunningly purchased a PRC t-shirt in Spanish, to reveal and promote Cork to the Spanish-speaking natives of the southern hemisphere, which was duly displayed as often as was reasonably practical (i.e when clean and respectful, like)


I had more success in displaying the clothing in Mendoza, Argentina, location of the famous Manky cafe/burger joint. I also tucked into some native nosh in Cusco( Qu'scu), the former Inca capital of Peru. The picture displays me tucking into a local delicacy, roast guinea pig.'Twasnt so bad, but tough as a Waterford fan's skin and with teeth similar to a Kilkenny geek's.


This non-standard roadsign in New Zealand was worth noticing, and may be a useful addition to the roads back of Ballyvourney when approaching the Kerry Alpine Glaciated region. The Council Roads Department have been advised of this and are currently making a determination.

Finally, mention to my two loyal photographic assistants, Mr Fernando Calvo Riol of Madrid (NZ) and Ms Sinead O'Connell of Banteer (SA). Nice wan.


---
Declan Mc Veigh
Co. Down/London
For years I have looked with envy upon citizens of the Peoples Republic of Cork. Being successful in sport, producing the best looking women on the island and being just dead-on people its hard not to look up to Corkonians as the master race even though I know they are too humble to even discuss the fact.
I live in London for my sins but fortunately some of my best friends are from Cork. They have educated me over the last three years and its definitely having a positive effect. I find myself in Irish pubs over here watching hurling matches, singing de Banks, calling people langers and smiling a lot more - something that's not openly encouraged back home in Down or here in London. I also aggressively demand Murphys in pubs when Guinness is the only stout on tap.

This is a t-shirt my Cork friend gave to me for Christmas and I wore it proudly in Ottawa, Canada when I visited there recently. Check out the Mountie in the background. I was there on an assignment for the League Against Cruel Sports advising against the ills of ice hockey and promoting hurling as a substitute. I look forward to visiting Cork when it has achieved independence.

* PRC wishes to advise all non-Corkonians who wish to apply for citizenship to avoid all Irish state institutions in the county and to apply directly to the Provisional Government of the Peoples Republic of Cork for 'blow-in' status.

If you have found yourself abroad with a PRC t-shirt covering the upper half of your body somewhere around the world do take and send some pictures to us here: .(JavaScript must be enabled to view this email address)

Posted on Mar 19th, 2009
Corkonians of all shapes, colours and creeds nearly melted in the sweltering 13 degree heat...
Posted on Oct 6th, 2008
Comrade Aaron Scott has been busy capturing last week's final visit of the QE2 to Cobh among other great shots....
Posted on Jun 12th, 2008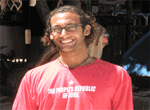 Jon Heller from New York hasn't even been to Cork yet but he's so excited about it he's already got the shirt..
Posted on Feb 11th, 2008
Images from last Sunday's march in support of the Cork hurlers and footballers...
Posted on Nov 26th, 2007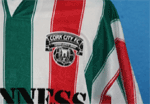 A comprehensive lamp at every home, away and special city jersey produced since the club's conception..