Myrtleville Mayhem and Phase 2 Beach Panic
1st Jun 2020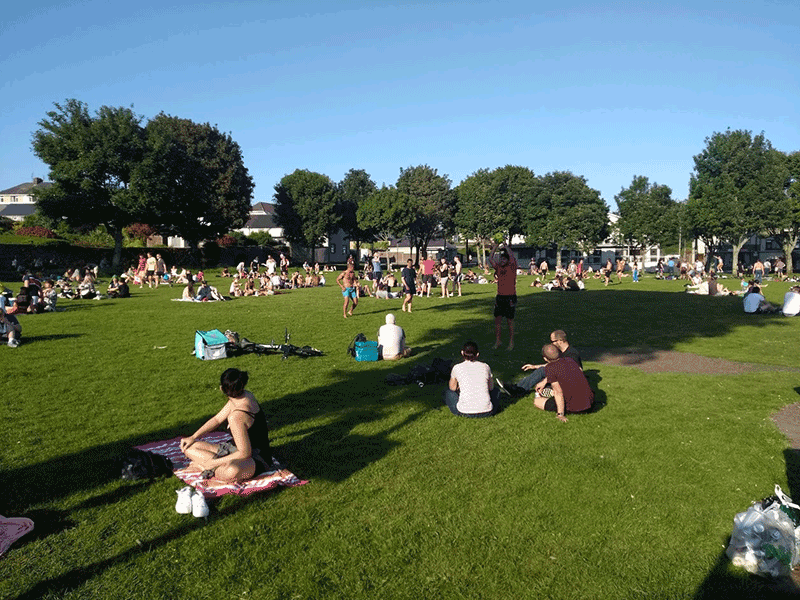 The countdown to midnight on Monday has begun for Corkonians who are itching to travel more than 5kms from their homes.

Many have probably pushed the limits a little here and there - it's in our nature as Corkonians to try to do the opposite of whatever the Dublin government tells us to do, but it would be nice to travel freely within our own county without the guilt of a Wuhan bat seller following us around when all you just wanted to do was check in on an elderly relative.

Cork's Lough Down
While beaches around the county were busy during the recent heat wave, it was mainly locals who flocked there. In the city and its 200,000 citizens people, sun worshippers
without back gardens who would ordinarily head for one of the county's spectacular beaches, have far fewer open spaces to balm out in with the 5km limit.

Most have flocked to the city's parks and open spaces, resulting in places like the Lough filling up quickly and being dubbed 'Eloughtric Picnic' by locals shocked at the lack of adherence to social distancing by the city's youths – and their cider-processing bladders.

With the exception of Fitzy's Park's single 'Jumbo Jacks' (that costs 20 cent per pee – and it doesn't take notes or card) there are no toilet facilities in any of these open spaces, so the sight of half-cut, topless feens 'talking to bushes' around places like the Lough is common.

And with the lack of a decent 'power-wash' from The Man Above, in the dry weather the gaf is starting to smell like a milder version of the giant public toilet that is Dublin city centre.

Residents in one estate at the Lough have even called for city council to install portaloos, despite the likelihood that this is likely to draw even bigger crowds and that far more can happen in a portaloo than an innocent tinkle - as anyone who has been to a music festival in Not Cork will tell you.

For some it is the impunity of those gatting openly in public that is more infuriating than the blatant flaunting of social distancing rules.

Gardaí appear to turn a relative blind eye, possibly believing that there are bigger fish to fry – like preventing mass brawls in Mount Oval or maybe just that those holed up in small apartments without gardens since the end of March need to be given a bit of slack to socialise.

Their brains definitely need it after months of educational and employment chaos, and they all know that they will be worst effected in the inevitable recession that is coming down the tracks.

Next Monday, Cork city citizens will be free to travel 20kms out from the heart of the People's Republic so a visit to the Cork countryside, especially along the coast on our beaches and cliff walks will be top of the agenda for many.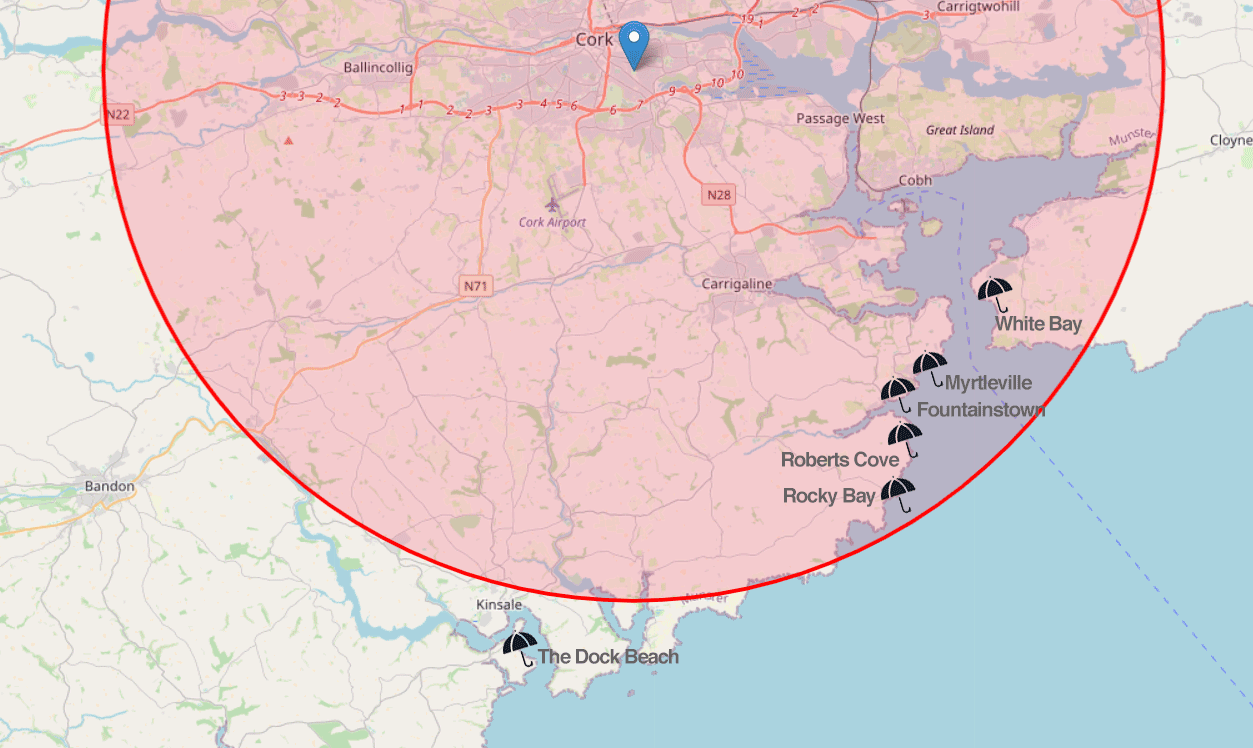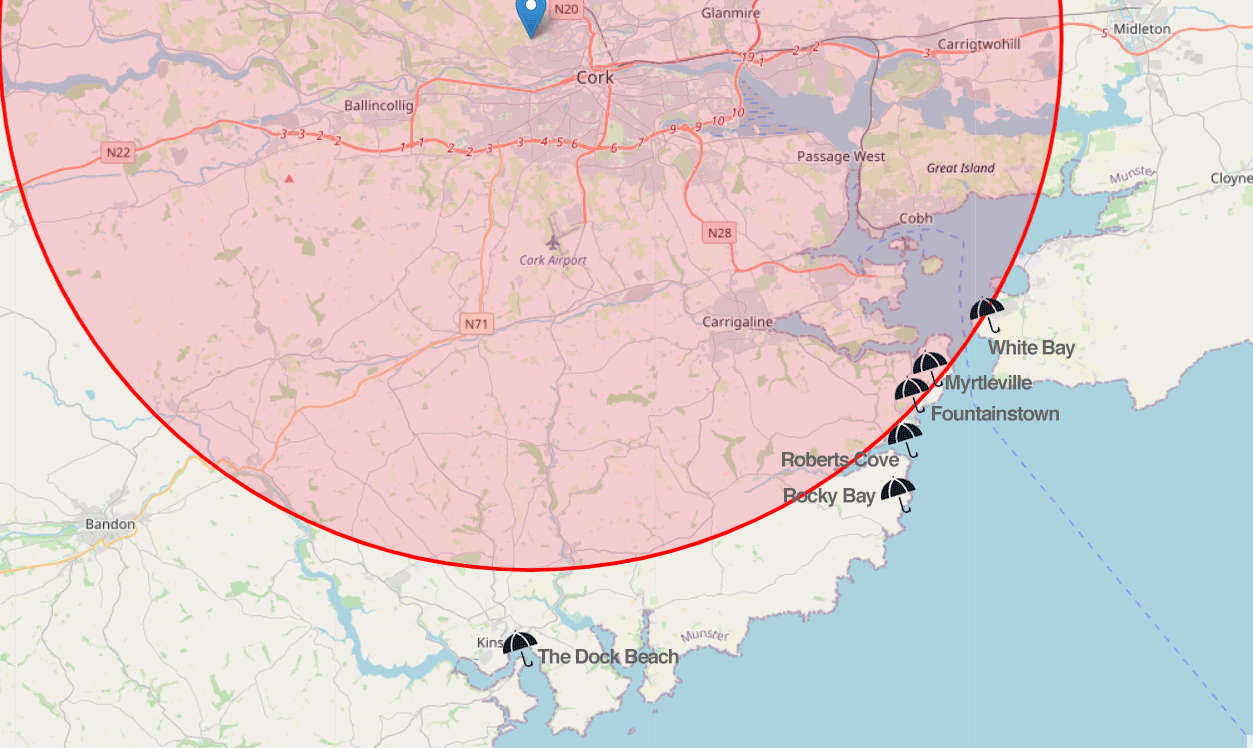 Some beaches may be exclusive to southsiders in Phase 2 of Leo's lockdown.

If the beach weather returns again, there is the potential that 200,000 Corkonians may flock to just four or five small beaches within the city's 20km limit, whereas if the limit was similar to France's 95km one, that urban crowd, would spread out more evenly around the coast.

Small communities in Myrtleville, Rocky Bay, Fountainstown Robert's Cove and White Bay that will fall within the 20km limit of most of the city, could be forgiven for being nervous about the potential for such a massive influx of beach-hungry Corkonians dying to throw off the 5km chains and have a dip in the sea. Just imagine the queues of cars in those areas if it's a scorcher next Saturday week!

And this is where the seemingly arbitrary limit of 20kms signed off by Chief Prison Warden Varadkar is going to be a big problem.

Corkonians have been extremely tolerant of the 2km and 5km limits thus far, knowing that the travel restrictions are helping to contain the corona virus (largely to keep the Dubs in Dublin of course), but the notion that someone living in Donnybrook can visit Kinsale and the Dock Beach in all its summer glory, yet somebody from Douglas can only travel as far as the edge of the town, stretches the credibility of Leo's 20km rule to it's very limit.

And, by the way, if you're from Hollyhill, you won't be able to travel with your southside buddies to any beach as even Myrtle-a is just beyond 20km from your hilltop haven. Although, on the upside, the ball hops from Sorries winding up Norries about having to stay away from beaches will be great craic and if there's any bad behaviour reported at the county's beaches, Norries won't be slow to point the finger and bounce those ball hops rights back at their southside comrades!





Sponsors
PROC Mailing List
On Today
| | |
| --- | --- |
| | |
Forum Latest