Kinsale Comm to Be Converted To Space Station
Talks are underway with the European Space Agency and NASA to turn Kinsale Community School into a fully functional space station after being declared "Best School in Ireland" in the Young Scientist Competition in Dublin last Friday.

Readers will be have their expectations confirmed by learning that Cork schools won more prizes again this year than any other county with Kinsale girls Cathy Hynes and Eve Casey taking one of the top prizes for their project on ageing.

Their research showed that 63% of people feel younger than they are – clearly living in Cork has a positive effect on our attitude to ageing – while only 17% of people said they felt older than they are (this accounts for all the people who have to travel to and from work via the gridlocked Dunkettle Roundabout every day).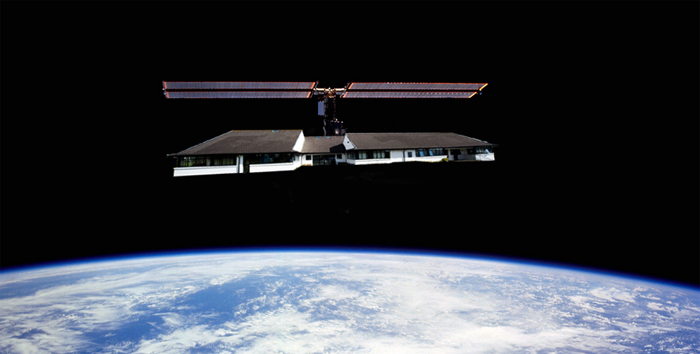 Kinsale Comm Space Station

You'd imagine that 63% of people from somewhere far less pleasant like Limerick for example would feel the opposite.

Along with the two headline grabbers, Michaela O Driscoll, Aoise Healy-Thow, Eoin Hurley, Emily McCarthy, Saoirse Hill and Sorcha Doyle, Aoife Mc Carthy, Lara Butler and Lara Condren also bagged prizes.

The exciting project would see the entire community school structure, all of its students and teachers sent into space during the school term to work on crucial cutting edge scientific research instead of wasting their time on trivial tasks like the Junior and Leaving Certs.

The entire 440,000 ton building could be easily blasted into orbit with simple rockets powered by refined oil from the Barryroe oil field off the Cork coast and rumours suggest that some of Kinsale's top science students have already secretly developed a series of booster rockets designed for the task and have been running midnight test-launches from the basketball court at the school.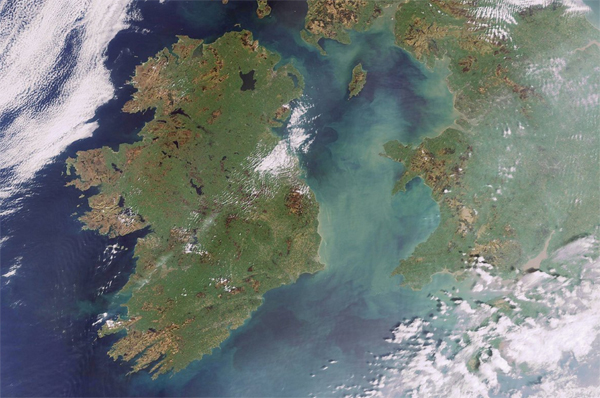 Glugging into the River Lee from this height will set a new record. The previous record is held by a porter at Cork County Hall who used a southerly breeze

The decision to turn the entire school into an orbiting centre of scientific excellence is a no-brainer as the school has now won what seems like most of the prizes available at both the Irish and European Young Scientist Exhibitions so now it's time for this incredible amazing institution to be promoted to the scientific equivalent of senior hurling – clashing the proverbial ash with heavy weights like Hawkins, Dawkins and others.

Students will be set tough challenges during the school/space term: curing cancer, time travel and figuring out if we are alone in the universe (could there be other Cork people living on a distant planet in outer space? There are certainly plenty of spacers around town so they must have come from somewhere).


Former astronaut Commander Chris Hadfield has been acquired by Fáilte Ireland as a "tourist ambassador" which many in the Kinsale science community are assuming is clever cover to allow the popular Canadian to provide technical advice to teachers and to train students for life in space – all the while pretending to be checking out fancy restaurants and bars below in the town. Dowtcha Chris.

So if you had any doubt that the first Irish person in space wouldn't be a Corkonian, you should rest easy: the first couple of hundred Irish people in space will all be from Cork.

The boys and girls that will inhabit Cork's new space station will also be tasked with testing new hurleys, footballs, sliotars and training drills to ensure the Rebel County's GAA dominance continues: Cork applauds but, of course, Cork expects too.

We've compiled a list of a few important and historically significant things that will also be achieved when Kinsale Community Space Station School blasts off:

1. First game of hurling in space
2. First bottle of Tanora in space
3. Highest ever glug spat into the River Lee*
4. First live rendition of 'De Banks' in space
5. First picture of someone reading Hollybough while on a spacewalk

As they spin around the earth every 90 minutes or so the Cork space station should constantly flash red and white especially when Cork are playing an important championship match to inspire our players (and drive fans of opposing counties mad of course).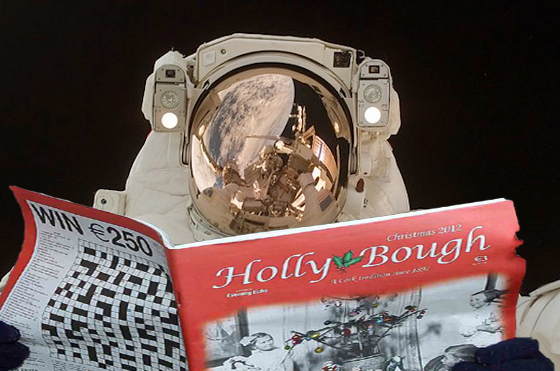 First photo of The Holly Bough being read in space

It'll all have to come to an end too and we've figured out the perfect landing spot. The Ocean To City Festival takes place on the June bank holiday weekend and is the ideal time for students who have spent the academic year in space to splash down in Cork harbour – just as their summer holidays kick off. Should be a nice addition to the festival's calendar too.

Well done science gurus of Kinsale! You're doing Cork proud.
----

* highest glug into the Lee to date is said to belong to a Cork County Council porter whose saliva shot was carried from the roof of floor 16 to the River Lee by a stiff northerly breeze while waiting for a fella to climb the building during the Cork 800 celebrations in 1985.


Posted on May 18th, 2019
In part deux we look at ways we can all help make Cork's Huguenot Quarter become a little more French by changing our accents, taking up chain smoking and having multiple affairs with beours we don't even like...
Posted on May 11th, 2019
With our insatiable appetite for tourists, maybe it is now time to ramp it up and go all-singing-all-dancing frogs legs, onion necklaces and stinky cheese...
Posted on May 4th, 2019
Even though we are a notch above the rest, Cork people aren't all the same – perfection doesn't mean we are homogeneous.Travel around the city and county and you'll find some quirky traits that make each of the jewels in Cork's crown unique
Posted on Apr 4th, 2019
The relentlessly repetitive single word script and leave-whenever-you-want audience policy is sure to be a hit in theatres from Buttevant to Barnet and Brixton to Broadway....
Posted on Mar 13th, 2019
When minority languages try to recover from historical oppression, it is the death-by-a-hundred-thousand cuts inflicted by the native population themselves that properly ensures a language is extinguished..