Gerald McCarthy Resigns
10th Mar 2009


Gerald McCarthy Resigns
Finbarr Barry

A temporary end to the long running saga engulfing Cork GAA has been reached with the resignation of Gerald McCarthy. On the eve of a Cork County Board convention McCarthy said he was taking the decision to ensure the best Cork hurling team was able to play in the championship.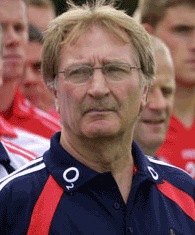 Gerald McCarthy: saga can become a postive
Conveniently and wisely the 2008 squad have been continually training and while they have been deprived of a proper setup it is believed that they will immediately return to duty.
No doubt a tactic by the County Board executive to deflect pressure on their own positions they will come under increasing pressure at Thursday night's meeting to explain their actions - or inactions.
While internal GAA matters are sorted out and boiling anger among the county's grass roots supporters the forced resignation of the entire executive has not been ruled out with some clubs suggesting a coup.
What is important for loyal supporters of the hurlers now is to realise that every single action that was taken by them was important and to become acutely aware of the power they yield.
It is paramount that the so-called development squad are not alienated or berated by supporters, officials or other players. While many will reach for the "told-you-so" flag and be tempted to wave it in the faces of those who were sceptical of the 2008 players' motives restraint must be shown if the county is to reunite and successfully challenge Tyrone, Kilkenny and other mono-codes. This can be done.

CORK GAA SUPPORTERS CLUB
A step in the right direction would be the forming of a supporters club which would give a voice to the ordinary but hugely important GAA supporter. Too often through out the last four months the views of different parties with a genuine stake in gaelic games in the county, be it official or otherwise, in Cork GAA were ignored.
Despite the staggering numbers that took to the streets on February 7th and March 8th frustration was experienced in delivering the sentiment to the County Board and the coach.
Massive efforts were made by several well known Cork supporters, many of whom are prominent PROC members and model Corkonians and it is important that that endeavour is recognised and built on.
A supporters club or association would not only give supporters a voice during disputes but would provide an exciting addition to the GAA league and championship. The supporters club could work with the official organisation in helping to raise attendances at leagues games thus raising revenue for Cork GAA, provide an additional source of enthusiastic volunteers, coordinate colour and noise at matches (several members are enthusiastic about setting up a drumming troupe for example), decorate the city and other towns before matches and organise fans forums, meet-the-players nights and raise money for good causes.
Currently many aspects of Cork GAA do not feel modern. Marketing the exciting things Cork GAA has to offer both the player and supporter young and old have been neglected - as just one example Munster and Cork City Football Club both have heavily branded flagship outlets in the city centre but Cork GAA has no city centre presence. While this might not be desirable or practical for various internal GAA reasons the advancement of those other organisations gives the impression that Cork GAA lags behind.
Like the organisation of the marches and inter-fan networking, the internet is an ideal way to gather opinion, create ideas and make suggestions as to how Cork fans can contribute positively to their beloved sports. We are happy to facilitate such a debate as the website has been subject to a massive influx of traffic due to the GAA debate.
If such an organisation is to grow successfully and blossom then careful, thoughtful constitutions, aims and objectives must be established early on and thoroughly explored. The long established traditions, methodologies and systems of the Cork GAA machine and its members must be dutifully respected and the organisation will undoubtedly perform some much need soul searching over the next few months.
Conveniently, supporters clubs for Munster and Cork City FC and others already exist as potential templates - albeit not directly applicable as the seasons and number of games do not correlate directly but nonetheless provide some benchmark for fans to note.
We have opened a new thread on the sports forum where members may make positive contributions to get the ball rolling:
http://www.peoplesrepublicofcork.com/forums/showthread.php?p=2563320

If sufficient interest exists, and we suspect it does, it will make an unprecedented contribution to Cork GAA and ensure that some good comes from the darkness of the last four months.
Rebels Abú.

Sponsors
PROC Mailing List
On Today
Forum Latest