Cork Finally Admits It's Really Bad At Something: Robberies
Is it just us or was last Friday night's attempt by up to 100 Cork teenagers to rob a sports shop in the city centre the worst attempt at a robbery of all time?

All the fury that followed the incident about the breakdown in the fabric of society, the failure of parents, the failure of Gardaí, the failure of the Dublin government – nobody has mentioned the glaring, face-palm-ingly bad, failure of our teenagers to carry out a robbery.

Surely, instead of feeling threatened by this previously unheard of 'threat', shouldn't we be reassured, not just by how easily a couple of Gardaí foiled it, but by how awfully bad our feenagers are at crime.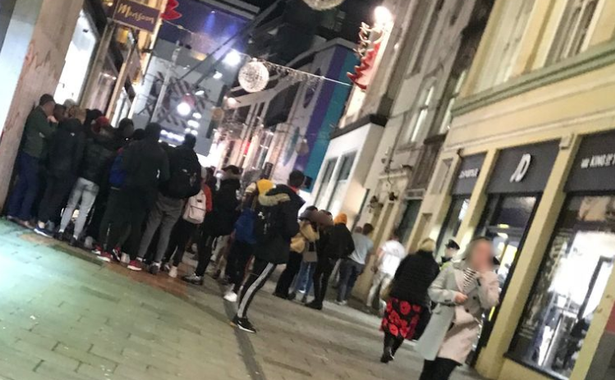 Cork feenagers seen here realising that the internet and reality are different things.

What was organised was completely wrong, it shouldn't have happened and any hormone ravaged teenager involved should be sent to Spike Island for a few months hard labour or whatever the myriad of punishment fantasies the armchair judges on social media commentators concocted over the last week.

But seriously, look at the absolute shambolic way these wannabe bad boys (and a few girls too by the photos) tried to copy their thieving heroes in London and Brussels.

Yes, that's right. This wasn't even an original idea with loads of risks that was going to be tried out for the first time on Leeside. Cork's Hopeless Hundred were attempting to copy the original robbery of a JD Sports store in Brussels which was then replicated in various locations in the UK and in Amsterdam.

There's plenty footage online showing a wide range of international dopes and daws running out of shops brandishing tracksuit tops and shoes, all our own eegits had to do was copy these langballs. But, God love us, they couldn't even do that right.
Even the all the proper, manky criminals in Cork prison must be shaking their heads at this one.

'What has gone wrong with society in that we can't even produce half decent shop lifters these days?'

Lads, did any of ye ever watch a movie based on a big mad robbery? Did the Ocean's 11 team gather in the hall of the grand casino in Las Vegas before they broke into the vault and start shouting? Did the thieves in the Great Train Robbery meet up on the station platform and wait patiently with their faces covered for the train they were about the rob?

So where did our half-wit, daring dumbos decide to meet up? [insert a drum roll from the Barrack Street Band to build anticipation]……ladies and gentlemen, Cork's bungling burglars met up outside a popular fast food restaurant on one of the cities biggest thoroughfares. In balaclavas. For. The. Love. Of. God.

Cork may be a bit nippy in November and a black woolly hat wouldn't have been out of place last Friday night on Winthrop Street, but nothing says "call the guards" like a gathering of loud, boisterous youths trying on balaclavas just as thousands of office workers pour into the streets at 5.30pm.

In the end, the Gardaí didn't even need someone to call in it – these unsharpened tools had already broadcast on social media that they were going to try to replicate their heroes in Brussels and London. It was the 21st century equivalent of putting up posters all over Pana to tell people where and when you'll be committing your very first crime.

Unfortunately, Friday's failure doesn't have the same viral impact as say, 'The Dinny Funt', when an 80 year old man ran three raiders out of a Glanmire bookies last year and kicked one of them up the arse on CCTV.

There is no hilarious footage of the extent of the failure of The Hopeless Hundred, precisely because it was such a failure there's nothing to show. But that a handful of Gardaí, massively out-numbered, literally ran rings around them should be enough to make you chuckle.

Say what you like about the lack of cops in the city, but what matters, as they say, is the result on the scoreboard when the game finished: Number of potential thieves: 100. Number of items robbed: 0.

If you got that kind of a drubbing in a hurling match, your bainisteoir would be saying "lads, let's be honest, the small ball isn't yer thing, it's a bit beyond ye, but there's a lovely little game you might have better luck at called 'naughts and crosses'?".

There's nothing more these langer dans could have wished for than to be arrested "by the feds" and idolised in the echo chambers of snaptagram and failbook. However, the Gardaí deemed the attempted robbery to be such a non-event nobody needed to be detained, arrested or charged.

Morto for ye lads!
Posted on Nov 25th, 2019
Frustrated with the dominance of civil war parties despite the homeless crisis and a shambolic health service? Read our guide to pimping your vote and be in with a chance of winning a Dáil seat...
Posted on Oct 25th, 2019
Bleary eyed bar staff, knob twiddling sound engineers, ticket blood hounds, and cranky taxi drivers - without them there'd be no jazz!
Posted on Oct 15th, 2019
From the sardine wedged bars of Washington Street banging out Rock The Boat to the beard stroking venues full of jazz purists on the official trail, there's a whole lot of heads to be spotted around the city....
Posted on Oct 14th, 2019
Get live feedback on your kids' back garden matches while Donal Óg, Seán Óg and Tom Kenny begin house-to-house inspections to check up on parents coaching skills...
Posted on Sep 18th, 2019
Have a dip in the Beamish bath, eat a mullet caught by a 14 year old scobe on the Shakey Bridge and get an authoritative lecture on the last remnants of British culture on this island....