Pothole of the Month Articles
Posted on Nov 19th, 2007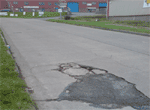 Dont be surprised if you see young scobes from Wilton pulling mullet out of this one...
Posted on Jul 19th, 2007
Debate over the origins of the type 8B Lunar Surface on Copley Street...
Posted on Mar 23rd, 2007

They say beauty is only skin deep. On Centre Park Road beauty is approximately 5 inches deep and 12 metres wide..
Posted on Feb 08th, 2007

Pothole knockout: Under Rule 31.2 the Cornmarket Street trenches automatically win this month's competition..
Posted on Oct 12th, 2006

To park or not to park that is the question...especially when you're new in town.
Posted on Jan 19th, 2006

We're back on the southside again this month for another cracker. Download video and see the pics...
Posted on Dec 16th, 2005

Thanks to your emails the world will now know about Cork's best potholes...
Posted on Jun 21st, 2005

If you tried to make a pothole even worse than it already is you couldn't surpass the skill of Cork City's pothole repair team....
Posted on May 13th, 2005

Its been worth the wait. We've been busy on South Terrace turning modern science on its head...
Posted on Mar 03rd, 2005

With the re-opening of the Courthouse we'd like to dedicate this month's award to a nearby street...
Posted on Oct 14th, 2004

The rare sighting of the craterus enfukenormus species was enough to sway the judges this month. See pics and download video clips....
Posted on Apr 23rd, 2004

This section of road at the end of Half Moon street is a classic...