What's Wrong with Bantry?
If you were to start up your own town or village in west Cork in the middle of nowhere or along the coast somewhere the competition would be stiff. Clonakilty, Skibb, Baltimore, Schull and Ballydehob , to name just a few, are heavy hitters when it comes to top towns.

While they all look pretty and are well kept (Clon bagging a major prize in the Tidy Towns recently for the umpteenth time) with award winning restaurants, shops and pubs you'd have to produce something fairly class to stand out on the tourism radar.
Places like Rosscarbery, Castletownsend and the next destination on the Official PROC Annual Holiday fall into that west Cork list that the limelight rarely shines on yet when compared to the average Irish town in other counties make the others look like dumps.

Having the tae outside Bernie's café on Sheep's Head there was a debate about exactly where the PROC should lay its digital heads that night. When Bantry was suggested, for some still unknown reason, there was an awkward pause. One face seemed to be saying 'is there anywhere better?', another puffed pair of lips and glazed glance into the distance more or less said 'not sure if that's a good idea'.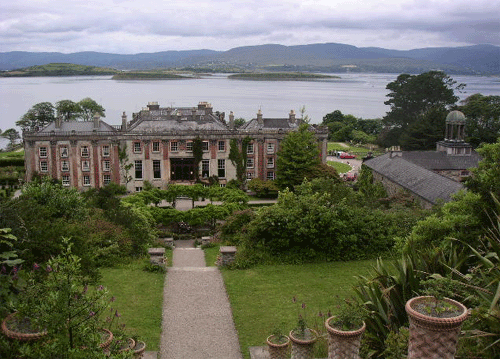 Bantry House is fairly daycint
The question was rephrased with a little more aggression. 'What's wrong with Bantry, like?'

No responses were forthcoming so the Enforcer used 'one of his internets' and booked a B&B in Bantry with it. Maybe it's the lack of yachtie hob knobbing, a local celebrity chef salivating over hyper-organic shallots on TV, a beach where surfers can high five each other all year round or a lack of a Ukulele Orchestra but Bantry does not seem to register very high in Corkonians own list of places to visit in west Cork. Yet none of us can come up with a reason for it.

When we arrived we were hoping to meet one of the town's two big names. There was no sign of Cork's football captain Graham Canty who was probably lifting cattle in a nearby field training for next year's championship while Saturday Night Show and New York Times favourites The Calvinists were obviously off collecting awards somewhere or having dinner with Lady Gaga or Neil Young.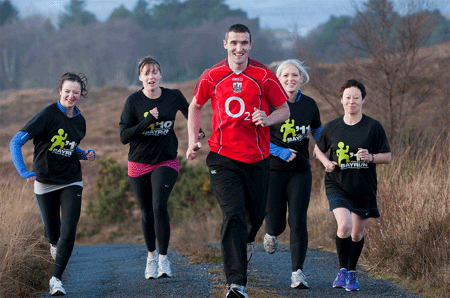 Captain Canty can't even go for a run around Bantry
and the old dolls are after him

For our own hard-earned dinner we booked a table at the Fish Kitchen, perched over a fish mongers in the town centre. When we were half way through demolishing our seafood platters one of the gang suddenly looked up from his decimated lobster and whispered 'don't look now when I say this aright…but Gray..Ham..Nor..Ton is over at the other table'.

After a few pints of Murphy's it's murderously hard to control the bit of your brain that wants to make you involuntarily shout 'C'MERE YOU'RE THE FEEN OFF DE TELLY!!", run over and ask him loads of questions, insist on taking ten photos on your mobile and generally act the langer while he tries to have a normal night out with a friend.
One of the famous Father Ted scenes with
Cork's Graham Norton/Walker playing Fr. Noel Furlong
This wasn't some tax payer funded Johnny-come-lately like yer man Tubridy or a talentless TV3 wash out like Dublin tax cheat Glenda Gilson who would secretly love the attention. This is the legend that provides entertainment for the Brits on his insanely popular TV show because they can't do it themselves, humorously rattling A-list celebrities all with his down to earth hilarity.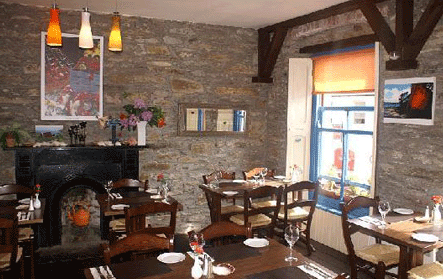 The Fish Kitchen: go balls out the window and have a seafood platter
(And for the celeb stalkers out there Mr. Norton likes
the seat by the window facing the wall)
Somehow we managed to play it cool like everyone else in the restaurant and he didn't notice us trying to come up with ideas for the most annoying Norton fan ever – like sneaking up behind him and shouting TEEEEDDD! Into his ear like his famous character in Father Ted, Fr. Noel Furlong who drives the Craggy Islanders around the bend with his Duracell bunny super-camp priest performance.

We had pints in The Snug after that and to our gleeful surprise we found ourselves being bought a round of Murphy's by a man we had never seen or spoken to before. He had received good news that day and he doing his bit for west Cork karma by buying everyone in the pub a drink. His happy ending? His son James Dowling had just signed for Munster.
To be honest we thought ALL Limerick people sold drugs and went around on piebalds shooting people with sub machine guns. He must have Cork blood in there somewhere.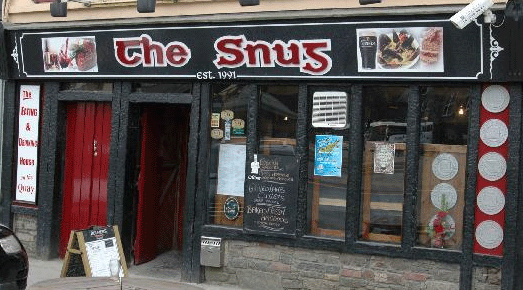 They do a lovely Murphy's at The Snug and a fella from Limerick might pay for it
As our Dutch B&B host at The Mills on the Glengarrif Road would only serve breakfast until 9am and we had no intention of leaving until at least half an hour after the 10.30am evacuation deadline we breakfasted at Mannings Emporium in Ballylicky up the road which was baking in mid-morning sun. Their meat and cheese platter hit the hangover bulls' eye while gentle Mexican guitar solos whispered their latino sexiness around the lush greenery and in between the tables outside.

When the sun is out we should have people up in Cork Airport with signs. "Don't mind your Torremolinos or Praya del Mar: west Cork is what it's all about bubbilla."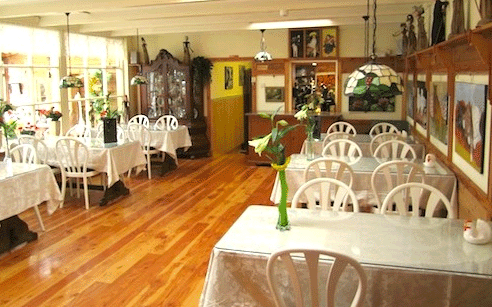 The Mill B&B is run by a Dutch family. A nice spot but hilariously you
can't get breakfast beyond 9am! Pure continental.
AFTER-THOUGHT
Maybe the reason Bantry slips down the list is because it doesn't seem to acknowledge its sea front too well which is a shame because the bay is beautiful. The sea front mainly consists of a giant hotel that takes about five minutes to drive past on one side and large wooden hoardings on the other side, reminding city dwellers of years of drainage works in the early noughties, which boxes off the sea view.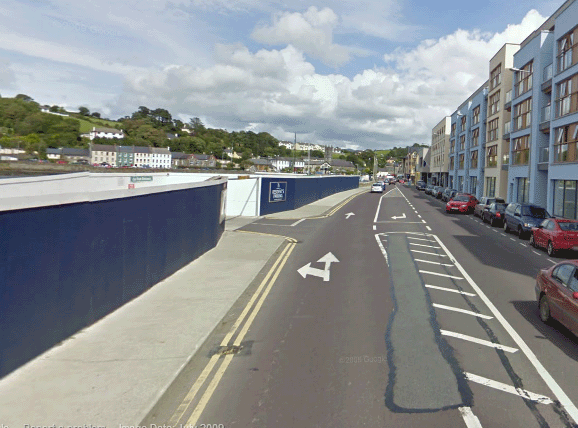 One of the only odd things about Bantry is the lengths of wooden hoardings across from the longest hotel in the world blocking the view of Bantry Bay. They seem to be there for years.

Another unusual feature on Bantry's sea front road is the graveyard up on the hill in front as you head towards Cork. It's like the array of black, white and grey tomb stones are leaning over the wall watching the cars go by like a banshee on a ditch that could cast a curse on you if look at her the wrong way – her piercing eyes convey a message without speaking 'it won't be long now before you're inside here too'.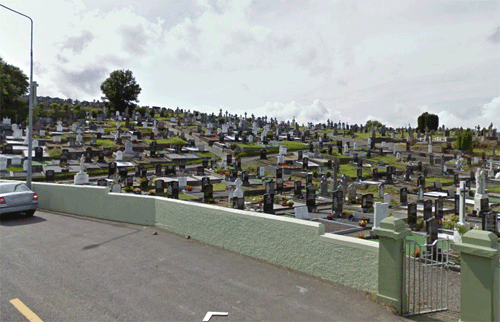 Bantry graveyard looks down ominously as you drive past as if to say 'it won't be long now before you're inside here too'
The local GAA club is Bantry Blues which could be the title of an album by a whining New Orleans songster. The only blues we had was when we had to leave it.

Posted on Oct 22nd, 2018
If you're coming to Cork to show off your pentatonic scales, we're really looking forward to seeing you but don't forget to practice your banter and leave the jazz orgasm face at home...
Posted on Oct 8th, 2018
The building boom is back. Are you a hospital consultant thinking of getting into attic conversions or the CEO of a Fortune 500 company that fancies a career in roofing? Then know how proper langers treat their customers....
Posted on Oct 1st, 2018
In Europe's friendliest city more than one bicycle is stolen every..eh....several days. That's a whopping 0.05% of the population. Be careful out there....
Posted on Sep 17th, 2018
An 83 year old man foiled a three-man raid in Glanmire last Saturday evening and in the process delivered a beautiful kick up the arse to one of the humiliated raiders. Who else needs a Dinny Funt?
Posted on Aug 27th, 2018
A buskers' code agreed between buskers, traders and residents is well worth pursuing before wrapping ourselves up in legal knots and slapping low-income buskers with fines...