The Big Match on Sunday
You're probably a bit nervous about the big match on Sunday at this stage. It has been a long time coming and every major sporting event like this must be thoroughly savoured. The whispering at the watercoolers and shouting at the beer taps has been underway for weeks. Suspected injuries, tactical formations, who'll partner who up front and so on. The excited speculation never ceases.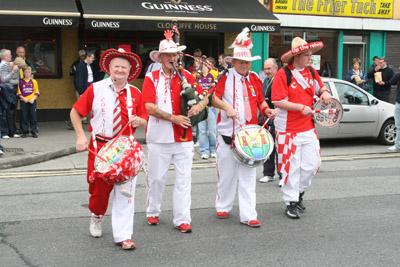 The closest we'll ever get to a sexy samba troupe
Two elite exponents of the sport go into battle and many fans will make long journeys to see their heroes in the flesh.
Many will take time off work to make torturously long journeys across beautiful landscapes to witness, what we certainly hope will be, history in the making. Others have been saving for months with fuel costs topping the price of a ticket (if you stand under a one of those signs outside a petrol station with the unleaded and diesel prices on it, you'll actually see it increase every few minutes).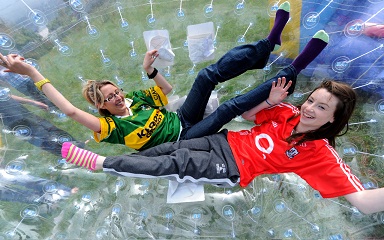 A science experiment conducted recently at UCC involving two old dolls and a bouncy castle: the results are too graphic to show.
Going on the incredible effort some people are going to in order to see the match on Sunday, we know you would all love to see the boys in green beaten out the gate by at least three or four goals.

Our opponents are formidable, devious and aggressive. They speak in a tongue we cannot understand. To us they are strange and foreign. But we can easily match and defeat them.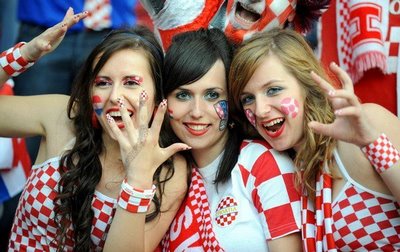 No question about who these Croatian girls will be supporting on Sunday at Pairc Ui Chaoimh
The sight of the green and gold walking leaden footed and downhearted out of Pairc Úi Chaoimh on Sunday would be a welcome sight. The thought of not just beating, but properly batin', Kerry on home soil this weekend is mouth watering. Even more so because we know it's what all Kerry people live for and watching them viciously tear each other apart in defeat is a blood sport no Corkonian would protest against.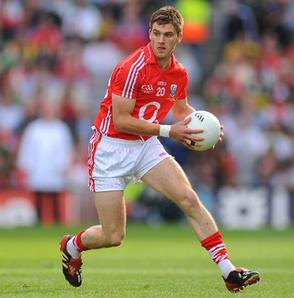 Tabhair duinn an Cad
An bhfuil Cad againn?
Of all the Rebels who need to go the direct route this year Eoin Cadogan would be the first to benefit. We need Cad's power at number six when he's got a hurley in his hand and we need him at corner back for the big ball to snuff out and man-up to teams who think they can take Cork on physically.

The losing team on Sunday has to play all colour of minnows in the back-of-beyonds for something like the next fifteen weekends in a row just to play in Croke Park again this year so at least one of our senior teams needs to go the direct route. Failure to do this could result in a marathon of games that could break the body of even one of our toughest men like Cads.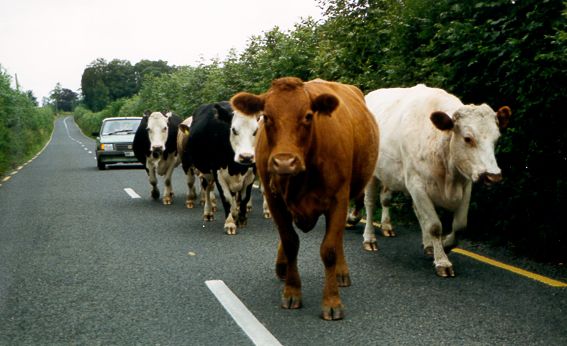 Some Kerry fans have already set off for Cork with their
herds so be careful out there
As always with a home game against Kerry, take the usual precautions: be careful going down one-way streets lest you meet a tractor trailing half a slurry put with a Kerry reg coming against you (they don't have such sophistication in the Kingdom); don't be surprised if you see a herd of cows covered in Kerry coloured bunting padlocked to a bike stand near the ground (so they can be milked immediately after the game) and always wear a gum shield or cover your mouth when speaking directly to an angry Kerryman lest they try some unsolicited "dental work" on you.
Munster Senior Football semi-final
Cork V Kerry
Pairc Úi Chaoimh, 2pm

Posted on May 22nd, 2013
Are our famous sons and daughters holding on to their Cork accents or are they losing the run of themselves? Time to get out the cop-on-ometer...
Posted on May 22nd, 2013
You can't just tog out in beach shorts and cheap runners if you want to run in the affluent climes of Blackrock...
Posted on May 20th, 2013
We keep an ear on Cillian Murphy, Kat-ill-een Lynch, John Creedon, Fianna Fail apologist Michéal Martin, Camogie Goddess Anna Geary and alleged north African immigrant Niall Prendeville...
Posted on May 10th, 2013
As Bus Éireann drivers contemplate strike action here are another five common characters you wish you didn't see regularly on Cork city buses...
Posted on May 2nd, 2013
With such low fares these days, buses to Cork are getting packed out and the chances of you having to sit next to some langball gets higher. Here's our top 5...