Sultans 4 Franks 3
At a rain lashed Bishopstown this afternoon Morty McCarthy from the Sultans beat Ashley Keating from the Franks 4-3.

Cork City Keeper Mark McNulty saved the three other penalties.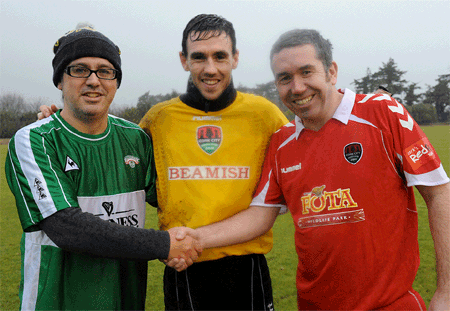 Ashley from Frank & Walters wearing the old strip with theDublin sponsor taking on McNulty in the new Beamish sponsored gear. It was always only going to go one way.

(Morty is still underage and was not allowed to wear an alcohol brand).
The Sultans have chosen to go on last so the running order is
Power of Dreams, Frank and Walters, Sultans of Ping
Doors open at 8.30pm with the first band on at 9pm.
Tickets are still available at Plugd Records Caroline St ,Fred Zeppelins Parliament St and online at Tickets.ie and Ticketmaster.ie .

Three iconic Irish bands of the 90's are joining forces for what promises to be one of the most exciting tours of the year. The Reverberation tour is the first time in 15 years that all three bands will play together on the same stage.

| | |
| --- | --- |
| Ashley from the Franks | Morty from the Sultans |
In 1990 post U2 euphoria swept Ireland with record labels falling over themselves to sign the next big thing, the Pods, the Sultans and the Franks did things a lot differently and in doing so were the darlings of NME Melody Maker and Sounds.
All three bands achieved massive success in Ireland and internationally and were renowned for their wild, entertaining live performances.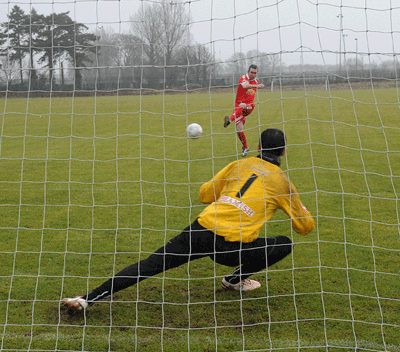 Morty scores the winning penalty for the Sultans
In this triple headed show the bands will alternate nightly and promise to play only the classics such as Power of Dreams' "100 Ways To Kill A Love", The Sultans of Ping's "Where's Me jumper" and the Frank and Walters' "After All" .
It promises to be a night of barnstorming indie classics.
THE REVERBERATION TOUR
Tickets €29
Available from Plugd Records-Caroline St, Fred Zeppelins - Parliament St and online at Tickets.ie and Ticketmaster.ie .
Posted on Feb 1st, 2013
A new look video for a new season - check out a rake of pure daycint live music coming your way this month...
Posted on Jan 1st, 2013
A documentary in Irish about Corkman Jack Lyons and his relationship with the hugely successful 1960's English rock band The Who....
Posted on Aug 2nd, 2011
Stacks of live music coming for Cork in August including Retarded Cop, Kodakid, Jake Levinson, Fred, grammy award winning Tom OBrien and Emigra...
Posted on Jun 30th, 2011
Hypnotic Brass Ensemble are among some of the top live music gigs in Cork during July. Take a sconce at our preview video for the low down...
Posted on May 31st, 2011
As the weather takes a turn for better the Cork xSouth West festival kicks off a month jammed with live gigs which includes the resurrection of the much loved Spiegeltent...