Reducing Insurance For Young Drivers


PROPOSALS TO REDUCE INSURANCE FOR YOUNG DRIVERS

Car insurance is a well documented pain in the life of any young Corkonian. Premiums have soared by approximately 12 billion percent in recent years fuelled, according to insurance companies, by the number of young drivers causing chaos on the roads.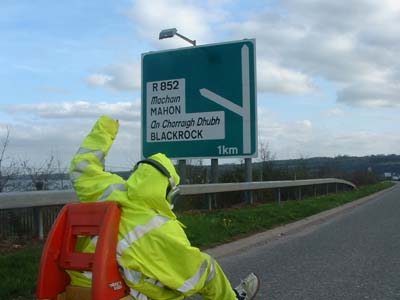 Blackrock or Mahon? It's a philosophical as well as physical choice.
A reliable leak from a "source" in a toilet in one major insurance company revealed that as part of a new policy to spread the load on young drivers - a new push to ensure all young drivers of toy tractors, push buggies and tricycles will pay premiums too. All vehicles with more than two wheels are a danger to the public and must be insured according to the Insurance Federation of Ireland

A move which has enraged tiny tots in play schools around the county. One clearly disgusted driver vented his anger "ga ga" - clearly concern at how insurance premiums payable by the under-5s would affect sales of maloopa.

EUR1,2000 per annum is the estimated cost of insuring a 1.1 litre 03 C Postman Pat ride on buggy with fitted engine. An extra EUR300 for those with spacious compartments greater than 1.1 litre underneath the seat. Toy tractors are also considered commercial vehicles and many of them exhibit controllable front buckets which insurance companies claim could be used by contractors as a way of avoiding insurance on ordinary site machinery.

UNSTOPABLE GRIP
In the wake of this cruel and unstoppable grip by insurance companies on the very fabric of society PeoplesRepublicOfCork.com would like to make a few practical suggestions which may help reduce insurance premiums.

Many physical changes can be made to existing cars, sham wagons and scobe mobiles that will definitely help reduce insurance premiums as well as signalling the potential for a complete redesign of the car as we know it: optimised to keep insurance costs at a minimum.

Crash helmets and shoulder pads could be worn by all passengers. Insurance policies could also dictate the number of layers of clothing both passengers and drivers should wear to dampen impact and reduce injury in crashes. Woolly jumpers tied around the head will also contribute to lower premiums.

Other suggestions are: padding the inside of the car with cotton wool and continental quilts; the use of rubber fenders like those used by trawlers as they pull up to the quayside; ejector seats that are connected to a trigger on the front bumper would project the driver to safe height above a crash scene preventing injury. (A small loudspeaker could be attached to the ejector seat to ensure transmission of music is uninterrupted.) .

CAR RADIOS ?

Most young people make regular use of the car radio. Many scobe-wagons even have giant sound systems taking up the entire boot. Government officials as well as insurance companies believe that certain music styles can have a detrimental effect on speed. In particular pounding trance music that rarely clocks in at less than 140 beats per minute is believed to influence a driver's sub conscious making the driver feel the need for speed.

A remake of the old style Japanese import dash board speed limiter should be considered. The old system mainly found in 80's Toyotas produced an annoying ringing sound from the dash board when the speedometer needle nudged past 60mph. Future systems could take a more pro-active approach in their choice of sound to reduce irritation. The speed limiting system should be hooked up internally to the vehicles sound system so that when the driver exceeds the speed limit, the furiously pounding trance music selected by the driver could be gently faded out and chill out tracks faded in as a replacement.

BOB MARLEY TO THE RESCUE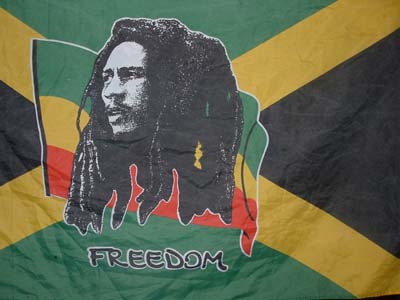 Tracks from the likes of Bob Marley would guarantee a more relaxed mind and prevent the adrenaline rushes provoked by trance music that causes all boy racers to speed. Mixing in irritating sounds like dentists drills, pulsating bell sounds or piercing high noises instead of chill out music has been ruled out because of the chance of the driver mistaking this as an acceptable intro to a trance track. Trance music should be banned and roadblocks set up by Garda'
Posted on May 3rd, 2007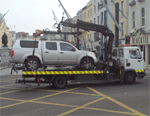 The right to silence in a taxi, magic keys for all checkout girls and the end of gammy looking buildings..
Posted on Apr 26th, 2007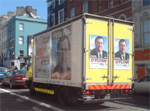 Noelies truck might be booming around town but can he match the PROC's election promises..
Posted on Apr 3rd, 2003
Osama Bin Murphy gives a few instructions on manning a new uninsured vehicle and shows the positives by far outweigh the negatives.....
Posted on Apr 3rd, 2003
Driving a low cost vehicle is essential for young drivers being ridden by the insurance industry....
Posted on Nov 26th, 2002
There's mayhem on Maylor Street as an attempted invasion of Cork by the FAI is taking place. Its time for you to go into action against the enemy in our New† Shoot 'Em Up Game.