Red FM Launch Collections Mix Show
Red FM Launches Collections Mix Show
Last friday night January 23rd at 11 pm on Cork's
Red FM
a brand new show took to the air waves called
Collections
. It's the latest addition to Red FM's multi- award winning specialist programming. The idea is simple, Red Fm have asked some of the best know and respected Cork DJs to put together a one hour mix of their most prized and treasured tracks.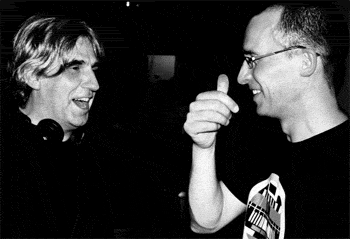 Red FM's Greg and Shane share a sneeze.
The show is all about the music that influenced them, the tracks that mean the most to them and the artists that they love.
Cork DJ's has always led the way when it comes to offering clubber's and pub goers something musically left of centre, a sound that's fresh and educating. Expect the highest of high fidelity, eclectic, rare and unknown. These mixes are exclusive to Corks Red FM will be heard over the next few months every Friday from 11pm.
For the first season of " Collections " you will be treated to musical gems from legendry figures like Shane Johnson , Greg Dowling, Stevie G, John Daly, Ian Richards, Graham Payne, Jim Comet, Colm O Sullivan, Colm Kenefick, Colm Motherway, John O Leary, & Keith Synnott, with many more to be added to the bill.
You can hear Collections on Red FM 106.1 & 105.7, live worldwide on www.redfm.ie and these exclusive show's will soon be available to collect as an mp3 download.
- KC
Posted on Jul 18th, 2011
The beer gardens of Tom Barry's and Fionnbarras host the official Murphy's LBNO bbq of summer 2011. Space is at a premum so click here to find out how to get tickets...
Posted on Nov 9th, 2010
Ash, Slow Motion Heroes, The Undertones, Number One album artist Cathy Davey, Fight Likes Apes, James Vincent McMorrow and Fred...
Posted on Nov 3rd, 2010
Win a pair of tickets to the juggernaut of excitement hitting Cork at the Arc Arena from Novembr 19th-21st
Posted on Jun 10th, 2010
See the play that won the biggest award at the 2009 Edinburgh Festival. For free at the Everyman!
Posted on May 23rd, 2010
Murphys lays on a savage nosh up at Tom Barry'