Pothole of the Month
Pothole of the Month
The Pothole Committee have selected an interesting assembly of tar and other unknown materials at the traffic lights on Southern Road just before traffic turns left into South Terrace as the winner of this month's Pothole of the Month.
While this mess might not be termed a pothole in the true sense of the word it is causing as much if not more off road experience for drivers as an ordinary dent in the road surface.
| | |
| --- | --- |
| | |
| Set up perfectly for a vehicle's right tyres to take a hammering. Try going over this baby at 30 mph and you'll know all about it. | The deceptively smooth run into this 10 inch pothole climaxes with a 70 degree upward exit slope that really tests your shocks. |
What the Committee was particularly impressed by was the sheer scale of the bump and the impressive amount of tar used to attempt to smooth it out. Clearly, from our examinations City Council have been attempting in vain to suppress this pothole for hundreds of years.
Our conclusion is that the pothole actually runs so deep underground that it is actually attached to a different continental shelf to the one Cork sits on. Any movement of the Earth's crust around the world and the tar lobbed from the back of a Corpo truck is consumed by the pothole and a new perforation forms.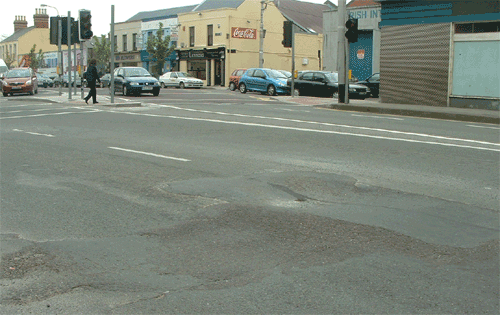 Check out those bumps!Must be a continental plate moving the tar around cos no contractor could be that shit...or could they?
If you study our pictures closely you can see how the continental shelf runs from the footpath across the road and ends at our bump. Watch the AVI video below of a large articulated truck running over the pothole and of a small car doing the same.

Its fantastic how the pothole, unlike most of the one's we've featured here before, has a gentle run into it and then a sudden ascent causing vehicles to lift nicely on the right as they bank left around into South Terrace.
We have sent our findings to the Geography Department in UCC and are awaiting final confirmation of the continental shelf suggestion which will probably change modern science as we know it. We decided to publish it first on the website in case Inside Cork (which has a reputation of breaking 23 sensational stories about Cork Airport in the last 23 weeks) got wind of it and beat us to it.

If you have a favourite pothole you'd like to see featured as 'Pothole of the Month' please forward directions to the nominee pothole to .(JavaScript must be enabled to view this email address) and our craic team will be dispatched immediately with cameras and cans.



DOWNLOAD

Click here to download a clip of an articulated truck taking on the bumps

Click here to see a Fiesta cautiously traverse the gradients of Pothole of the Month


Click here to see previous Winners of Pothole of the Month

Posted on Nov 19th, 2007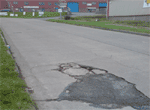 Dont be surprised if you see young scobes from Wilton pulling mullet out of this one...
Posted on Jul 19th, 2007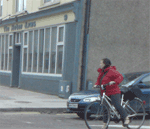 Debate over the origins of the type 8B Lunar Surface on Copley Street...
Posted on Mar 23rd, 2007

They say beauty is only skin deep. On Centre Park Road beauty is approximately 5 inches deep and 12 metres wide..
Posted on Feb 8th, 2007

Pothole knockout: Under Rule 31.2 the Cornmarket Street trenches automatically win this month's competition..
Posted on Oct 12th, 2006

To park or not to park that is the question...especially when you're new in town.