Parking Sign of the Month
Parking Sign of the Month
Mark Tobin
To park or not to park - that is the question. This picture was sent in to us by Mark Tobin from Glanmire who was confronted by a confused French tourist on Sullivan's Quay at the weekend. Asked whether it was safe or not to park on the street he assured them it was fine.
That is until the bewildered Froggie pointed out a rather blatant contradiction in the signs he had examined on the kerbside. It wasn't a language problem - we're told the French use the English word 'parking' too - it was the signage.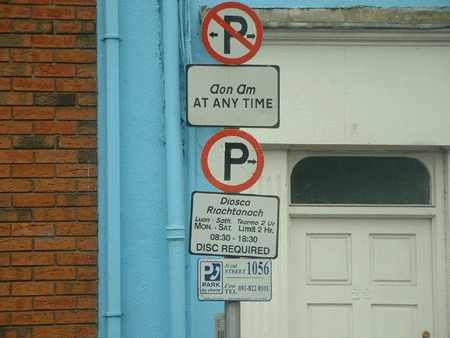 No, you cannot park to the right of this sign. Yes, you can park to the right of this sign.
One sign on top says no parking anywhere. Another sign underneath appears to indicate it is acceptable to park at the Barrack Street end. Although somewhat faded lines appear on the ground the poor sham couldn't give the poor devil a definitive answer on whether his car was legally parked or not.
Mark might have casually said "ah sure you'll be grand" but with Mr. Clampy the predator circling like a hungry hawk he didn't want to see the tourist return to find his car had been towed away and advised him to head up Barracka.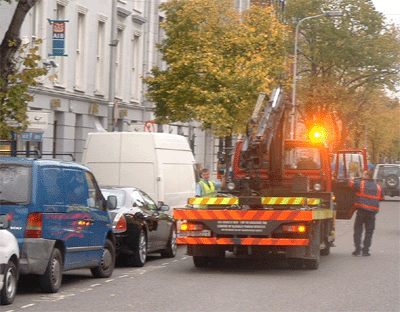 A few minutes later on South Mall Mr.Clampy was seen towing this black English reg car away.
If you have a simple civic tale of woe, pothole anecdotes or random stories you'd like to tell us email pics to .(JavaScript must be enabled to view this email address)


Posted on Nov 19th, 2007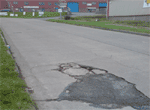 Dont be surprised if you see young scobes from Wilton pulling mullet out of this one...
Posted on Jul 19th, 2007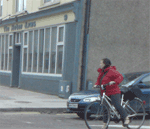 Debate over the origins of the type 8B Lunar Surface on Copley Street...
Posted on Mar 23rd, 2007

They say beauty is only skin deep. On Centre Park Road beauty is approximately 5 inches deep and 12 metres wide..
Posted on Feb 8th, 2007

Pothole knockout: Under Rule 31.2 the Cornmarket Street trenches automatically win this month's competition..
Posted on Jan 19th, 2006

We're back on the southside again this month for another cracker. Download video and see the pics...