Ninjas Choke Hold on Munster
Congratulations to the cutest hoors in Munster. As long as you're wearing green and gold it seems no matter how hard you smash somebody in the face, pin someone to the ground by the neck or karate kicked in the leg you just can't have the rules applied to you and be sent off.
Just ask the Kerry lads. They had a field day yesterday testing out their martial art skills on the Rebels on home turf.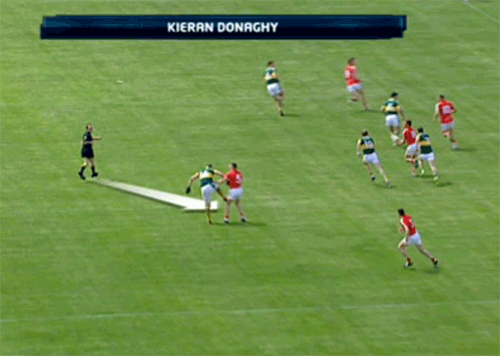 Ninja Star lashes out sending O'Leary to the ground....but the referee sees nothing
Kieran 'Ninja Schtar' Donaghy showed off his Thai boxing skills with a savage stud-encrusted stab at Noel O'Leary's leg with his boot sending the Cork defender to the ground in agony.
Although any deliberate striking motion requires that a referee must issue a straight red card to a player who clobbers another the Meath man in black seemed so impressed with Donaghy's downward leg-dawk on poor Noelie that he issued a yellow card.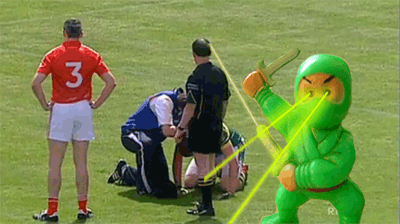 The Kerry ninjas get inside the minds of referees
If you didn't know already the GAA's myriad of disciplinary committees cannot now revisit the incident as the referee is deemed to have dealt with it at the time.
Later Kerry captain, Cooper performed a very impressive choke hold on young Cork substitute Denis O'Sullivan. Most 'striking' about the Kerryman's move was the length of time he managed to hold O'Sullivan on the floor without any officials interfering, something other martial arts experts will be intrigued by as the clock ticked down in the Kingdom's favour.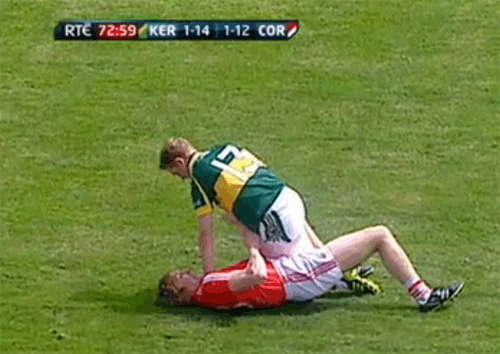 Cooper applies a throat-crushing neck hold on O'Sullivan. Mind techniques were then used to confuse referee who awarded Cooper's efforts with a yellow card...for O'Sullivan.
Mind techniques however are by far the most subtle and cute method used by Kerry. The referee suffering from heat exhaustion, and possibly stupidity, was so dazzled by the swift movements of green and gold karate chops and kicks that he was unable to see anything at all.
This was proved by television replays in which the referee is seen clearly looking in the direction of a Kerry ninja as he knocks a Cork opponent to the ground but so quick and fast was the technique executed that the referee is unable to see what TV cameras picked up.
Such lightning limbs take years to condition and Kerry players have cleverly perfected this art to great effect.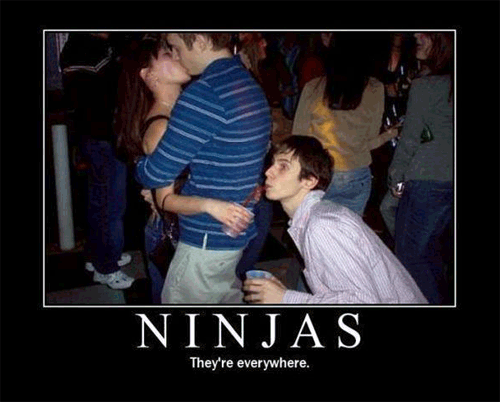 A recent scene from The Hillgrove in Dingle
Posted on Sep 17th, 2018
An 83 year old man foiled a three-man raid in Glanmire last Saturday evening and in the process delivered a beautiful kick up the arse to one of the humiliated raiders. Who else needs a Dinny Funt?
Posted on Aug 27th, 2018
A buskers' code agreed between buskers, traders and residents is well worth pursuing before wrapping ourselves up in legal knots and slapping low-income buskers with fines...
Posted on Aug 15th, 2018
It has been rumoured for years that Bob Marley lived in Cork...and possibly still does. Only that can explain the manic devotion to the reggae superstar on Leeside...
Posted on Aug 8th, 2018
If you haven't moved abroad in protest after the last time the Panaban was tried or set yourself on fire in defiance then check out our frequently asked questions guide to Panaban's second coming.
Posted on Jul 24th, 2018
This time last year Cork were Munster champions going into the All-Ireland semi-final on a high. It didn't end well. The Rebels have added some steel that should help avoid another semi drubbing but is it enough to beat a tough Limerick outfit?