New Year's Resolutions for the Corkman

1. Ring the Shandon Bells if You Haven't
C'mon like, do you seriously think of yourself as being pure Cork but you've never been up to ring the bells? Don't be fooling yourself, Sham. It only costs a fiver and you can stay up there all day looking at the view of your city like a loved up mother looks at her new born. When there's a rain shower nip inside and bang out a few classics, like 'Three Blind Mice', on the bells to drive the residents of Dominick Street around the bend. It's your culture.

2. Choose Cork
Why wouldn't you buy local when there's a clear choice between a Cork owned business and a menacing global brand? Probably because you're a bit of a langer, that's why. Whether it's cups of coffee or buying birthday gifts for someone sound, up your loyalty to Cork in 2018 and stick your coin in a pure local till rather than fattening the take of tax dodging shareholders in some faraway land that couldn't give a fiddlers about the Rebel County.

3. The Rebel Hajj
Have you ever made a pilgrimage to Gougane Barra? Have you ever prostrated yourself on the grass in front of the lake and gave praise to St. Finbarr, St. Christy Ring, St. Cha and Miah, St. Bernie Murphy, St. Sonia, St. JBM and all the other Cork saints? Bit awkward when the American tourists have to step over you while you happy-cry the words of De Banks through a stream of joyful tears but this is the Cork hajj and they must respect our traditions.

4. Holiday in Cork
Where would you be going up to all these places over run by tourists like the Burren, Galway and Killarney (God help us) when you've got the most beautiful county on earth on your doorstep. This year take your holibops somewhere amazing like Clonakilty, Castletownsend, Castletownbere or Courtmacsherry. And that's just the C's. And don't forget 'Montenotte-by-the-Sea' – good old Crookhaven!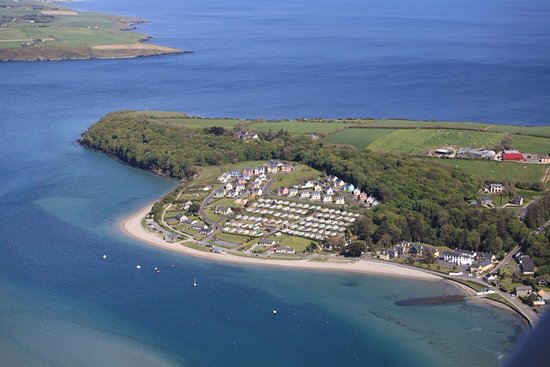 Courtmac. Sure, where else would you be going?

And if you're worried about sun and your vitamin D levels, 'Lanza' and 'Ponza' are still considered part of Cork because we now out-number all other nationalities there, including the Spanish, and will eventually take over by stealth (and stout).

5. Fat? Jog.
Cork needs a healthy population to brag about to the other counties so we need all our fatties to up their game in 2018. Stop arsing about thinking you're doing something about your flankles, flarteries and flabdomen by just browsing flashy gym websites and looking at all the suspiciously staged 'before and after' photographs (why do they never let the old dolls wear make-up or brush their hair in the 'before' pics?). Get off your post-Christmas Quality Street insulated posterior and start pounding the pavements. Here's our six letter solution: Fat? Jog.

6. Love the Lee
Bad enough to have your man in America talking about walls and dividing people but the Dubs are trying to wreck Cork with one too and it hasn't received half the international attention or a rebuke from the UN. Take a minute away from tinder and snapchat to read up on how you can help the Save Cork City Campaign to stop Dublin's Office of Public Works cynically pulling up the shutters on the People's Republic.

7. Witness The Double-Double
With news this week that prolific striker Graham Cummins is to return to Leeside the chances of Cork City FC retaining both the league and cup titles has gone up yet another notch. Players who were supposed to be leaving after the cup win have decided to stay – they know they're on to a good thing. Get out and support your local football club and see some champions league action right here in Cork.

8. Go see a gig in the Event Centre
When Simon Coveney said in early 2016 that the event centre would definitely be built he clearly wasn't just saying it to boost his vote in the general election – otherwise it would be still just a big empty pit of deceit.

This was a hard fought win for Cork so support it by grabbing a ticket for the acts coming your way in 2018: Pink Void, Sham Cooke, The White Lies, Nine Inch Fails, The Pretenders, Muddy Waters, Johnny No Cash, Talking Heads and Spinal Scrap. And don't forget to support Irish acts too like The Frank and Falters, The Insultings of Ping FC and BAM Sandwich.

9. Balm Out in the New Páirc
It cost something like 4 trillion euro and hundreds of club delegates from around the county had to be slaughtered as human sacrifices before the stadium finally opened last summer. It'll probably be renamed Starbucks Park or Big Mac Stadium soon to pay off the debt but it's still worth going down to see a game and marvelling at the daycintness of it all. It'll most likely host both Munster finals this year so make a pledge to support the Rebels in both codes and witness history.

10. Avoid Dublin like Ebola
There really is no need for any Corkman to travel to Dublin and not having been there in years is a badge of honour for any Rebel. It has nothing that Cork doesn't. Well, sorry that's not entirely true. We do concede that it does have a few things to offer that the PROC just can't complete on: traffic chaos, rampant crime, drug gang murders, overcrowding and general human misery. If it's not an All-Ireland final - stay in Cork.

Happy new year, Rebels.

Posted on Jan 7th, 2019
Stick in your headphones, turn off your bike lights and throw away your helmet - everyone knows you can't die if you're under 25...
Posted on Jan 1st, 2019
Just what you needed to make you feel worse about your dizzying hangover and your half-baked new year's resolutions to get fit....
Posted on Dec 30th, 2018
Our recommendations to improve the pure purity of your pure Corkness in pure 2019...
Posted on Dec 20th, 2018
From toasted specials and hot ports to big wheels and seeing the real Santy...
Posted on Dec 10th, 2018
Fancy yourself as a Cork bus driver? Can you whistle the same tune over and over again for hours on end whilst trying not to turn crazed cyclists into oily sandwiches?