New Cork Startup: Shaky Bridge Analytica
Some think the Facebook/Cambridge Analytica scandal will be the end of those companies especially given their alleged manipulation of the Brexit referendum and the U.S. presidential election. A Channel 4 sting caught Cambridge Analytica CEO, Alexander Nix, on camera revealing a list of very dark and dodgy activities his company provide.

However, while declaring their public disapproval many desperate politicians and unscrupulous multi-billion euro companies determined to influence our minds will be hoping to hire companies like this when it all dies down.

So for that reason we would like to announce the formation of a new, pure dodgy 'data analytics company' that will do far more than just use your online presence to rearrange the order of the cells in your brain.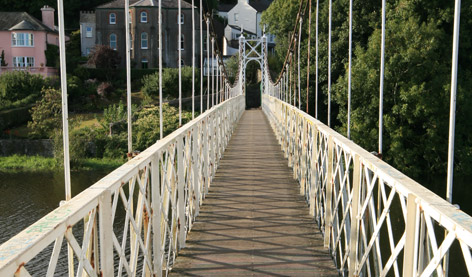 Shaky Bridge Analytica - do you risk crossing to the other side or end up bring thrown off it and getting covered in shite?

The next time you fill out as much as a betting slip, a book of condolence or write a birthday card for your mam our surveillance team and data centre will cross reference this with your online social media profile.

We'll be doing all sorts of shady stuff like changing all the destinations on the airport's screens to "Not Cork" for a day. We'll start controlling the national media by planting the word "Cork" into people's heads by hanging around in the back of Pascal Sheehy's news reports. We will run a successful campaign to have the English on road signs replaced with Russian just for the craic.

That. Kind. Of. Thing.

The name of this new company is a tribute to the famous bridge between the Northside and the rest of the city. This piece of infrastructure requires very careful footsteps and is no place for noisy traffic and heavy vehicles. The shaky nature of the bridge represents the dodgy nature of the work we will be carrying out.

The insinuating metaphors don't stop there: Not everyone makes it to the other side of the Shaky Bridge – some are too afraid to cross it, others leap or are thrown from it into the cold waters below often in psychedelic swimming togs that the force of the plunge unexpectedly removes - leaving them naked and ashamed. If you know what we mean. Yes, we do that kind of thing too.

If you're not quite getting it yet allow us to elaborate further with more thinly veiled analogies.

There are a cohort of extremely proud Northsiders who have taken a pledge to never leave it and who would blame them? You have everything you need on the Northside – the beauty of Shandon, half a million great pubs and more chippers than you could throw a fillet of mullet at. Even if you get sent to jail you're not that far from home.

Sometimes though you really feel the need to cross the river to get something that is very important to you – wink, wink – but your sense of integrity, honesty and pride prevents you.

Imagine if you were seen. Years, or even decades, of doing what you believed in and working hard to mould your reputation as a true Northsider could go up in flames like a suiting room couch and a set of soilked German tyres on bonna night.

Do you want to risk doing all this by yourself? What if your face turns up on a CCTV camera in Douglas or an unchecked social media setting accidentally reveals that you are at "The Big Arse Café, Blackrock". Just think of the headlines. The shame of it. The morto. You'd lose everything.

You need this to be clean and that's where Shaky Bridge Analytica come in. We'll be there to cross that river for you so you don't have to. Most people think the River Lee is cleaner than it used to be but, we know where the sewers still spew their slime. Did you feel that gentle tap-tap elbow in the ribs?

Look, our people know "The Southside". We know people who know people there who can help and, most importantly, they don't ask questions. We have their data – they have liked pages on Facebook that they thought nobody knew about. They left Cork matches in Thurles early and only heard about Lehane's winning point on the car radio. Yeah, those types.

If you need us to do "runaway knock" at a given location, all we need is the address. If you'd really like a sip of "tanora" just give us a glass and we'll fill it. Should you need one of those southside coffees that people with surnames that sound like they have a yacht in Crosshaven drink then we'll provide the barista (the beardy feen who puts the tea bag or whatever into the cup and thinks he's running the city).

At Shaky Bridge Analytica we throw more shapes than a Midleton dance school and have more balls than a Southside driving range.

We don't have a physical address or contact details for you to get in touch with us (that'd leave a trail) but the fact that you have got to the end of this page means we already know you are interested.

We'll be in touch soon, sham.

Posted on May 18th, 2019
In part deux we look at ways we can all help make Cork's Huguenot Quarter become a little more French by changing our accents, taking up chain smoking and having multiple affairs with beours we don't even like...
Posted on May 11th, 2019
With our insatiable appetite for tourists, maybe it is now time to ramp it up and go all-singing-all-dancing frogs legs, onion necklaces and stinky cheese...
Posted on May 4th, 2019
Even though we are a notch above the rest, Cork people aren't all the same – perfection doesn't mean we are homogeneous.Travel around the city and county and you'll find some quirky traits that make each of the jewels in Cork's crown unique
Posted on Apr 4th, 2019
The relentlessly repetitive single word script and leave-whenever-you-want audience policy is sure to be a hit in theatres from Buttevant to Barnet and Brixton to Broadway....
Posted on Mar 13th, 2019
When minority languages try to recover from historical oppression, it is the death-by-a-hundred-thousand cuts inflicted by the native population themselves that properly ensures a language is extinguished..