Murphy In or Murphy Out ?
There's lot of controversy these days when it comes to supporting Cork City. There seems to be two camps - 'Murphy In' and 'Murphy Out'. Both think they are right, and the whole issue is really hotting up at the moment. With City recent run of rubbish, crap and useless performances at home, people from the Murphy Out brigade are letting there feelings be known. The Murphy In brigade are really getting on their high horses on this one, calling the Out crowd fair weather scum and a bunch of malcontents. They do not agree in the booing of the players and the management after we have had to sit through yet another 90 minutes of underachievement and poor football. They also do put forward some valid arguments, but unfortunately a minority have resorted to throwing coins and bottles at those who they disagree with.
Now, the In brigade may have a point. Gunther is relatively new to the job, and is trying to build up a squad of players from the youth team as the board don't seem to be very forthcoming in giving him transfer funds. He is also impeded by the fact that not many eL players would be willing to leave dirty Dumplin to come and play in Cork. Even players from the provinces would be reluctant to move here full time. The one exception to this is Conor O'Grady from Sligo, possibly the best signing EVER made by a City manager. Gunthers results haven't been too shabby, apart from the last two months, and he has brought through players like Carey, Hoggy, Bennet and Colin P. They will also point out that a manager like Alex Ferguson was one match away from the boot at Man Utd 10 years ago, and now look at him. One of the all time greats! Murphy is a Cork man , who knows Cork football and has the best for Cork city at heart at all times. He even proved this to everyone recently in a recent press interview by telling us that he suffered a bad injury playing for the club. There's commitment for ya. Some of the In crowd are still somewhat sceptical of Murphys performance so far, but are still content with him at the helm. That's fair enough as these people cite very valid points - who would replace Murphy?, and he should be given at least a full season to prove himself.
On the other hand, the Out brigade will claim that the only reason for his good results are down to good players, not good tactics, as has been highlighted in recent weeks. All the Out brigade will agree that the acquisition of Grady was a great signing and will give credit where its due. But a big question they will ask, is if Murphy is so intent on building a strong squad, why has he left so many players go this season? The squad at the moment is down to its bare bones, a few injuries or suspensions, especially in midfield, would see us in big trouble. The Out brigade will also point out that Murphys people skills are non existent. He doesn't acknowledge fans and he has never showed up to a supporters club meeting. They will point out Pat Dolan at St Pats who will socialise in the pubs after all Pats matches, win, lose or draw. Also the latest run of bad performances at home. There never seems to be any variation in tactics. It always seems to be hoofed up the middle, or out to Cahill. There doesn't seem to be a plan B, as Limerick proved to everyone a few weeks back. They saw what tactics were being used and from an early part of the game took control.
Those are the two schools of thought, and if that was the end of the story, it would be okay. But the disagreements between the opposing camps has now reached boling point. Some of the IN brigade are using the most idiotic of arguments in order to prove their points, however, the same can be said of the Out crowd. Most of the In argument is that the OUT brigade are idiots. But having said that, their unwavering loyalty and patience must be applauded, and it is said that you should support your club through thick and thin. There certain people on the internet who seem to take it personally whenever anyone says anything bad about the club (and no they are not board members, players or a manager, although some wouldn't even call them fans!). That's fine you may say. What's the point in getting your back up when you cant do anything about it? You are better off getting behind the team. But when the manager comes out and says that it isn't his fault that the players cant score goals, and then claims that the fans no nothing about football, and these people still defend him, you have to question these guys sanity. Everything is not rosy in the Garden. 1 home goal in 8 matches should prove that one to them. It also says a lot about the managers confidence in himself, the fact that he wont apportion any blame upon himself. Even the best managers in the world suffer poor results every now and then, but they will say to the press that the situation needs to be sorted out both in the dug-out and on the pitch.
And now some people are beginning to question the motives of FourFiveOne, claiming that we do very little to support the club, and revel in pointing out the clubs bad points. Well here is my response to that. We, FourFiveOne, are not anti club. As individuals we have our separate opinions on the state of affairs at the moment. However, these feelings do not make the pages of our product for fear then that we are accused of pushing our personal opinions on people. We welcome all contributions, whether they be humorous, serious, pro Gunther, or anti Gunther. The thing is, how can we print something which is pro Gunther, when we have received absolutely nothing by way of contributions on the matter. The same people who accused us of being anti club etc have yet to contribute anything by way of defending the club.
Anyway, with only one home match left this season (against the mighty Monaghan March 24th), things are looking bad. Europe is almost an impossibility for the first time in 7 years, crowds are down, players aren't playing well, and there doesn't seem to be any solution in sight. Hopefully the board will splash out and buy some new players in the close season, hopefully Cahill won't leave, but that's all we can do, is hope.
Gareth Williams.

Check out www.fourfiveone.net send submissions etc.to .(JavaScript must be enabled to view this email address)

Posted on Jul 28th, 2009
If CCFC lose their appeal on Friday the club will be forced to close for good and be removed from the League of Ireland..
Posted on Aug 19th, 2008
Cork City FC is on the brink of collapse as it applies for Examinership at the High Court. If Kevin Doyle goes from Reading to Villa there's hope....
Posted on May 16th, 2007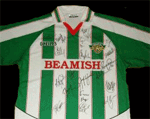 A bunch of loyal and dedicated Cork City FC fans are raising sponosrship funds with an online auction of a signed jersey. Get your hands on it now...
Posted on Feb 6th, 2003

The ever popular CCFC fanzine FourFiveOne present their awards for the end of season....
Posted on Feb 3rd, 2003
No cup this season, no europe next season and Murphy resigns. Gareth Williams sums up the first transition season at Turners Cross....