Lamp the size o' these Fishes Biys !!
Lamp the Size o' these Fishes Biys !
In June Three Orca Killer Whales unexpectedly turned up in Cork Harbour. Locals flocked in their thousands to the banks of the Lee to catch a glimpse of the trio but just in case you missed out here's a few photos of them on a sightseeing tour of the city....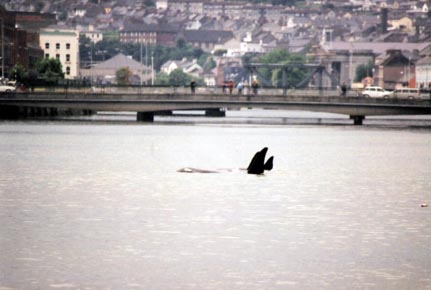 The three ventured as far as Clontarf Bridge, where they briefly protested over service charges outside City Hall.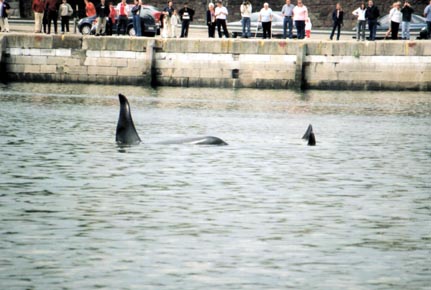 Supportive locals shouted anti-whaling slogans from the Quays resulting in the occasional spurt of water from Orca Senior and slow twirling by the mother and sibling in approval...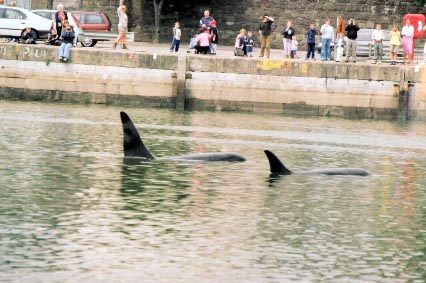 There were plenty of rumours to why they turned up and stayed in the harbour for over ten days. Some said they were just lost, others said they were trying to beach themselves because they were sick. When they eventually did leave they apparently joined a school of over twenty other Orcas outside the harbour. Sadly the body of the female Orca was eventually found washed up in Cobh some time later.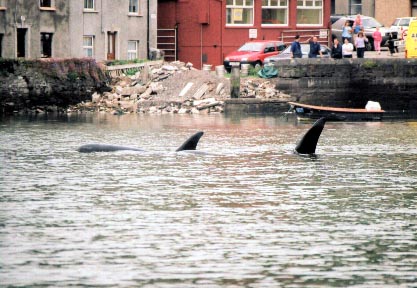 In retrospect, "killer" was the word that got people out to see them. We all hoped we would see frightening scenes of them violently torpedoing out of the water with their open wide jaws viciously snapping the air in the hope of securing some local human flesh.
Unfortunately the spectacle was limited to fins, the occasional glimpse-of-their backs and a brief interest in the remains of a partially submerged Tesco trolley at low-tide. However their apparent enormous size was enough to keep even the most cynical Corkman and woman thoroughly intrigued. A strange sight to behold in Cork indeed and who's to say they won't be back this year.....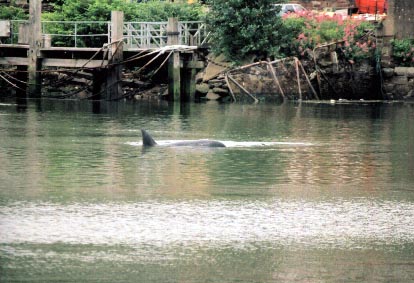 Posted on Sep 17th, 2018
An 83 year old man foiled a three-man raid in Glanmire last Saturday evening and in the process delivered a beautiful kick up the arse to one of the humiliated raiders. Who else needs a Dinny Funt?
Posted on Aug 27th, 2018
A buskers' code agreed between buskers, traders and residents is well worth pursuing before wrapping ourselves up in legal knots and slapping low-income buskers with fines...
Posted on Aug 15th, 2018
It has been rumoured for years that Bob Marley lived in Cork...and possibly still does. Only that can explain the manic devotion to the reggae superstar on Leeside...
Posted on Aug 8th, 2018
If you haven't moved abroad in protest after the last time the Panaban was tried or set yourself on fire in defiance then check out our frequently asked questions guide to Panaban's second coming.
Posted on Jul 24th, 2018
This time last year Cork were Munster champions going into the All-Ireland semi-final on a high. It didn't end well. The Rebels have added some steel that should help avoid another semi drubbing but is it enough to beat a tough Limerick outfit?