Lamp the size o' these Fishes Biys !!
Lamp the Size o' these Fishes Biys !
In June Three Orca Killer Whales unexpectedly turned up in Cork Harbour. Locals flocked in their thousands to the banks of the Lee to catch a glimpse of the trio but just in case you missed out here's a few photos of them on a sightseeing tour of the city....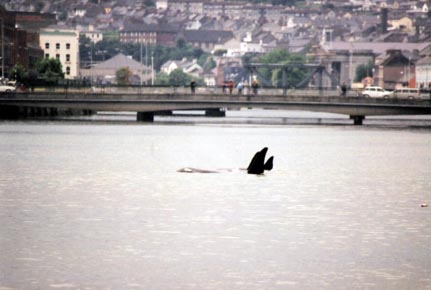 The three ventured as far as Clontarf Bridge, where they briefly protested over service charges outside City Hall.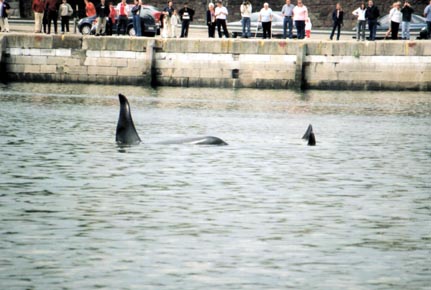 Supportive locals shouted anti-whaling slogans from the Quays resulting in the occasional spurt of water from Orca Senior and slow twirling by the mother and sibling in approval...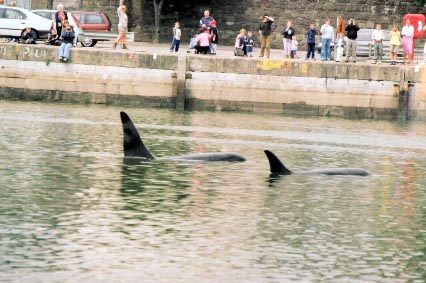 There were plenty of rumours to why they turned up and stayed in the harbour for over ten days. Some said they were just lost, others said they were trying to beach themselves because they were sick. When they eventually did leave they apparently joined a school of over twenty other Orcas outside the harbour. Sadly the body of the female Orca was eventually found washed up in Cobh some time later.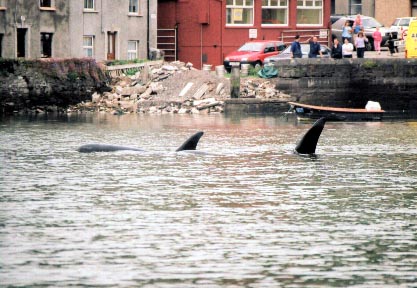 In retrospect, "killer" was the word that got people out to see them. We all hoped we would see frightening scenes of them violently torpedoing out of the water with their open wide jaws viciously snapping the air in the hope of securing some local human flesh.
Unfortunately the spectacle was limited to fins, the occasional glimpse-of-their backs and a brief interest in the remains of a partially submerged Tesco trolley at low-tide. However their apparent enormous size was enough to keep even the most cynical Corkman and woman thoroughly intrigued. A strange sight to behold in Cork indeed and who's to say they won't be back this year.....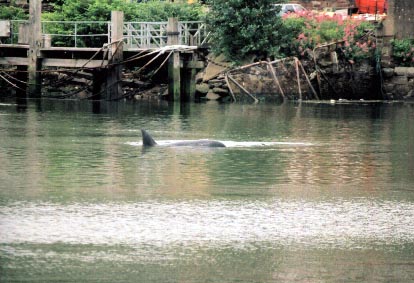 Posted on May 18th, 2019
In part deux we look at ways we can all help make Cork's Huguenot Quarter become a little more French by changing our accents, taking up chain smoking and having multiple affairs with beours we don't even like...
Posted on May 11th, 2019
With our insatiable appetite for tourists, maybe it is now time to ramp it up and go all-singing-all-dancing frogs legs, onion necklaces and stinky cheese...
Posted on May 4th, 2019
Even though we are a notch above the rest, Cork people aren't all the same – perfection doesn't mean we are homogeneous.Travel around the city and county and you'll find some quirky traits that make each of the jewels in Cork's crown unique
Posted on Apr 4th, 2019
The relentlessly repetitive single word script and leave-whenever-you-want audience policy is sure to be a hit in theatres from Buttevant to Barnet and Brixton to Broadway....
Posted on Mar 13th, 2019
When minority languages try to recover from historical oppression, it is the death-by-a-hundred-thousand cuts inflicted by the native population themselves that properly ensures a language is extinguished..