Lamp the size o' these Fishes Biys !!
Lamp the Size o' these Fishes Biys !
In June Three Orca Killer Whales unexpectedly turned up in Cork Harbour. Locals flocked in their thousands to the banks of the Lee to catch a glimpse of the trio but just in case you missed out here's a few photos of them on a sightseeing tour of the city....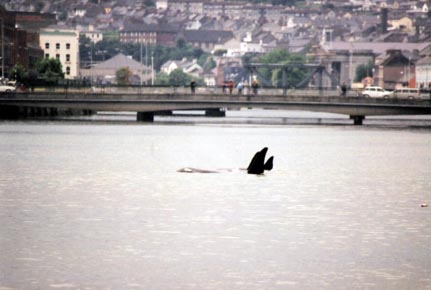 The three ventured as far as Clontarf Bridge, where they briefly protested over service charges outside City Hall.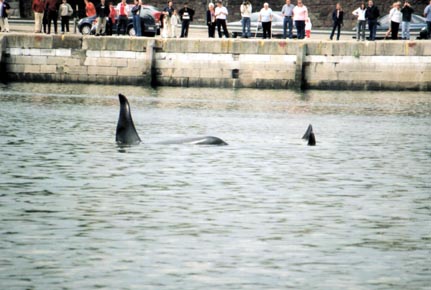 Supportive locals shouted anti-whaling slogans from the Quays resulting in the occasional spurt of water from Orca Senior and slow twirling by the mother and sibling in approval...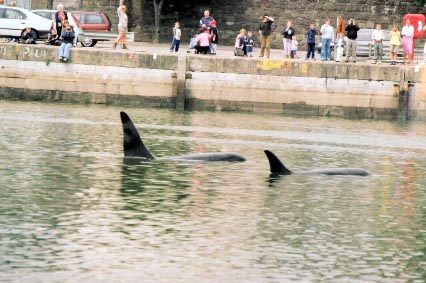 There were plenty of rumours to why they turned up and stayed in the harbour for over ten days. Some said they were just lost, others said they were trying to beach themselves because they were sick. When they eventually did leave they apparently joined a school of over twenty other Orcas outside the harbour. Sadly the body of the female Orca was eventually found washed up in Cobh some time later.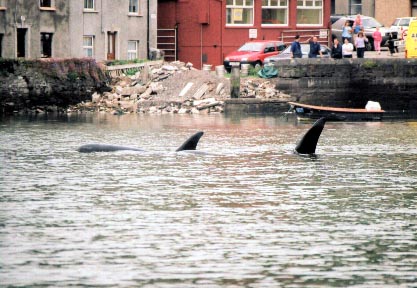 In retrospect, "killer" was the word that got people out to see them. We all hoped we would see frightening scenes of them violently torpedoing out of the water with their open wide jaws viciously snapping the air in the hope of securing some local human flesh.
Unfortunately the spectacle was limited to fins, the occasional glimpse-of-their backs and a brief interest in the remains of a partially submerged Tesco trolley at low-tide. However their apparent enormous size was enough to keep even the most cynical Corkman and woman thoroughly intrigued. A strange sight to behold in Cork indeed and who's to say they won't be back this year.....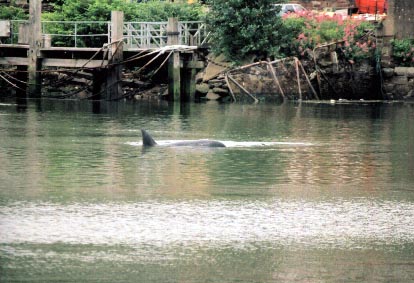 Posted on Nov 27th, 2018
With much of the area due to become part of the city in the next few years, Glanmire has confirmed it was just trying to impress the rest of the northside with the "mass brawl" that took place in Riverstown last Saturday morning.
Posted on Nov 20th, 2018
A video taken in Bishopstown of a UFO has been dismissed with a seemingly rational explanation about the sun and the international space station. Fuck that though...
Posted on Nov 13th, 2018
Are you spending most of your day online posting vague, anecdotal evidence to back up your assertion that the Panaban is either the best or worst thing ever? Read on, bubbila.
Posted on Nov 5th, 2018
Last weekend a Dublin newspaper published an entire supplement called "10 Big Ideas to Make Dublin Better". Unfortunately our thoughtful and well considered suggestions were omitted due to the newspaper's anti-Cork bias. Here they are...
Posted on Nov 1st, 2018
Encouraged by his single figure showing in the Presidential election, Seán Gallagher vows to return from the sea and fight the 2025 Presidential election…