Investigation Into Presence of Yacht On Northside
An investigation has been launched by the Royal Cork Yacht Club after a yacht was seen on the Northside of Cork city earlier today.

The yacht measuring over 25ft, which was spotted on Blarney Street by a passer-by, was attached to a trailer being towed by a landrover which was unable to complete its descent to Shandon Street as the yacht's mast got stuck against the wall of a house at St. Vincent's Place.

Gardaí from the leafy suburb of Douglas were quickly on the scene and verified the presence of a large posh thing on the Northside to their superiors in Crosshaven.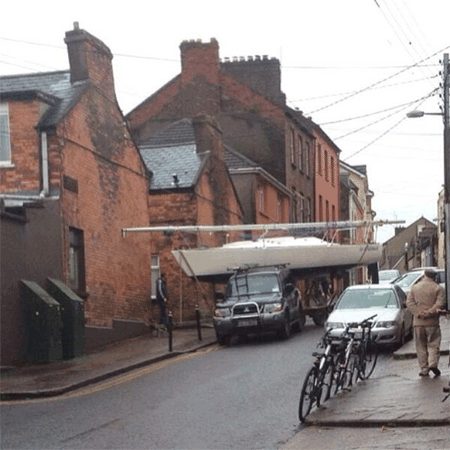 Dire straits: Yacht crashes into a house at St. Vincent's Place on Blarney Street

Reaction across the Southside has been one of shock. The inquiry's terms and conditions have yet to be agreed but it will focus on how a yacht managed to end up on the Northside - a mystery put on a par by many Southsiders with how a Malaysian airline heading north ended up off Australia.

"This is outrageous", said one shopper in Douglas Village Shopping Centre leafing through a copy of Yachts & Yachting Monthly, "is anything sacred? The next thing you know people up there will be sending their children to rugby schools. "

Northsiders have found themselves equally shocked at the sight of a yacht nestling in a bed of fail on Blarney Street.

"C'mere buoy, this is very embarrassing for the area", said Assumpta Walsh, a life-long professional elderly lady, "but it's going to be fantastic for anyone who knows the owner. The wind-ups and ball-hopping they are going to endure for the rest of their lives after getting caught on Blarney Street with a YACHT…morto, like!"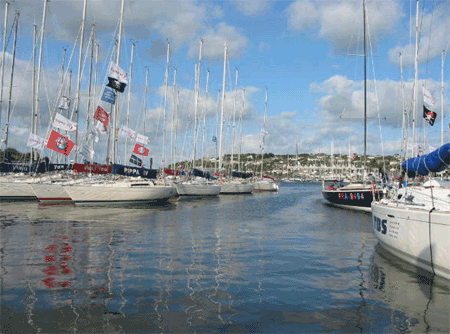 It's all about the haves and the have-knots

The Anti-Austerity Alliance are holding a meeting tonight at The Hut in Gurranabraher demanding yachts for everyone.

"How come diss fella got a yacht? Where's my yacht?", said a party spokesman almost bursting a blood vessel, "This is a stern warning to the government: it's a boat time we were all treated fairly. This incident on Blarney street is totally unfathomable at a time when people are experiencing fierce hardship."

Northside groups have appealed for calm and asked citizens not to go overboard. Queues of people claiming to be suffering from sea-sickness have already have been reported outside doctor's surgeries.

Posted on Sep 21st, 2020
Our low-key 20 year celebrations begin with a flyover of the city centre by the PROC air force and a military parade...
Posted on Sep 14th, 2020
With ten times more covid in Dublin than in Cork, public health officials should try to communicate with Dubs in a language they understand...
Posted on Sep 3rd, 2020
Military drone will detect suspected student parties by searching for clusters of tik tok app users and cross referencing it with the smell of bedsit mould and puke...
Posted on Aug 3rd, 2020
And beours too, obviously, like. A few words about our new traffic box art piece on South Mall...
Posted on Jul 31st, 2020
Rule no.1 if you're coming down from the NTMA in Dublin to show your street train plans: don't photoshop a Dublin LUAS on to Cork streets. We are better than that, feen..