Investigation Into Presence of Yacht On Northside
An investigation has been launched by the Royal Cork Yacht Club after a yacht was seen on the Northside of Cork city earlier today.

The yacht measuring over 25ft, which was spotted on Blarney Street by a passer-by, was attached to a trailer being towed by a landrover which was unable to complete its descent to Shandon Street as the yacht's mast got stuck against the wall of a house at St. Vincent's Place.

Gardaí from the leafy suburb of Douglas were quickly on the scene and verified the presence of a large posh thing on the Northside to their superiors in Crosshaven.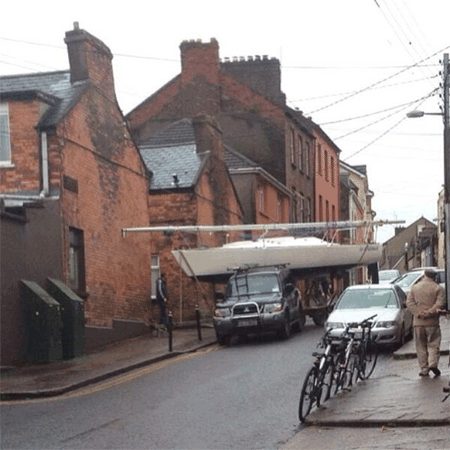 Dire straits: Yacht crashes into a house at St. Vincent's Place on Blarney Street

Reaction across the Southside has been one of shock. The inquiry's terms and conditions have yet to be agreed but it will focus on how a yacht managed to end up on the Northside - a mystery put on a par by many Southsiders with how a Malaysian airline heading north ended up off Australia.

"This is outrageous", said one shopper in Douglas Village Shopping Centre leafing through a copy of Yachts & Yachting Monthly, "is anything sacred? The next thing you know people up there will be sending their children to rugby schools. "

Northsiders have found themselves equally shocked at the sight of a yacht nestling in a bed of fail on Blarney Street.

"C'mere buoy, this is very embarrassing for the area", said Assumpta Walsh, a life-long professional elderly lady, "but it's going to be fantastic for anyone who knows the owner. The wind-ups and ball-hopping they are going to endure for the rest of their lives after getting caught on Blarney Street with a YACHT…morto, like!"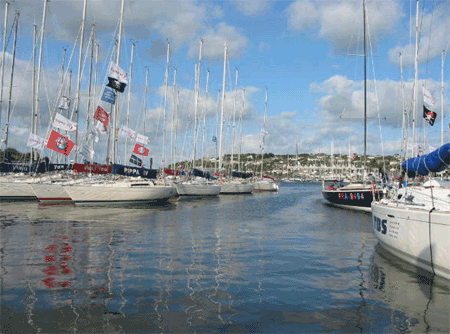 It's all about the haves and the have-knots

The Anti-Austerity Alliance are holding a meeting tonight at The Hut in Gurranabraher demanding yachts for everyone.

"How come diss fella got a yacht? Where's my yacht?", said a party spokesman almost bursting a blood vessel, "This is a stern warning to the government: it's a boat time we were all treated fairly. This incident on Blarney street is totally unfathomable at a time when people are experiencing fierce hardship."

Northside groups have appealed for calm and asked citizens not to go overboard. Queues of people claiming to be suffering from sea-sickness have already have been reported outside doctor's surgeries.

Posted on Jun 19th, 2018
We turn the slightest, most tenuous Cork connections to other countries and their players into blind loyalty so you have a reason to scream 'C'MON ON D'REBELS!' at your telly every night for the next month...
Posted on Jun 12th, 2018
Read our guide to holding up traffic, driving at terrifying speeds through villages and sleeping in your tractor....all so Chinese women can give up breastfeeding...
Posted on May 25th, 2018
With 18 All-Ireland medals and 10 All-Stars Rebel Reena Buckley has retired. Resident PROC poet John Paul Valentino has been spending soime quality time in his poetry isolation chamber...
Posted on May 14th, 2018
With the concrete pillars and devoted crowds those not familiar with the area might confuse it with Mahon Point Shopping Centre but the all new Páirc Uí Chaoimh is more than a smell of coffee, big brands and long lines of traffic.
Posted on May 4th, 2018
Top 5 touristy things his nibs should do while he's in Cork. We've even worked out how to play 'Shape of You' on the Shandon Bells for him...