Gunther Bows Out




Cork City 0 UCD 1
FourFiveOne
A 43rd minute goal from UCD striker Alan Gallen allowed the Students to record a 1-0 victory to guarantee their place in the Premier Division next season as Cork City's 13 game eircom League unbeaten record was ended at Turners Cross on Sunday. If it wasn't bad enough that City failed to gain a European slot ahead of Rovers, the loss mean that UCD are with us in the Premier Division for ANOTHER year! Will they ever piss off! City's best chances fell to top scorer Flynny, but the normally reliable striker was unable to add to his 14 league goal tally for the season.






Not much to cheer about in The Shed








The sun shone for the first and last game of the season. Pity the football couldn't have done the same.






Late in the second half an excellent interchange of passes between Woods and Greg O'Halloran found O'Flynn but his lack of control meant the chance was wasted. The lack of cohesion and direction in City's play was summed up on 57 minutes when team-mates George O'Callaghan and Alan Carey collided allowing Tony McDonnell to clear his lines. The significance of the result was soon forgotten to City fans when manager Liam Murphy announced that he was stepping down as Manager. Gunther will take over a new position as technical director.







Afterwards in PJ Turners the Official Supporters Club announced their Player of the Season, and it was no surprise to see John O'Flynn pick up the award. City: Devine; Carey, Daly, Murray, Horgan; O'Halloran, Reynolds, Bennett, Woods; O'Flynn, O'Callaghan. Subs: C.P. O'Brien for Bennett ( 46 mins.), Warren for Carey (59 mins.).

UCD: B.Ryan; Sullivan, Delaney, McAuley; D.Ryan; J.Martin, McDonnell, McNally, Cawley; R.Martin, Gallen. Subs: Doyle for R.Martin (79 mins.), O'Donnell for Gallen (89 mins.). Referee: E.Barr (Dublin)





Flynn flanked by Mooney (and some mini-Zooks) goes to lob his boots into the Shed
FourFiveOne.net
Posted on Jul 28th, 2009
If CCFC lose their appeal on Friday the club will be forced to close for good and be removed from the League of Ireland..
Posted on Aug 19th, 2008
Cork City FC is on the brink of collapse as it applies for Examinership at the High Court. If Kevin Doyle goes from Reading to Villa there's hope....
Posted on May 16th, 2007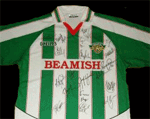 A bunch of loyal and dedicated Cork City FC fans are raising sponosrship funds with an online auction of a signed jersey. Get your hands on it now...
Posted on Feb 6th, 2003

The ever popular CCFC fanzine FourFiveOne present their awards for the end of season....
Posted on Feb 3rd, 2003
No cup this season, no europe next season and Murphy resigns. Gareth Williams sums up the first transition season at Turners Cross....