Gael Taca's New Irish Language Centre
Cork's Irish language promotion organisation Gael Taca has just opened a new premises on Sullivan's Quay. The centre will act as an information centre for any business or person interested in using more Irish day-to-day as well as holding Irish conversation classes and other cultural events.
Gael Taca's centre, which was officially opened by acting Lord Mayor Seán Ó Ceallachair last Friday, will also have a range of books and gift merchandise on sale.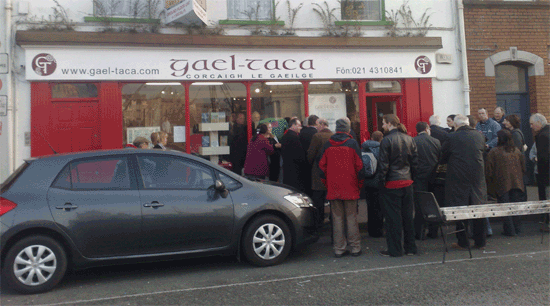 Gael Taca's new centre on Sullivan's Quay. Its directly in front of you as
you walk over Nano Nagle foot bridge from Grand Parade

Adrian Breathneach, Gael Taca PRO, is encouraging people of all ages and ability with the language to visit the centre.
"Whether you're fluent or only have the cúpla focal we would be delighted to have you as a Gael Taca member. The Irish language is not belong to politicians or any one organisation, it belongs to every Irish person regardless of their ability with it. We are looking for anyone interested in helping us promote the language to get in touch"
The group is heavily reliant on individual and business membership subscriptions, all of which go back into promoting the national language in Cork.
Annual individual membership is just 15 euro and an eight week course is just 85 euro both of which can be purchased at 22 Sullivan's Quay or online through PROC (no credit/laser card charges or extra admin charges!).
ALL FEES go back into promoting the Irish language.
Click here to purchase 12 month membership (15 euro)
Click here to purchase an 8 week Irish class (85 euro)
For further info contact Áine on 021 4310841

Here are some more events happening between now and the end of March click here
Posted on Nov 27th, 2018
With much of the area due to become part of the city in the next few years, Glanmire has confirmed it was just trying to impress the rest of the northside with the "mass brawl" that took place in Riverstown last Saturday morning.
Posted on Nov 20th, 2018
A video taken in Bishopstown of a UFO has been dismissed with a seemingly rational explanation about the sun and the international space station. Fuck that though...
Posted on Nov 13th, 2018
Are you spending most of your day online posting vague, anecdotal evidence to back up your assertion that the Panaban is either the best or worst thing ever? Read on, bubbila.
Posted on Nov 5th, 2018
Last weekend a Dublin newspaper published an entire supplement called "10 Big Ideas to Make Dublin Better". Unfortunately our thoughtful and well considered suggestions were omitted due to the newspaper's anti-Cork bias. Here they are...
Posted on Nov 1st, 2018
Encouraged by his single figure showing in the Presidential election, Seán Gallagher vows to return from the sea and fight the 2025 Presidential election…