Gael Taca's New Irish Language Centre
Cork's Irish language promotion organisation Gael Taca has just opened a new premises on Sullivan's Quay. The centre will act as an information centre for any business or person interested in using more Irish day-to-day as well as holding Irish conversation classes and other cultural events.
Gael Taca's centre, which was officially opened by acting Lord Mayor Seán Ó Ceallachair last Friday, will also have a range of books and gift merchandise on sale.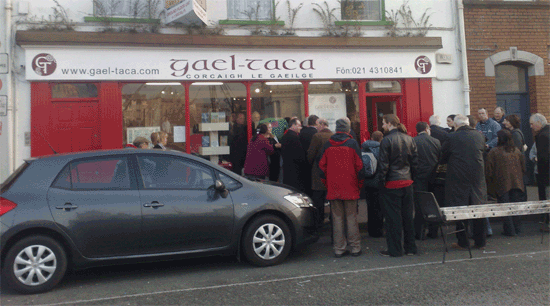 Gael Taca's new centre on Sullivan's Quay. Its directly in front of you as
you walk over Nano Nagle foot bridge from Grand Parade

Adrian Breathneach, Gael Taca PRO, is encouraging people of all ages and ability with the language to visit the centre.
"Whether you're fluent or only have the cúpla focal we would be delighted to have you as a Gael Taca member. The Irish language is not belong to politicians or any one organisation, it belongs to every Irish person regardless of their ability with it. We are looking for anyone interested in helping us promote the language to get in touch"
The group is heavily reliant on individual and business membership subscriptions, all of which go back into promoting the national language in Cork.
Annual individual membership is just 15 euro and an eight week course is just 85 euro both of which can be purchased at 22 Sullivan's Quay or online through PROC (no credit/laser card charges or extra admin charges!).
ALL FEES go back into promoting the Irish language.
Click here to purchase 12 month membership (15 euro)
Click here to purchase an 8 week Irish class (85 euro)
For further info contact Áine on 021 4310841

Here are some more events happening between now and the end of March click here
Posted on May 18th, 2019
In part deux we look at ways we can all help make Cork's Huguenot Quarter become a little more French by changing our accents, taking up chain smoking and having multiple affairs with beours we don't even like...
Posted on May 11th, 2019
With our insatiable appetite for tourists, maybe it is now time to ramp it up and go all-singing-all-dancing frogs legs, onion necklaces and stinky cheese...
Posted on May 4th, 2019
Even though we are a notch above the rest, Cork people aren't all the same – perfection doesn't mean we are homogeneous.Travel around the city and county and you'll find some quirky traits that make each of the jewels in Cork's crown unique
Posted on Apr 4th, 2019
The relentlessly repetitive single word script and leave-whenever-you-want audience policy is sure to be a hit in theatres from Buttevant to Barnet and Brixton to Broadway....
Posted on Mar 13th, 2019
When minority languages try to recover from historical oppression, it is the death-by-a-hundred-thousand cuts inflicted by the native population themselves that properly ensures a language is extinguished..