End of the World Called Off
It has become clear that the Official End of the World will now NOT take place in the immediate future as originally thought. The cancellation comes about due to the anihilation of Tipperary's hurlers by Cork at Pairc Úi Rinn on Saturday night.
According to many "experts" on the INTERNET the world would end in something like a giant free-for-all in the middle of Pairc Úi Chaoimh in mid-July with players, management, clubs and county board thrashing it out in a Battle Royal style civil war which would finish up as a black hole appearing at the City End Terrace.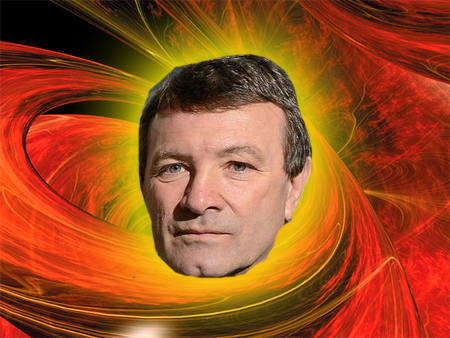 The black hole vortex thing has been cancelled
This vortex would pull every hurley, sliotar, player, clubman, referee, coach and official into its gravitational field and on to oblivion – never to escape again – thus making Cork a non-hurling county.

Saturday night's demonstration was reminiscent of some unexpected meteorite strike – this time the target was Tipperary and not Russia and the footage was even captured by TV cameras as Cork beat their provincial rivals by around a hundred points.
26 points minus wan goal and 11 equals a winning
margin of approx 100 points
The wizardry of Jimmy Barry Murphy's men (and to be fair they're just about old enough to be called such with only three of the starting fifteen over 25) was mind blowing and although nobody is getting overly excited (we at the People's Republic only booked a few hotel rooms in Dublin for the All-Ireland final at full time) it is generally agreed that the Official End of The World will now not take place this season.
Posted on Nov 20th, 2018
A video taken in Bishopstown of a UFO has been dismissed with a seemingly rational explanation about the sun and the international space station. Fuck that though...
Posted on Nov 13th, 2018
Are you spending most of your day online posting vague, anecdotal evidence to back up your assertion that the Panaban is either the best or worst thing ever? Read on, bubbila.
Posted on Nov 5th, 2018
Last weekend a Dublin newspaper published an entire supplement called "10 Big Ideas to Make Dublin Better". Unfortunately our thoughtful and well considered suggestions were omitted due to the newspaper's anti-Cork bias. Here they are...
Posted on Nov 1st, 2018
Encouraged by his single figure showing in the Presidential election, Seán Gallagher vows to return from the sea and fight the 2025 Presidential election…
Posted on Oct 23rd, 2018
No sleeping in tents, no worries about the weather, your car won't get stuck in the mud and best of all you don't even have to leave Cork...