End of the World Called Off
It has become clear that the Official End of the World will now NOT take place in the immediate future as originally thought. The cancellation comes about due to the anihilation of Tipperary's hurlers by Cork at Pairc Úi Rinn on Saturday night.
According to many "experts" on the INTERNET the world would end in something like a giant free-for-all in the middle of Pairc Úi Chaoimh in mid-July with players, management, clubs and county board thrashing it out in a Battle Royal style civil war which would finish up as a black hole appearing at the City End Terrace.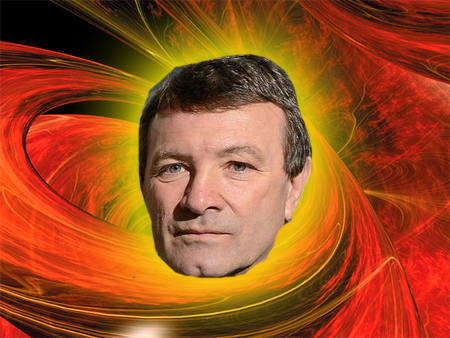 The black hole vortex thing has been cancelled
This vortex would pull every hurley, sliotar, player, clubman, referee, coach and official into its gravitational field and on to oblivion – never to escape again – thus making Cork a non-hurling county.

Saturday night's demonstration was reminiscent of some unexpected meteorite strike – this time the target was Tipperary and not Russia and the footage was even captured by TV cameras as Cork beat their provincial rivals by around a hundred points.
26 points minus wan goal and 11 equals a winning
margin of approx 100 points
The wizardry of Jimmy Barry Murphy's men (and to be fair they're just about old enough to be called such with only three of the starting fifteen over 25) was mind blowing and although nobody is getting overly excited (we at the People's Republic only booked a few hotel rooms in Dublin for the All-Ireland final at full time) it is generally agreed that the Official End of The World will now not take place this season.
Posted on Apr 13th, 2017
From the never ending bus strike and the Wall of Shame to the event centre shamble-a-thon and our airport's shorter runway there's so much to be grateful for...
Posted on Mar 20th, 2017
Sustainable energy supporters have got a major boost after Clonakilty revealed that it will become the first town in Ireland to be powered entirely by stag and hen parties.
Posted on Mar 13th, 2017
A idiot has decided to make a badly timed intervention to "help" her friend and mother of three young children to be a better parent....
Posted on Mar 6th, 2017
PROC can exclusively reveal that a senior Cork politician was recently arrested by Gardaí having been found in possession of an ounce of decency with intent to supply...
Posted on Feb 28th, 2017
The Riptide Movement, August Wells, Marc Copeland, Warsaw Radio, Marlene Enright, Usher's Island at St. Lukes and Gig na Gaelainne at city Hall...