End of the World Called Off
It has become clear that the Official End of the World will now NOT take place in the immediate future as originally thought. The cancellation comes about due to the anihilation of Tipperary's hurlers by Cork at Pairc Úi Rinn on Saturday night.
According to many "experts" on the INTERNET the world would end in something like a giant free-for-all in the middle of Pairc Úi Chaoimh in mid-July with players, management, clubs and county board thrashing it out in a Battle Royal style civil war which would finish up as a black hole appearing at the City End Terrace.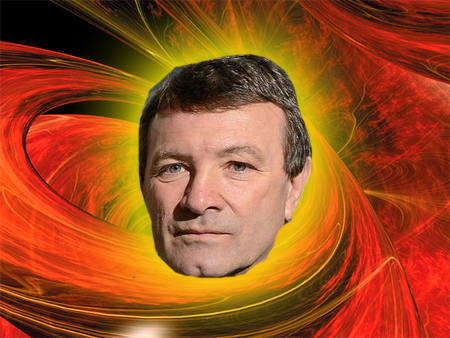 The black hole vortex thing has been cancelled
This vortex would pull every hurley, sliotar, player, clubman, referee, coach and official into its gravitational field and on to oblivion – never to escape again – thus making Cork a non-hurling county.

Saturday night's demonstration was reminiscent of some unexpected meteorite strike – this time the target was Tipperary and not Russia and the footage was even captured by TV cameras as Cork beat their provincial rivals by around a hundred points.
26 points minus wan goal and 11 equals a winning
margin of approx 100 points
The wizardry of Jimmy Barry Murphy's men (and to be fair they're just about old enough to be called such with only three of the starting fifteen over 25) was mind blowing and although nobody is getting overly excited (we at the People's Republic only booked a few hotel rooms in Dublin for the All-Ireland final at full time) it is generally agreed that the Official End of The World will now not take place this season.
Posted on Aug 18th, 2014
Cork scored a major victory over Tipperary fans in Dublin on Sunday as they managed to light three red flares while Tipp remained scoreless...
Posted on Aug 12th, 2014
Transcripts of conversation between PROC tower in Knocka and the International Space Station as it passed over Cork on Sunday night
Posted on Aug 11th, 2014
If you consider yourself a proud Corkonians and haven't seen this fantastic play yet then enter our competition for a pair of tickets to the Mon Aug 18th show
Posted on Jul 31st, 2014
As the new Stars Wars is being shot on the Skelligs the movie's producers have confirmed Jackie Healy-Rae is to play a cameo role....
Posted on Jul 30th, 2014
Few give our footballers a chance against Mayo on Sunday despite the Connaught county's brittle mindset. There were distinct rays of hope against Sligo and us fans need to get behind the lads...