End of the World Called Off
It has become clear that the Official End of the World will now NOT take place in the immediate future as originally thought. The cancellation comes about due to the anihilation of Tipperary's hurlers by Cork at Pairc Úi Rinn on Saturday night.
According to many "experts" on the INTERNET the world would end in something like a giant free-for-all in the middle of Pairc Úi Chaoimh in mid-July with players, management, clubs and county board thrashing it out in a Battle Royal style civil war which would finish up as a black hole appearing at the City End Terrace.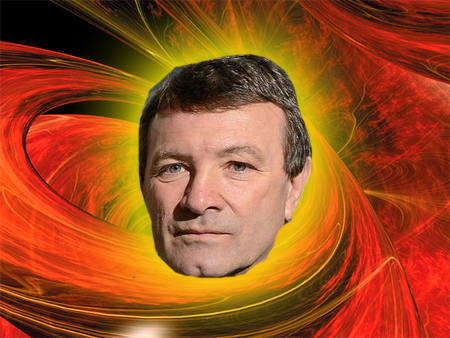 The black hole vortex thing has been cancelled
This vortex would pull every hurley, sliotar, player, clubman, referee, coach and official into its gravitational field and on to oblivion – never to escape again – thus making Cork a non-hurling county.

Saturday night's demonstration was reminiscent of some unexpected meteorite strike – this time the target was Tipperary and not Russia and the footage was even captured by TV cameras as Cork beat their provincial rivals by around a hundred points.
26 points minus wan goal and 11 equals a winning
margin of approx 100 points
The wizardry of Jimmy Barry Murphy's men (and to be fair they're just about old enough to be called such with only three of the starting fifteen over 25) was mind blowing and although nobody is getting overly excited (we at the People's Republic only booked a few hotel rooms in Dublin for the All-Ireland final at full time) it is generally agreed that the Official End of The World will now not take place this season.
Posted on Oct 26th, 2016
Amazing scenes in Iceland as WOW airlines announces a new direct flight to Cork. When a feen lands in Reykjavik you can ball on to New York as well...
Posted on Oct 25th, 2016
As Cork city council panics over just €1.6 million quid the Pale wants more of our money for trains, airport terminals and another M50 upgrade. The most capital centric city in Europe is inflating like a morbidly obese self-hating supernova and its going to explode and defecate on us all...
Posted on Oct 11th, 2016
Only one of Cork's bridges is named after a woman. We should name the new Harley Street bridge after Cork's Mother Jones - a Cork Rebel, an American immigrant and strong woman that Donald Trump would hate...
Posted on Sep 29th, 2016
The folk festival and jazz festivals bookend this month with top international acts as well as a fine smattering of great gigs in between from the likes of Michael Kiwanuka, Cathy Davey, Simone Felice, Clare Sands, The Art Crimes Band and lots more.
Posted on Sep 28th, 2016
The city's jaywalkers feel they will be hit hardest by the ban on private vehicles on Patrick Street....