End Of Season Awards
FourFiveOneEnd of Season Awards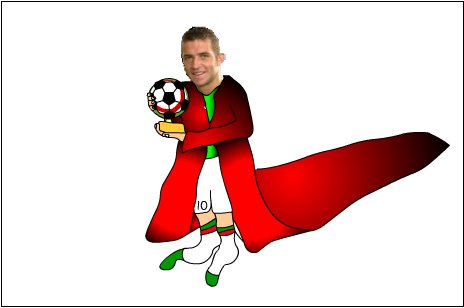 Best Player: John O'Flynn Best Goal : Hoggy Vs Derry Best Chant : "Dublin Underwater" / "George O Callaghan Tra lalala"(to the tune of Brown girl in the ring)Best New Player : John O'FlynnBest Match : Vs Shamrock Rovers Sept 13th Best Visiting Player : Glen Crowe Visiting Team : BohsVisiting Fans: Derry/BohsShed Moment : "Sit down for the Cork City"
Well the votes have been cast, and the ballot papers are counted for this years prestigious FourFiveOne "Of The Season" awards. For this years awards we have received a record number of emails, texts and letters (and PMs) from you giving your opinion on the season just coming to its conclusion today. There have been many highs, too many lows (away form!), but there have been players for us this season who have done a good job through thick and through thin. It may also be a season which Liam Murphy will have differing memories on. From the high of the 3-2 comeback against Shams, to the lows of losing away to Drogheda and Pats, he as manager will have game through every emotion in football. Here we will just take you through how the voting went in some of the "bigger" categories. As previously mentioned, we received a record amount of votes for this seasons awards. The most varied one was definitely the award for Player Of The Season. Unfortunately, last years choice, Conor O Grady wasn't even in the reckoning this time round as he had a very stop start season due to injury. Im sure he will be in contention again come next October though. Greg O Halloran was mentioned a lot for his versatility, and his almost faultless performances on most of the positions on the pitch, ditto for Alan Reynolds. Mick devines name was also on a lot of papers for his heroic season where he cemented his place as the Eircom Leagues number 1 keeper. But it will come as no surprise to anyone to find that John O Flynn is this years FourFiveOne Player Of The Season. He did, however, have to hold off a very strong challenge from Reynolds. That can only be seen as a good thing though. Flynn and Reynolds were also battling it out for the accolade of new player of the season. Unfortunately for Rennie, he was pipped again by Flynn, while I'm sure Murray would have got more votes had he been around for the whole season. No such difficulties for Citys Goal Of The Season though. Although Georges cracking free kick against St.Pats last September gets an honourable mention as does all of Flynn three against Bray, this gong goes straight to Hoggy for his cracker Vs Derry. Heres hoping there are many more where that came from! Match Of The Season was a fairly straight forward one as all but 3 votes were for the comeback in September Vs Shams. What a game, what a player Jimmy Mull is when he is given the opportunity. Pity he had to leave. Incidentally the other 3 votes were 2 for the Shels game on the opening day of the season, and one for the game against Bohs in November. Surprised that there were none for "THE AWAY WIN"!!! Shed moment of the season was also fairly unanimous for the extraordinary "sit down for the Cork City", while chant goes to "Dublins Underwater" or "tra lalala" getting equal votes. A few people added in wish for next season. No surprise that they all were hoping that Flynn would stay.
Posted on Jul 28th, 2009
If CCFC lose their appeal on Friday the club will be forced to close for good and be removed from the League of Ireland..
Posted on Aug 19th, 2008
Cork City FC is on the brink of collapse as it applies for Examinership at the High Court. If Kevin Doyle goes from Reading to Villa there's hope....
Posted on May 16th, 2007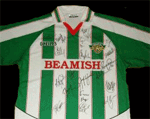 A bunch of loyal and dedicated Cork City FC fans are raising sponosrship funds with an online auction of a signed jersey. Get your hands on it now...
Posted on Feb 3rd, 2003
No cup this season, no europe next season and Murphy resigns. Gareth Williams sums up the first transition season at Turners Cross....
Posted on Jan 28th, 2003
A disappointing end to Cork City's season came with a dull encounter on Sunday, losing a 13 match unbeaten record at The Cross to UCD...