Election Issues: End Open Borders?

The next 10 days of campaigning are going to be ferocious as candidates scramble to win us over on February 8th in what is looking like a tight race. There are plenty of national issues and a host of local ones too with promises being thrown around like shovels at an event centre sod turning.

Last Minute Promise Panic
As polling day approaches look out for 'political promise panic' as candidates become desperate. If sitting Cork TDs feel their seat is in doubt (and there are definitely a few political heavy weights that may be still sweating at the 15th count) there will be some mad promises made that take party headquarters, and the electorate, by surprise.

The go-to headline grabber over the last ten years has been the old reliable "LUAS for Cork" cliché, followed closely by other favourites such as an extension to the North Ring road, an Event Centre, a new hospital for the northside, a motorway to Limerick, cost-free public transport, water taxis, a cable car for Gurranabraher, a monthly snack box allowance for the over-65s and reducing the retirement age for public sector workers to 35.

Irish Unity And Corkonian Independence
The instability of Brexit has pushed Irish unity back towards the top of the political agenda. Where the Shinners want to break a hole in the wall between two neighbouring houses as soon as possible so we can all live under one big roof, the civil war parties are more cagey about the prospect of an enlarged household.

The €1 billion per month price-tag (currently being paid by the neighbours across the water) to keep the boisterous occupants from burning down their own house, isn't too far away from the current cost of keeping the HSE in its current bedraggled state so there's reason for the muted enthusiasm.

In big houses filled with diverse personalities there will always be tension, but there are often unexpected alliances formed too. Unionists abhor the idea of being ruled by Dublin so that's something we could find common ground on with our new flat mates:

We'll support your desire for devolution in the north after unity, if you support Cork's desire for independence from the whole bloody lotta ye!

Capital Punishment For Breaking Down in the Tunnel
The return of capital punishment is one regularly mooted on social media by Corkonians when they read about serious crime – it's harsh but at least if you're banishing someone to live in the capital, they can visit Cork at the weekends.

And c'mere, is there anything more heinous than some clown breaking down in the tunnel at 7.45am on a dreary morning in February because he was half asleep in the garage and put diesel into his petrol car?

An End To 'Open Borders'
The claim by many some of the right-wing fringe outfits that 'open borders' are a big problem in Ireland is true – the only thing is that the issue lies with our internal ones and not external. Take a trip to the top of Hungry Hill on the Beara Peninsula, on weekends and you will see cars full of people coming from the Kenmare side of the mountain down into Cork.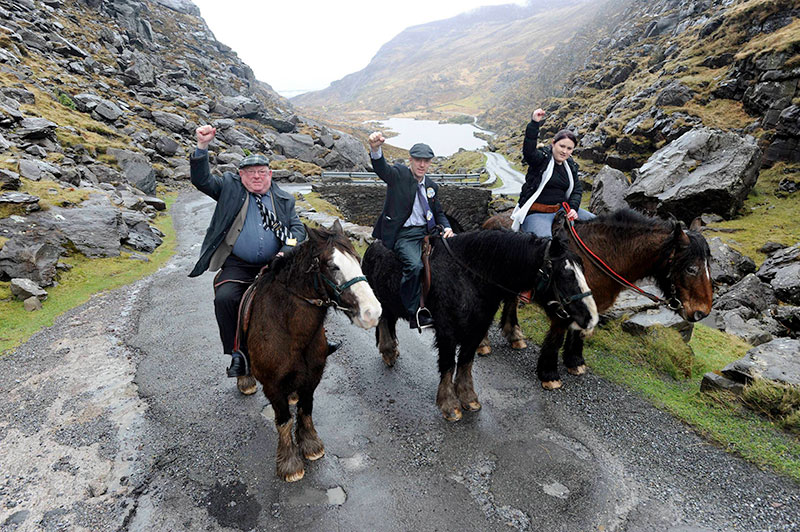 A caravan of migrants headed for the Cork borders

Who are these people? How do we know these individuals aren't a threat to the People's Republic? Why aren't they being vetted, interrogated, harassed and mocked openly at our borders?

Any of these Kerry migrants could be arrogant young independent councillors that have been convicted of assault, former Kerry footballers turned fashionista hipsters with a wildly inflated sense of self-importance or one of those wild auld fellas you see at Munster football finals in Killarney who haven't had a wash or been to confession since they fell into the slurry pit in 1978. A Cork Taoiseach will need to get the electric fences and power washers out.

Rural Broadband
The absence of high speed broadband is a big election issue in the county. It is a serious thorn in the side of those fighting against rural depopulation.

As anyone in west Cork will tell you, there is nothing more frustrating than a slow internet connection when you're trying to have a late night video call with a young professional sitting in a hotel in Las Vegas who charges by the half hour and has fifteen other callers waiting to take your place if she can't hear your credit card number properly. It's extremely annoying and wouldn't happen above in Dublin. Let's get it sorted.

A Ban on Silly Eyebrows
Admittedly, there are one or two bigger issues than this, but the next government must address the elephant eyebrows in the room before it becomes a fully-fledged national epidemic. Nobody wants a so-called 'nanny state' but in fairness even your nan thinks it's hard to look at you straight since you got your eyebrows "done".

Yes, she told you she thinks they're lovely, but she's lying through her false teeth. She really thinks it looks like you fell asleep in a creche while fifteen toddlers went finger painting black slime on your forehead. What are politicians going to do about the plague of bad eyebrows? They wouldn't tolerate it in France. The international credibility of our nation is at stake.

Freedom of Speech
If you have incendiary, offensive and/or deeply racist views that are contrary to 99.9% of the population then freedom of speech is the big issue for you during this election. Aside from having unfettered access to a national and global audience on Twitter, Facebook and Instagram (something no other generation has had the benefit of) you are effectively the victim of a censorship lockdown because RTE won't even reply to the email you sent them looking for a prime time slot to allow you to prove the link between childhood vaccines, 9/11 and the Thierry Henry handball.
Posted on Sep 21st, 2020
Our low-key 20 year celebrations begin with a flyover of the city centre by the PROC air force and a military parade...
Posted on Sep 14th, 2020
With ten times more covid in Dublin than in Cork, public health officials should try to communicate with Dubs in a language they understand...
Posted on Sep 3rd, 2020
Military drone will detect suspected student parties by searching for clusters of tik tok app users and cross referencing it with the smell of bedsit mould and puke...
Posted on Aug 3rd, 2020
And beours too, obviously, like. A few words about our new traffic box art piece on South Mall...
Posted on Jul 31st, 2020
Rule no.1 if you're coming down from the NTMA in Dublin to show your street train plans: don't photoshop a Dublin LUAS on to Cork streets. We are better than that, feen..