Dubs Dirty Protest to Target Cork Fans
You couldn't make this up. The Dubs were turfed out of the championship weeks ago but they still want to be involved in the All-Ireland final.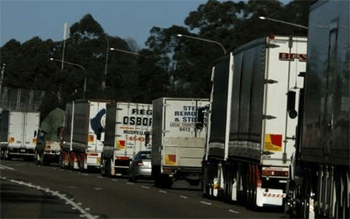 We had puke football now the Dubs have resorted to puke protests
If you haven't heard already Croke Park residents are organising a slow convoy of traffic to frustrate Cork fans heading for Dublin on Sunday.

They plan to drive a 60 vehicle parade of trucks on the motorway between Portlaoise and Dublin to infuriate Cork fans who will then spend hundreds of thousands of euro in the Pale later that day contributing to Dublin's fledging economy.
The residents of Croke Park are in a tizzy because the GAA want to create 150 jobs nearby and develop the old handball alley but they say that GAA headquarters are not taking on board their concerns.

The spiteful Dubs who cannot stomach yet another big day out in Croker that their team is not involved in have picked the biggest day on the GAA calendar to make their protest.
Interestingly enough the Dubs aren't blocking the M1 motorway that leads from County Down to Dirty Aul Town. Their logic? Christy Cooney, the current GAA president is a Cork man.

With that false logic all protests against massive cutbacks, NAMA and Anglo Irish Bank should focus on Tullamore, Birr and Clara in County Offaly - the misfortunate place that has Brian Cowen as one of its sons.

What an infuriatingly childish and potentially incendiary way to get your point across.
In reality this seems like nothing more than a lame excuse by sore losers to have a go at decent honest Cork people with a love for sport.
Although it receives little media coverage handball is an important part of Irish sporting culture and the GAA has chosen to develop it as best they can. Dubs seem to think there's only one gaelic game though (and we beat them badly at that) and are resisting the GAA's plans to give handball a much needed leg up.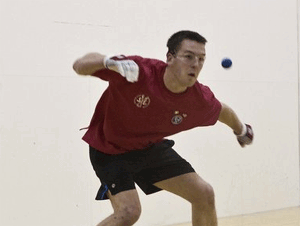 Cork's Tony Healy in action at Croke Park.
Dublin hotels that had no trouble ramping up prices for All-Ireland final weekends in the past have changed their tune considerably and are now falling over each other trying to lure Corkonians to their negative equity interiors.
The threat of this protest will of course make many Corkonians fearful of missing the potentially historic occasion consider booking into a hotel the night before if they can't get a train ticket. Another cynical boost for Jackeen balance sheets.
The organisers' claims that they have to make their feelings known and that this is the only way to do it is typical of the Dub's lack of imagination.

There are definitely other ways of raising awareness of the issues the residents have with Croke Park.

Why not get a petition going outside Croke park with the 60 drivers collecting signatures instead of causing chaos or organise a peaceful unobtrusive protest at the main entrances?

Why not drive around the M50 on a Monday morning and irritate other Dubs? It's not a Cork problem so leave us out of it.
So what's the best way to remedy this pathetic and pointless protest?

Well if you think the GAA are right to develop and nurture the third national sport with a new handball alley at Croke Park then you can let them know by going to crokepark.ie and use the contact form to voice your support.


Read the full story and contribute your views here
Suggested wording for the contact form at crokepark.ie


A chara,

I agree wholeheartedly with Croke Park's intention to redevelop the handball complex at St. James's Avenue and reject the cynical protests of Dublin fans trying to impede our journey to the All-Ireland final on Sunday.

Aontaím go laidir leis an cinneadh maidir le forbairt a dheanamh ar an foirgneamh in aice le Ascail Naomh Seamus i bPairc an Chrócaigh. Cuireann pleann na coinnaithe chun frustras a chur ar muintir chorcaí Dé Domhnaigh isteach go mór orm.
Mise le meas,

Posted on Mar 7th, 2013
What are they feeding the young fellas in Kanturk? From hurling and football All Stars to rising comedy kings, the capital of Duhallow is churning out the talent....
Posted on Feb 26th, 2013
With Cork's destruction of Tipperary in Pairc Ui Rinn on Saturday night by about a hundred points it has been confirmed that the Official End of the World has been cancelled...
Posted on Oct 27th, 2011
The Rebel Army descend on Drumcondra this Saturday for the final game of the season in which a victory will result in the club winning the league. If you're in Dublin head along to support the team....
Posted on Jul 13th, 2011
Auld fellas and their defibrillators, fat lads getting ballhopped and death-by-triathalon-boredom, the hills of Cork can save you a ton on gym membership but come with a few hazards...
Posted on May 6th, 2011
Kilkenny's embarrassing Croke Park meltdown last Sunday is fantastic news for the Irish economy as stocks and shares rally...