Dublin City Council Bans Gaelic Football
We know they were devastated by being beaten by Cork in the All-Ireland football semi-final but it seems the Dubs have decided that the whole collapse in Croke Park was so embarrassing that the Pale have banned the game from the city's streets altogether.
We've known for years that a de facto ban on hurling has been in force in Dublin due to the push for the failed city to be absorbed back into the domain of Buckingham Palace. This explains the county's continued and relentless failure at the small ball despite being the most populous part of the island.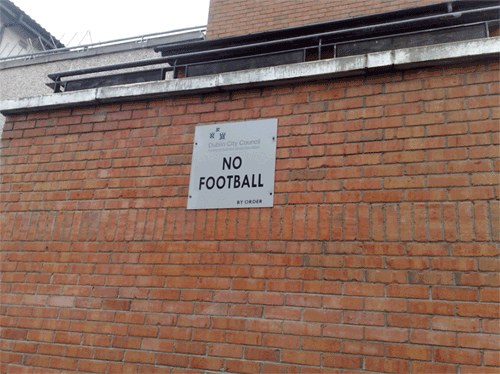 The 'no hurling' weren't needed in Dublin
Dublin's single token nod to Gaelic culture has been the efforts of its football team which, to be fair, at times haven't always been shambolic so it is disappointing but unsurprising that Dublin City Council has decided to ban the big ball on its streets so that its youth can concentrate on aspiring to double page spreads in celebrity magazines alongside John Terry, Wayne Rooney and Ashley Cole - some of Britain's sex industry most loyal patrons.
Just when you reached the end of your annual list of uninspiring things about Dublin, along comes another one to add to the list.
In other news, Cork bainisteoir Conor Counihan has opted for another two years as head coach of our victorious footballers. A shining light in the midst of the mire of bad news being broadcast from Double-in town. .



If you'd like a lamp at the Cork victory once again we recommend this link


Note: When you Dubs who are obsessed with PROC send in your usual emails it would add to your credibility if you could avoid text speak, spellchecked it, threw in a few full stops, turned off caps lock and put as much effort as possible into constructing, at least semi-coherent sentences as possible. Or just ask any Corkonian over six years old to edit it for you.
Posted on Mar 7th, 2013
What are they feeding the young fellas in Kanturk? From hurling and football All Stars to rising comedy kings, the capital of Duhallow is churning out the talent....
Posted on Feb 26th, 2013
With Cork's destruction of Tipperary in Pairc Ui Rinn on Saturday night by about a hundred points it has been confirmed that the Official End of the World has been cancelled...
Posted on Oct 27th, 2011
The Rebel Army descend on Drumcondra this Saturday for the final game of the season in which a victory will result in the club winning the league. If you're in Dublin head along to support the team....
Posted on Jul 13th, 2011
Auld fellas and their defibrillators, fat lads getting ballhopped and death-by-triathalon-boredom, the hills of Cork can save you a ton on gym membership but come with a few hazards...
Posted on May 6th, 2011
Kilkenny's embarrassing Croke Park meltdown last Sunday is fantastic news for the Irish economy as stocks and shares rally...