Cork Studies Paper 'Tough But Fair'
Teachers have described this year's leaving cert Cork Studies paper as "sound enough". It had been predicted that the writings of Roy Keane were likely to come up and thankfully for many nervous students that materialised with students being presented with various opinions on the Mayfield man's comments on the Irish soccer team and asked to select the correct one.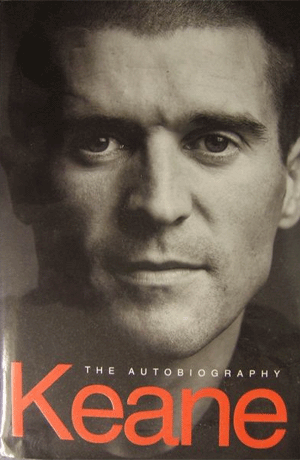 Solid course material
One teacher said that it was tough on students as the Dublin media has been very anti-Keane after his dressing down of Trapattoni's "Army" after their pathetic performance against Spain.

"Some of them might have mistakenly got the impression from national radio and newspapers that Roy was wrong in what he said about Ireland when in fact he calls everything correctly", said Cork Studies Grind School headmaster Con Finbarr Cornelious Murphy O'Sullivan-Beara McCarthy whose great grandfather from Allihies invented the first mobile phone in 1876 but didn't bother showing anyone because he wasn't much of a talker and didn't want people to be ringing him annoying him.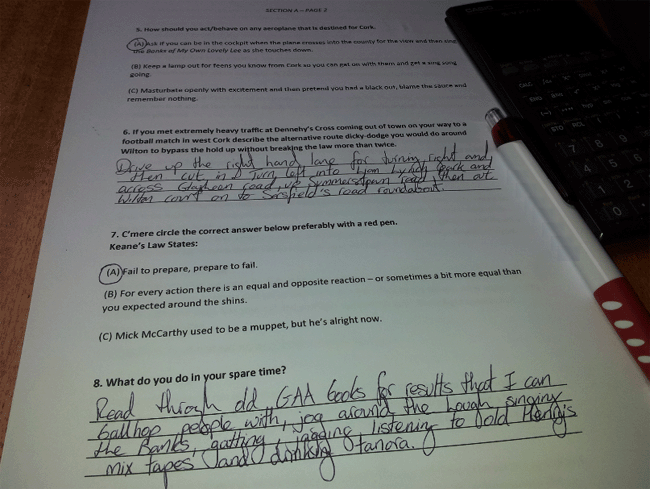 A section from last year's Cork Studies paper

Another section that students found tough was sporting arithmetic which as usual featured a long calculation regarding Cork's score tally during their victorious National Football League campaign culminating in a pummelling of Mayo in late April.

Candidates were also asked to write three hundred words on suggested tactics to counteract the Ulster and Dublin brand of the big ball game known as 'puke football'. Commentators felt this was very tough on students but represented the realities of life that they will have to deal with as they get older.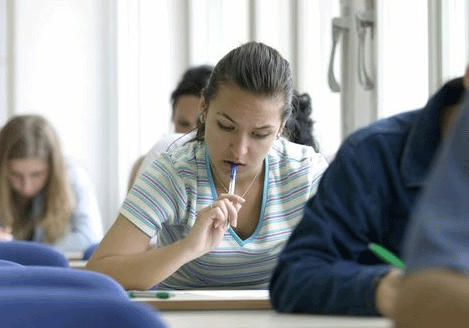 Herself ponders a tough question on pigs crubeens

The Excuses not to go to Dublin section posed another tough challenge with candidates asked to write a hypothetical email response to a langer of a boss who insists that all his Cork employees travel to Dublin for a week long training course.

Teachers felt that the recent victory by Vita Cortex workers against their tight fisted former employer would have made those answering this question aware of the existence of successful peaceful protests – examiners, though aware the "Dublin question" can really irk Cork students, are said to be tiring of reading long answers depicting the threat of extreme violence in this part of the paper.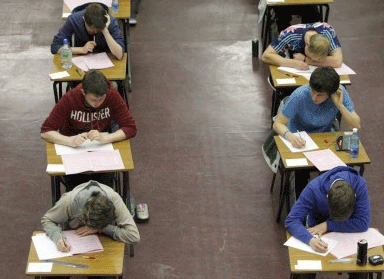 The Cork Studies exam can be sat in any state of sobriety - the fella in the front right here takes full advantage.

ORAL EXAM
The face-to-face aspect of this year's exam seemed to please most students with no major surprises. Unlike most oral exams the examiner's job is to get to know each student intimately to see how Cork they are.

In the "D'yoo know" introduction part of the exam students have to impress by asking the examiner questions about themselves in order to find another Cork person they both know within one minute. Once a connection has been established ("oh right so you're the famous full back Tossy Sullivan's 2nd cousin! Nice fella, always had great time for him – sure I used to cut his father's grass up until recently").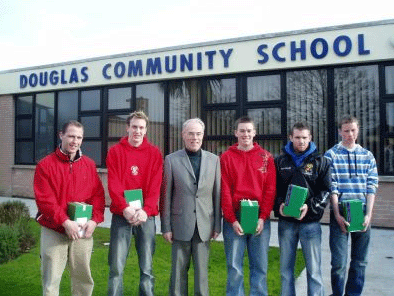 These feens described this year's exam as tough but fair

This puts both parties at ease and the real discussion can begin from there. For example, the common friend or relative that the examiner and student both know might be a Cork City FC supporter so the conversation can kick off with City's recent form, move on to predictions about the match against Tipp next weekend and finish up with a discussion about traffic around the tunnel at rush hour.

Bonus points are available for a quick dip into Irish and offering to do a favour for the examiner like put him in touch with a good mechanic who knows a lot about noisy carburettors or a fella who might be able to swing free tickets to a sold out show at the Marquee.

Marks are given for knowledge of the city and county, general soundness and accent. Any hint of mid-Atlanticness, X-factor contestant or Home & Away in any Cork student's accent could result in an automatic fail.

LISTENING TEST
This year's aural featured some testing passages of speech from a group of teenage girls from Farranree scream-talking to each other about Jedward and a conversation between two elderly men discussing Glanworth's recent walk over against Deel Rovers in the Division Two Avondhu football league.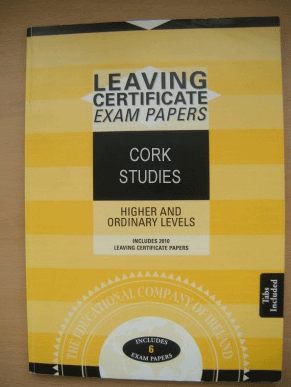 Will be available in our online shop soon.

PRACTICAL
This is usually a simple formality for most Cork students but with giant sugar-pushing corporates ramping up advertising of their unhealthy products at events like Euro 2012 in the face of the obesity epidemic those who set the Cork Studies exam are keeping a close eye on young Corkonians' physical skills.

Although it varies every year, basic hurling skills came up again this year – rising a sliotar, striking it further than 30 yards and being able to take a heavy shoulder from the examiner whilst doing so were all tested. Athletic students who play with clubs must always be careful of not performing too well however – 'showboating' can be an automatic fail.
Being able to walk up hills at pace is also a very desirable characteristic for city based Corkonians, especially Northsiders and this exam was performed on Strawberry Hill this year offering a tough challenge to students. Other practical skills tested this year include knowing how to erect a flood barrier, light a safe bonna and safely control a shopping trolley going downhill with a human in it.


Posted on May 22nd, 2013
Are our famous sons and daughters holding on to their Cork accents or are they losing the run of themselves? Time to get out the cop-on-ometer...
Posted on May 22nd, 2013
You can't just tog out in beach shorts and cheap runners if you want to run in the affluent climes of Blackrock...
Posted on May 20th, 2013
We keep an ear on Cillian Murphy, Kat-ill-een Lynch, John Creedon, Fianna Fail apologist Michéal Martin, Camogie Goddess Anna Geary and alleged north African immigrant Niall Prendeville...
Posted on May 10th, 2013
As Bus Éireann drivers contemplate strike action here are another five common characters you wish you didn't see regularly on Cork city buses...
Posted on May 2nd, 2013
With such low fares these days, buses to Cork are getting packed out and the chances of you having to sit next to some langball gets higher. Here's our top 5...