Cork Gig Preview for September
The usual lash of fantastic gigs are lining themselves up like lambs to the slaughter this month especially with the Beamish Cork Folk Festival pencilled in for Sept 29-Oct 2nd. On the bill are T with the Maggies, Julie Felix, Gemma Hayes, Craobh Rua, Roy Bailey, Mundy and about another half-million acts.

Hopefully making you aware of how much live music Cork has got on this month you won't cause a bout of 'Gig Panic' - this is a sudden burst of irrational movements due to the brain being overwhelmed by mouth watering choice. Symptoms include relentless foot tapping, singing to yourself, foaming at the mouth and unusual bowel movements. If you experience this please consult your nearest music venue for advice or just cop on and make a plan.
Here there lah:
Cork: a more vibrant live music city than all the others put together - including Vegas. Probably.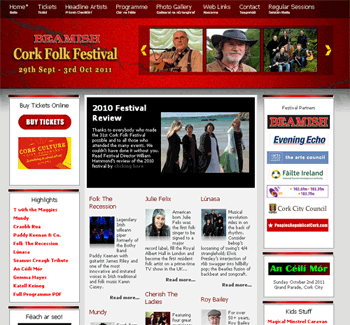 Corkfolkfestival.com now has full festival programme
Posted on Nov 13th, 2018
Are you spending most of your day online posting vague, anecdotal evidence to back up your assertion that the Panaban is either the best or worst thing ever? Read on, bubbila.
Posted on Nov 5th, 2018
Last weekend a Dublin newspaper published an entire supplement called "10 Big Ideas to Make Dublin Better". Unfortunately our thoughtful and well considered suggestions were omitted due to the newspaper's anti-Cork bias. Here they are...
Posted on Nov 1st, 2018
Encouraged by his single figure showing in the Presidential election, Seán Gallagher vows to return from the sea and fight the 2025 Presidential election…
Posted on Oct 23rd, 2018
No sleeping in tents, no worries about the weather, your car won't get stuck in the mud and best of all you don't even have to leave Cork...
Posted on Oct 22nd, 2018
If you're coming to Cork to show off your pentatonic scales, we're really looking forward to seeing you but don't forget to practice your banter and leave the jazz orgasm face at home...