Cork Gig Preview for September
The usual lash of fantastic gigs are lining themselves up like lambs to the slaughter this month especially with the Beamish Cork Folk Festival pencilled in for Sept 29-Oct 2nd. On the bill are T with the Maggies, Julie Felix, Gemma Hayes, Craobh Rua, Roy Bailey, Mundy and about another half-million acts.

Hopefully making you aware of how much live music Cork has got on this month you won't cause a bout of 'Gig Panic' - this is a sudden burst of irrational movements due to the brain being overwhelmed by mouth watering choice. Symptoms include relentless foot tapping, singing to yourself, foaming at the mouth and unusual bowel movements. If you experience this please consult your nearest music venue for advice or just cop on and make a plan.
Here there lah:
Cork: a more vibrant live music city than all the others put together - including Vegas. Probably.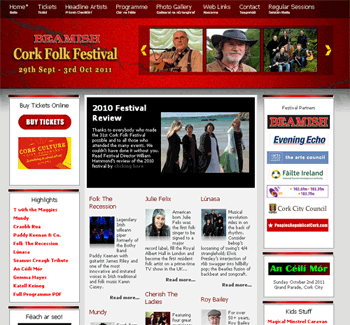 Corkfolkfestival.com now has full festival programme
Posted on May 25th, 2018
With 18 All-Ireland medals and 10 All-Stars Rebel Reena Buckley has retired. Resident PROC poet John Paul Valentino has been spending soime quality time in his poetry isolation chamber...
Posted on May 14th, 2018
With the concrete pillars and devoted crowds those not familiar with the area might confuse it with Mahon Point Shopping Centre but the all new Páirc Uí Chaoimh is more than a smell of coffee, big brands and long lines of traffic.
Posted on May 4th, 2018
Top 5 touristy things his nibs should do while he's in Cork. We've even worked out how to play 'Shape of You' on the Shandon Bells for him...
Posted on Apr 12th, 2018
The #Panaban on cars from 3.30pm to 6.30pm in the city centre is having a devastating effect on Cork's jaywalking community...
Posted on Mar 27th, 2018
At Shaky Bridge Analytica we throw more shapes than a Midleton dance school and more balls than a Southside driving range. We specialise in data analytics and metaphors...