Cork Film Festival Gets Cash Boost



Film Festival Gets Cash Boost
Corona, the popular bottled beer, has added its name to the Cork Film Festival which will be renamed Corona Cork Film Festival in a three-year sponsorship deal valued at '
Posted on May 17th, 2010
Latest episode of the hit internet series is now online. Do your bit for Cork...
Posted on Jul 9th, 2007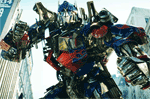 Optimus Prime and the boys are back! And we've got a stash of tickets for the preview at The Gate...
Posted on Dec 7th, 2006

Aliens have landed on Leeside but their desire to fit is going too well! Cilck here to see the trailer for this new Cork made film and win a copy...