Cork City 2 St. Pat's 0
Cork City 2 St. Pat's 0
For the second time this season City played St. Pat's on a Monday
evening, with the home side looking for revenge following a 4-1 drubbing in
Inchicore in September. But the match started in similar fashion to
Friday night's 1-1 draw against Bohs with the visitors on top; Ger
McCarthy guilty of missing their best chance when he shot straight at
Mick Devine. City did come back into it after that but Seamus Kelly was
rarely threatened in the visitors' goal and it was no surprise when the
teams went in scoreless at half-time.
The second half was much the same and the match looked like ending
scoreless until John O'Flynn stepped up to rifle a 20 yard free-kick
through the wall to beat Kelly. And in the closing stages substitute
Colin P O'Brien secured all three points when he finished off a quick
counter-attack by carefully poking the ball past the advancing Kelly to
make it 2-0.
Shame on the little scumbags who ripped down one of the big banners at
the back of the Shed (and tried to rip down the FourFiveOne banner).
There'll be digs and bates feens...
But anyway City's title challenge survived the weekend and with the
only other realistic challengers, Shels, taking on leaders Bohs next
weekend a win away to Shamrock Rovers could see City reduce Bohs' lead
to three points (and all this despite having Liam Muprhy as our
manager!).
Posted on Jul 28th, 2009
If CCFC lose their appeal on Friday the club will be forced to close for good and be removed from the League of Ireland..
Posted on Aug 19th, 2008
Cork City FC is on the brink of collapse as it applies for Examinership at the High Court. If Kevin Doyle goes from Reading to Villa there's hope....
Posted on May 16th, 2007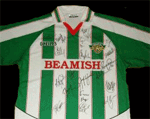 A bunch of loyal and dedicated Cork City FC fans are raising sponosrship funds with an online auction of a signed jersey. Get your hands on it now...
Posted on Feb 6th, 2003

The ever popular CCFC fanzine FourFiveOne present their awards for the end of season....
Posted on Feb 3rd, 2003
No cup this season, no europe next season and Murphy resigns. Gareth Williams sums up the first transition season at Turners Cross....