Cork City 1 Shamrock Rovers 4
Shamrock Rovers 4-1 Cork CityFourFiveOne
Shamrock Rovers maintained their recent good form although it didn't
take much effort to hammer a 'managerless' City at Richmond Park on
Friday night. A crowd of about 1,500 saw the action including about 100
up to support City.
With Bohemians suffering their first victory of the season, at the
hands of Shelbourne, it was a huge chance for City to close the gap to
three points. But it was never going to happen after Noel Hunt got the
better of Declan Daly twice in the first quarter hour.
Hunt finished the first one himself after just five minutes, and
unselfishly squared for strike partner Trevor Molloy to open his Rovers
account on his full debut eight minutes later.
Daly, who had struggled markedly, was called ashore after 25 minutes as
City attempted to bridge the gap. It was sad to see the decision to
substitute Deccie being cheered by the City crowd there, but the cheers
were more cheers of derision directed at Liam Murphy. Most people
(exept one!) can easily see that Deccie Daly is not up to 'Junit at this
level anymore.
The gap widened before the break, when Trevor†Molloy -
formerly a Richmond Park favourite with St Patrick's Athletic -
brilliantly finished off a four-man move past Michael Devine in the
City goal to make it 3-0.
A different looking City got one back after an hour, when Colin P.
found the net. He had replaced Deccie and George moved back to
midfield with Benno reverting back to center-half and both seemed
more comfortable. It's good to see players play in their proper
positions. Now can we find a manager who KNOWS these things and doesn't
just stumble upon them.
Rovers finished the stronger and Stephen Grant headed Rovers' fourth
six minutes from time.
Shamrock Rovers: O'Dowd, Gough, Deans, Palmer, Scully, Colwell, Dimech,
Robinson, Keddy, Molloy (Fitzpatrick, 90), Hunt (S. Grant, 27).
Cork City: Devine, Carey, Horgan, Daly (C.P. O'Brien, 25), Murray,
Bennett, O'Halloran, Warren, Woods, O'Flynn, O'Callaghan (C.T. O'Brien,
76).
Referee: John McDermott (Dublin)
Posted on Jul 28th, 2009
If CCFC lose their appeal on Friday the club will be forced to close for good and be removed from the League of Ireland..
Posted on Aug 19th, 2008
Cork City FC is on the brink of collapse as it applies for Examinership at the High Court. If Kevin Doyle goes from Reading to Villa there's hope....
Posted on May 16th, 2007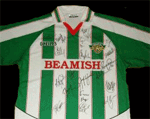 A bunch of loyal and dedicated Cork City FC fans are raising sponosrship funds with an online auction of a signed jersey. Get your hands on it now...
Posted on Feb 6th, 2003

The ever popular CCFC fanzine FourFiveOne present their awards for the end of season....
Posted on Feb 3rd, 2003
No cup this season, no europe next season and Murphy resigns. Gareth Williams sums up the first transition season at Turners Cross....