Cork City 1 Longford 1
Cork City 1-1 Longford Town
FourFiveOne
More drama at the Cross. Pity most of it was off the pitch, again. A
second half Brian Byrne goal earned Longford Town a well-deserved draw
against City on Saturday evening but other aspects stand out.
Liam Murphy has alienated so many supporters at this stage that it's
hard to see how he can stay on as manager for any longer. He seems to
have absolutely no game plan, long or short term. He compounds this
with constant excuses and ignorance towards the fans.
City were awarded an early peno and O'Flynn converted the resulting
spot kick, to the delight of the 3,5000 fans present.
Eric Lavine missed a good chance to drag his team back on level terms
before O'Flynn almost made it two for the home side in the 44th minute.
O'Flynn's shot rattled the upright and bounced back to him but the
striker blazed the ball over the bar.
Town drew level when Byrne nodded home Alan Kirby's corner. Neither
side really probed for a winner after Byrne's equaliser and the game
drifted towards an almost predictable conclusion.
Five minutes from time, when City were chasing a winner, some little
scuts in the Shed decided they'd make their own fun by throwing coins
at fellow City fans. There was then a few pucks thrown and the stewards
and Garda had to go in.
Another tough day at the office. Amazing to think we're second in the
league......!
Cork City: Devine, O'Halloran, Sir Hoofalot, Murray, Horgan,
O'Callaghan (CT O'Brien 72), Bennett, Reynolds, Woods, O'Flynn, CP
O'Brien.
Longford Town: O'Brien, Murphy, Ferguson, John, Dillon, Sheridan, V
Perth (Crowe 73), Kirby, Byrne, Lavine, Francis (Mulvihill 57).
Referee: Ian Stokes (Dublin)
Posted on Jul 28th, 2009
If CCFC lose their appeal on Friday the club will be forced to close for good and be removed from the League of Ireland..
Posted on Aug 19th, 2008
Cork City FC is on the brink of collapse as it applies for Examinership at the High Court. If Kevin Doyle goes from Reading to Villa there's hope....
Posted on May 16th, 2007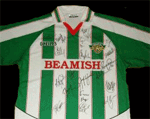 A bunch of loyal and dedicated Cork City FC fans are raising sponosrship funds with an online auction of a signed jersey. Get your hands on it now...
Posted on Feb 6th, 2003

The ever popular CCFC fanzine FourFiveOne present their awards for the end of season....
Posted on Feb 3rd, 2003
No cup this season, no europe next season and Murphy resigns. Gareth Williams sums up the first transition season at Turners Cross....