Cork City 0 Drogs 0
Drogs 0-0 City
FourFiveOne
The first half was even at O2 Park on Sunday, but the second half was even worse (hur, hur!). There was little in the way of Christmas cheer as the Louth side kept City at bay to earn a valuable point in their battle against relegation. Not that City created a whole lot to threaten the Drogs or anything.
Having won a couple of early corners things were looking up for City, but by the time Damien Hancock blew the final whistle you could count on one hand the number of chances created by both sides. Neither goalkeeper was seriously troubled throughout the match; Billy Woods blazed City's best effort over the bar, while the closest the home side came was a tame effort that Mick Devine, wearing a stunning yellow strip, gathered easily.
The result leaves City with just that solitary win on the road this season in Bray and they have now collected only 6 points from 10 away matches - relegation form and even more of a mystery when compared to their unbeaten home record.
Now it's on to Dalymount on Thursday night - the so-called 'big club' have moved the match forward a day as they are apparently concerned about the affects any Friday night Christmas parties will have on the attendance. With City opting to fly to Dublin for this one, let's hope we don't see a repeat of the 4-1 drubbing to Shams that followed the last time they took to the skies.
Team: Devine, Carey, Daly, Murray, Hoggie, Greg, Benno (Warren), Rennie, Woodsie, Flynny (Colin P), Georgie
Lamp FourFiveWan's Website
Posted on Jul 28th, 2009
If CCFC lose their appeal on Friday the club will be forced to close for good and be removed from the League of Ireland..
Posted on Aug 19th, 2008
Cork City FC is on the brink of collapse as it applies for Examinership at the High Court. If Kevin Doyle goes from Reading to Villa there's hope....
Posted on May 16th, 2007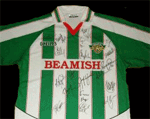 A bunch of loyal and dedicated Cork City FC fans are raising sponosrship funds with an online auction of a signed jersey. Get your hands on it now...
Posted on Feb 6th, 2003

The ever popular CCFC fanzine FourFiveOne present their awards for the end of season....
Posted on Feb 3rd, 2003
No cup this season, no europe next season and Murphy resigns. Gareth Williams sums up the first transition season at Turners Cross....