Cork 0-17 Kerry 0-Yerra
Cork 0-17 Kerry 0-Yerra
Are you loscht for words after your dear Kerry football team got trounced by Cork? Dry your eyes, put down the barbed wire and pull up your pants and (try your best to) read our post-Munster-championship-fail guide to yerra'ing your way out of trouble.
Yerra, the traffic was fierce so our fellas had to leave early to get home.

Yerra, tiz all about September.
Yerra there was a lot of rain during the week and the pitch was fierce schlippy.
Yerra, sure look there was only a kick of a ball in it.
Yerra, Paul was in Copper Face Jacks until 4 O'Clock Sunday morning.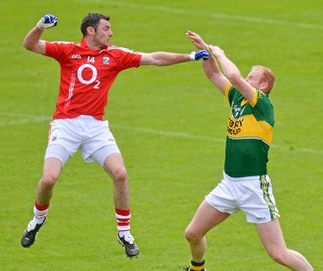 Donnacha and the foxy lad re-enact their favourite mortal combat characters while the ref talks to Noelie up the field.
And yerra, we took Paul off because he felt green and gold wasn't really in season.
Yerra yerra we were playing against the glare of the sun for a while and nobodys wants that.
Yerra sure we had to work a lot harder to get frees than Cark did.
Yerra I don't want to schay anything about the ref but he blew againscht us for an awful lot of schtuff

Yerra the scheats are very schmall in stadium and our schubs had pins and needles coming on.

Yerra, yerra, yerra, yerra we're happy enough to go through the qualifiers anyway

Posted on May 22nd, 2013
Are our famous sons and daughters holding on to their Cork accents or are they losing the run of themselves? Time to get out the cop-on-ometer...
Posted on May 22nd, 2013
You can't just tog out in beach shorts and cheap runners if you want to run in the affluent climes of Blackrock...
Posted on May 20th, 2013
We keep an ear on Cillian Murphy, Kat-ill-een Lynch, John Creedon, Fianna Fail apologist Michéal Martin, Camogie Goddess Anna Geary and alleged north African immigrant Niall Prendeville...
Posted on May 10th, 2013
As Bus Éireann drivers contemplate strike action here are another five common characters you wish you didn't see regularly on Cork city buses...
Posted on May 2nd, 2013
With such low fares these days, buses to Cork are getting packed out and the chances of you having to sit next to some langball gets higher. Here's our top 5...