Club Daon-Phoblacht 6: 10ú Mí na Nollag
Club Daon-Phoblacht
Bar Thuas,The Roundy, Sráid an Chaisleáin
10ú Mí na Nollag 2008
8.30pm - €8 dul isteach, €5 más dalta thú.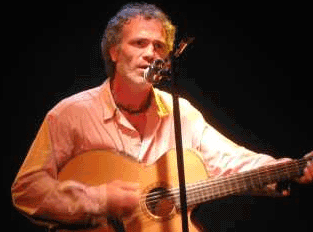 Rónán Ó Snodagh
Bígí linn chun an club deireanach don bhliain a chéilliúradh le aoi speisialta ó cheann dos na ngrúpáí is cáiliúla in Eireann agus dar ndóigh thar lear! Ceoltóir den scoth is ea é agus cion aige ar an ngaeilge.
Ba bhreá linn fáilte mór a chur roimh Ronán O Snódaigh as Kíla a mbeidh inár dteannta ar an 10ú. Bígí ag tnúth go mór le oíche breá sóisíalta le ceol traidisiúnta anamiúil ón bhfear seo.
Fear ildánach ní amháin sa cheoil ach san fhilíocht agus sa gharraíodóireacht leis! I measc na hamhráin a chum sé, is ón Snodach a tháinig ceol na scannáin ar nós Manacán na Seachrán agus 'Hidden Treasures' i 1998. Ó bunaíodh Kíla i 1987, tá clú agus cáil orthu mar ghrúpa thraidisiúnta a thosaigh ag seinnt le chéile i gColáiste Eoin agus a lean ar aghaidh mar ghrúpa cumhachtach a bhfuil móidín acu i ngach tír sa domhain. Ó athrú go h-athrú, is féidir stair an ghrúpa seo a fheiceáíl ar kilarecords.ie

'Talking drums and tablas' a glaotar ar an stíl ina seinnean Rónán an bodhrán, a stíl féin a cuireann in aigne dúinn caintaireacht rithimiúil.
Bain súp as an léargas luachmhara ar na nascanna idir ceol domhanda agus ár gceoil traidisiúnta ón dtaiscéalaí ceoil, Rónán O Snodaigh.
Mar is eol daoibh go léir, club sóisialta míosúil is ea Club DP a mheallann cainteoirí Gaeilge de gach leibhéal, de gach aois agus gan amhras, de pé chontae sa tír!
Fáilte roimh cách ó chian is ó chóngar go Club DP, de gach éinne a bhfuil fonn orthu triail a bhaint as a gcuid cúpla focal agus suim acu sult agus tairbhe a bhaint as oiche bhreá shóisialta i lár Cathair Chorcaí!
Bain súp as!
Bigí Linn!

Ticéidí le fáil ó:
PeoplesRepublicOfCork.com/gaeilge
R-phost: .(JavaScript must be enabled to view this email address)
Bebo: www.bebo.com/clubdaonphoblacht
KILA: www.kilarecords.ie
Club Daon-Phoblacht
Bar Thuas, The Roundy, Castle St.
10th December 2008
8.30pm - Tickets €8, €5 with student ID
Join us for the last club of the year with a very special guest from one of the most famous bands in Ireland and indeed abroad. This man is a gifted musician and has a special place in his heart for our native language!
Expect a musical experience of very native proportions on the 10th with Rónan Ó Snódaigh from Kíla. Fáilte mór chuige!
A man of considerable talents not only in the musical sphere, Rónán is a published poet and a landscape gardener no less! His song-writing accomplishments include the score for 'Manacán na Seachrán' as well as 'Hidden Treasures' in 1998 and 'Gold in the Streets' in 1997.
He is a founder member of Kíla and has travelled the world with this musical entourage, a group that started out in Coláiste Eoin back in 1987 and has since taken over the world of traditional music gaining devotees in every corner of the world.
Rónán is known for his individual style of bodhran playing, likened to 'talking drums and tablas' that lends itself well to his 'percussive chant like singing style.'
This is a roots-infused musical experience from one of the most dedicated musical explorers in Ireland and is not to be missed.
Whatever your level of Irish come and join us for a great night's entertainment, the only night of its kind in Cork as gaeilge. Bain trial as do chuid gaeilge and bain súp as!

Tickets available from:
PeoplesRepublicOfCork.com/gaeilge

Contact: .(JavaScript must be enabled to view this email address)
Bebo: www.bebo.com/clubdaonphoblacht
KILA: www.kilarecords.ie
Posted on Mar 15th, 2010
Ceol, craic agus an cúpla focal. Join the Trad Lads for a Seachtain na Gaeilge knees up at the Roundy this Thursday...
Posted on Mar 8th, 2010
Stacks of places and events in Cork for you to try out the cúpla focal over March...
Posted on Feb 22nd, 2010
Make your contribution to encouraging Tesco to provide an Irish option at their self-service check-outs...
Posted on Dec 4th, 2009
Join us at the Roundy for the last Irish club of the year for craic, ceol agus comhrá..
Posted on Oct 16th, 2009
For the first time in 31 years the jazz festival will have an Irish language event on the programme. Its on this Thursday 22nd October at The Roundy...