CCFC V Longford Town
Cork City will be chasing another three points when they take on
Longford Town
at Turner's Cross this Friday night (
KO 7.45pm
). Tony Cousins' men are currently ninth in the league and 16 points behind City; however, manager Tommy Dunne believes they will pose a tricky challenge.
In their last two games, Town took the lead against Shelbourne last time out before succumbing to a late double strike and losing out 2-1 by final whistle, and also claimed a draw with Derry City. Dunne has only minor injuries concerns ahead of the game with both Greg O'Halloran (ankle) and Davin O'Neill (groin) expected to be fit. Neal Horgan, however, will miss out because of his commitments with St. Finbarr's GAA Club in the coming weeks.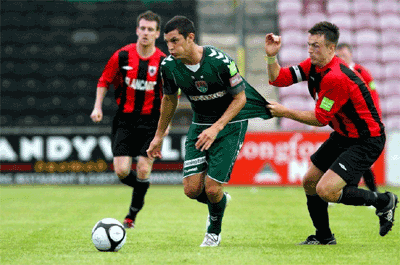 CCFC's Graham Cummins in action against Longford Town during their last encounter
"We need to win the game, simple as that," Dunne told corkcityfc.net. "We need to be beating Longford Town, no disrespect to them, at home if we have any aspirations of getting into that play-off spot and we pretty much need to win every game between now and the end of the season as well.
"They played well against Shels and only got done by two late goals. They've also drawn with Derry and I watched them against Limerick recently and for the first 20 or 25 minutes, they were the better team. They have proven they can be strong so we have a tough match ahead of us. We need to be well focused. Hopefully, we can play like we have done in recent matches and take our chances when they come, which is hugely important."
City go into the fixture after a very promising 3-1 win in Limerick, which has left the club five points off a play-off spot. Dunne was happy with the overall performance but believes his players must take more of the opportunities that are coming their way.
"The results are the most important thing at this time of the season but you need to perform to get those results as well. It's nice to perform well, play football and play the way we want the team to play. When we do that we create chances and more often than not, we've won the match.
"Limerick were well up for the game last weekend but our first-half performance was very good. I thought we were comfortable against them at the back and we looked like we might score every time we attacked, so that was the really pleasing aspect. We had a great chance to make it four just after half-time, which would have made things more comfortable, so it's important that we become more ruthless when we're finishing off teams."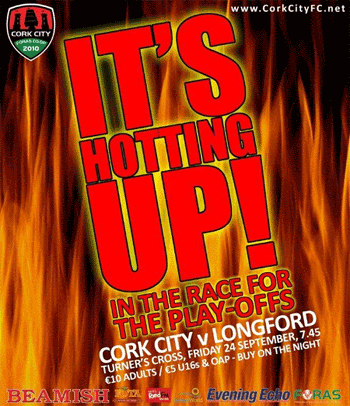 Dunne is also continuing to put various pieces of the jigsaw in place for next season and was delighted to be able to announce that midfielder Gearóid Morrissey has signed a new contract.

"What people have to realise is that Gearóid's only 18 years of age. I think he's come back to Ireland to get his fitness up to the level that is required but he's an excellent player for us to have coming into this stage of the season. Between himself, Cillian Lordan, Shane Duggan and George O'Callaghan, we have good options in the centre of midfield now and that competition is what we need.
"It's important that we tie down the players we want to keep at the club in the next few weeks and look further afield to the type of players we would like to bring in. Too many changes have cost us this year, it's only now we're really settling so I don't want to bring in too many people again. I will probably be looking to bring in three or four bodies all the same."
Suspensions: NONE
Injury News: Stephen Mulcahy (groin), Cathal Lordan (knee), Greg O'Halloran (ankle), Davin O'Neill (groin), Neal Horgan
Last Game: Limerick 1-3 Cork City
Form: L W W W W L L W W W
Posted on Mar 7th, 2013
What are they feeding the young fellas in Kanturk? From hurling and football All Stars to rising comedy kings, the capital of Duhallow is churning out the talent....
Posted on Feb 26th, 2013
With Cork's destruction of Tipperary in Pairc Ui Rinn on Saturday night by about a hundred points it has been confirmed that the Official End of the World has been cancelled...
Posted on Oct 27th, 2011
The Rebel Army descend on Drumcondra this Saturday for the final game of the season in which a victory will result in the club winning the league. If you're in Dublin head along to support the team....
Posted on Jul 13th, 2011
Auld fellas and their defibrillators, fat lads getting ballhopped and death-by-triathalon-boredom, the hills of Cork can save you a ton on gym membership but come with a few hazards...
Posted on May 6th, 2011
Kilkenny's embarrassing Croke Park meltdown last Sunday is fantastic news for the Irish economy as stocks and shares rally...